We are continuing to focus on the multiplayer combat demo for our planned Kickstarter and Greenlight campaigns, both planned to start at around Thanksgiving. As we will be travelling to IndieCade, we were rescheduling a bit to have a version of the demo ready by the twentieth of October.
The new combat screen is progressing well, and looking at our 'world domination plan' on the whiteboard next to me, it will be ready for testing by the end of September. We have then around six weeks to add additional functionality from the combat backlog. As you can see in the selection and movement test in the images section the screen is now isometric, which gives us more room on the screen overall. The new UI has the same style as before, but we made it more minimalistic. We should have some pictures and screenshots ready by the end of next week. Maybe the biggest decision in the background was to switch fully to 2D.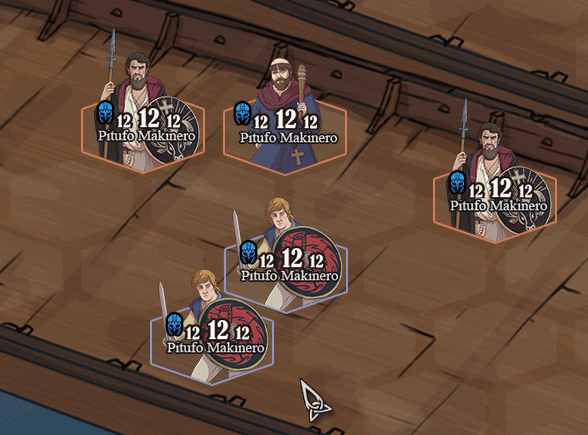 We are pleased to announce that an aspiring game designer has joined our team this week. Lance (who is Spanglish in case you wonder) will look after the combat gameplay. Axel, our technical director and our man with a game design degree, is ecstatic. He was seen happily staring at Visual Studio last night.
From October onward we will take on a 2D art intern from a university in town to work with our artists on more characters and equipment. And I will be looking for a writing consultant/contractor. I am counting heads as I type these words, and now we have four people working full time and three people working part time on The Great Whale Road (which includes me as I am spending more and more time on marketing).
Another minor milestone was reaching out to our pre-selection of composers, and we have three music samples to choose from now. More about that, once we have made a decision. We started looking for a narrator for the trailer and potentially in game. Let's put it that way - the quote I got back from the agent of one guy we like left me hyperventilating for a while. And I wasn't asking for Ray Winstone!
- Joachim @ Sunburned Games