New this week: more buildings, more general objects, and some additional regions, as well as a lot more population scripts for the existing regions. There's also a new Energy Lance spell, which makes cutting through big lines of objects or enemies easier (but it does lower damage to actual individual enemies). We also added a ton to the HUD, including our actual in-game font, better organization, and a minimap to show exploration progress in each area!
The biggest new work this week, however, was multiplayer. We've now got the basics of multiplayer working, and Keith and I were able to play together in the same server across the Internet with great success. It's still jerky in multiplayer because we haven't put in any smoothing or prediction yet, but it functions and it's actually not any worse than some Mario Kart DS matches I've had in the past, even if the smoothing isn't there yet.
This week I'd hoped to get into interiors of buildings, but I did a lot of work on exteriors instead, as well as getting sucked into a lot of business stuff (taxes, distributors, etc) this week. Next week looks to be markedly more clear, though, and this week was quite productive even so. Stay tuned! - Chris Park
The soundtrack for "A Valley Without Wind" is getting off to a great start. For those of you who have heard some of the music in the trailers, you'll notice the key component in all the pieces: the 8-bit melody. It's a sound that is not only fun to play with, but nostalgic for any one who grew up in the Atari/Nintendo age and can still hum all those classic game themes.
Most of the composers for the early games used Mod Trackers to generate these classic sounds. At first I thought about using some, but then found a great way to create these sounds in Logic.
The steps:
1) Open a new empty project
2) Create a "software instrument" track
* The default software instrument track that Logic creates is "EVP88 Electric Piano"
3) Hold down the I/O "EVP88" button on the environment window on the left side of the screen. There you will see a variety of different options to choose from. Choose "ES P (Polyphonic Synth)->Stereo"
4) On the "ES P" window you will see a ton of different options. These are the settings you want: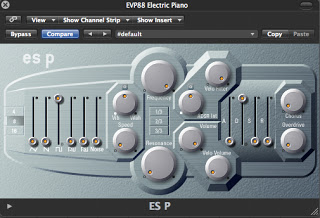 5) Next, open up the "Mixer" window
6) Under your newly created 8-bit sound, hold down one of the empty "sends" boxes, and click on "Bus 1". A new track will appear in the Mixer called "Aux 1"
7) On the new Aux track, hold down one of the empty "inserts" boxes, then go to "Reverb->PlatinumVerb->Stereo"
8) In the PlatinumVerb window, look at the top and you'll see a button that says "view". Click on it and select "Controls". These are the settings you want: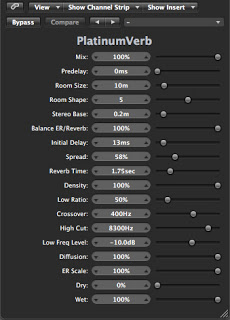 9) You'll notice in the Mixer Window that "Bus 1" is now highlighted inside one of the "sends" boxes. To the right of the highlighted box is a circular dial. Click on it and set the dial to "-8.0"
And that's it! Now you have an awesome, classic 8-bit sound to play around with. The last few steps in adding reverb are not necessary, but I like to use them because it makes the harsh 8-bit synth sound mix better with other instruments. Be sure to turn the volume down as well, the default "0.0" volume setting in the Mixer window is loud.
If you have Logic, try this out and play around with the 8-bit sound. It's a whole lot of fun and brings back a ton of memories! - Pablo Vega