Release of MEC 1.9
MidEast Crisis 1.5 was a big deal for Isotx and its fans. Many hours of our life were lost as we played the war torn maps, exploded into brilliant fires, and demolished enemies. In many ways, we had been looking for an opportunity to go back to the mod that changed our history and brought us up from our roots. It just seemed, with all our other projects, we never had the time. Affluent modder Larry "bhones" Griffith, however, changed all of our time constraints by tackling on the project himself with a drive that astonished us all. Thus, I'm proud to present MidEast Crisis 1.9 - an homage to the fans, a great addition to the MidEast titles, and a project that would never have happened without Larry's dedicated and determined work.

MidEast Crisis 1.9 still runs for Command & Conquer: Zero Hour - this is a disclaimer, in case our recent CnC3 projects have confused anyone.
MEC 1.9 Changelog
MEC 1.9 is the result of a year of Bhone's slaving and attention to detail. Relentlessly, he picked apart bugs and added maps to the mod's repetiore. The below are just some of the vast changes he made in upgrading the game from 1.5 to 1.9:
Added a new unit, Quad Bikes, to Israel
Changed build list layout for better fit and more build options
Implemented all levels of difficulties
Implemented all units in AI
Replaced unfinished maps with finished versions and added new ones
Adjusted footprint slightly for all structures to allow for standard base sizes
Fixed Syrian Guard Towers: now built with troops garrisoned
Added all specialties at all levels with randomizer for both Israel and Syria
Now works with ALL EA built Official Zero Hour maps. That's 80+ maps!
Easily convert custom ZH maps to MEC1 with a simple script import
Utilizes all Zero Hour tech structures
The AI utilizes everything within MEC now to its fullest compacity; previous versions left some errors.
Overall bug detection and removal to make MEC 1.9 run smoother and provide the best experience possible
MEC 1.9 Screenshots
You don't believe us that this is an awesome upgrade? That MEC 1.9 is pretty spiffy? Then see it for yourself in the gallery! Below are a few of our favorites:
MEC 1.9 Download
You may download MidEast Crisis 1.9 right here on ModDB. In the .zip folder, all you have to do is drag it into a MidEast Crisis 1.9 folder in your Zero Hour and play. Further instructions are in the included PDF manual in the download file so be sure to read if you have any problems.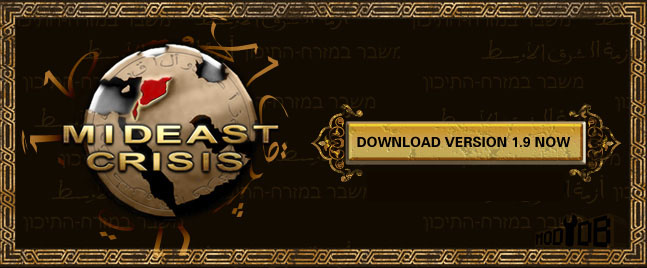 One Last Thank You
Thank you Larry "bhones" Griffith for taking a year of your life to refine MEC 1.9 into a vicious unrelenting masterpiece of carnage.
In particular, to anyone out there going to try MEC 1.9 for the first time, we suggest the Dune map. The Dune map is a whole new experience. It is so easy to get lost in this vast sprawling sea of sand, only to find yourself face to face with an enemy before it's too late. We've played against 7 AI on the 1000 x 1000 Dune map and encountered minimal lag; we're amazed that Larry was able to create maps more than 2.5 times the recommended size, and still make them playable.
So thanks Larry, and thanks to the fans who kept this project going. Dust off your copies of Zero Hour and give it a go!