Let me tell you a little story. The story of Codename: Nuclear
Codename: Nuclear began being developed on 21 June 2010, more than 5 years ago.
We were really young and unexperienced, so we did what we could. We're going to show you how, as time passed, Codename: Nuclear got prettier and prettier until present time.
Here are some pictures from Codename: Nuclear v0.1 (August 2010)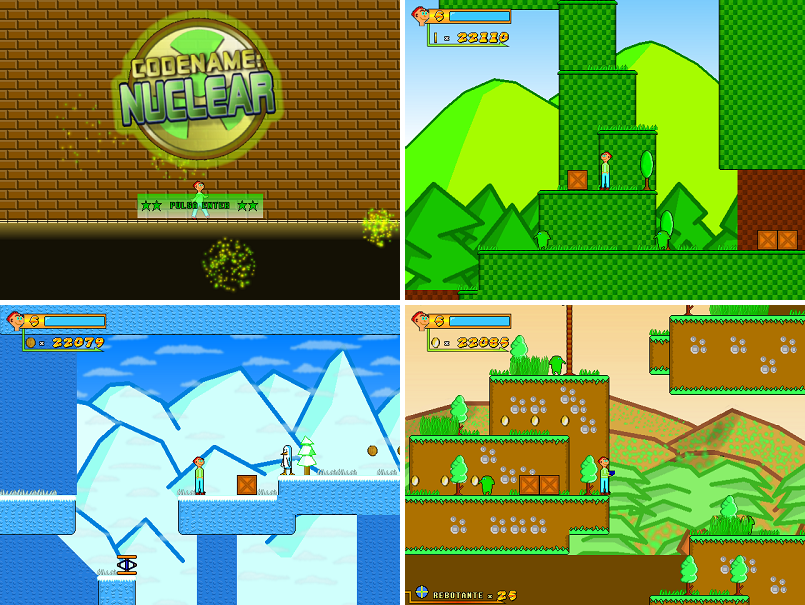 This looks completely horrendous! However, in just 2 months, we deleoped 4 levels for the game + 3 boss battles!! Nowadays, to complete either a level or a boss, we need 15 days of hard work.
It's obvious that the quality of the levels and bosses we do now is a lot better than what we used to do… Those were simpler times.
Besides, look at that horrendous Narf. Back then, it wasn't even named Narf. I'm gonna keep his original name as a secret. I don't want anybody to know his original name.
And if you want to take a glimpse at the game back then, check out this trailer we released in Septemer 2010 (It's hidden in YouTube now for obvious reasons)
As you can see, we ended up redesigning Narf, even though it still looked horrible.
As years passed, we started to reduce the rhythm in which we added content to Codename: Nuclear. Around 2011-2012, we entered a phase where we started adding a lot of features (giving bonus at the end of missions; adding a mineral system, in which enemies dropped different kinds of minerals that were used as a currency at shops; adding an 8th mission to each level - levels used to have only 7 missions), but in terms of level design, we did little (we did 3 levels in 2 years).
This was a phase in which we weren't developing the game seriously. It was a hobby, but the initial motivation had faded away. We even considered scrapping the whole game around 2012!
It was in this stage of the game when we started to add all the octopuses. That part of the plot of the game was already written since 2011, but it wasn't until 2012 that we started working on it.
Here you have some pictures from Codename: Nuclear v0.2 (March 2012): we redid some graphics, and some new levels were added: Watery Grotto, Dark Forest and Peaky Peaks: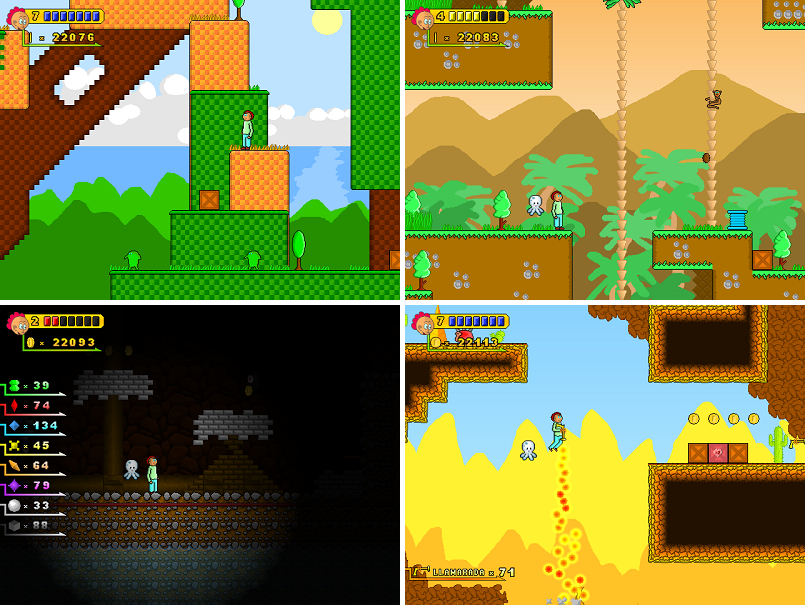 And around July 2012 we released another trailer, also in Spanish. Check it out:
It was in 2013 when we gave a different direction to the game: we started eliminating all black outlines from all the animations and backgrounds from the game. It was something that took a lot of time to do. We also redid Narf again, now for the last time; and we redid the HUD, too.
Besides, that year, we were able to finally release a demo of our game (only in Spanish) and spread it around some Spanish webpages.
We also did one more level for the game: Proxima Pipes, and added a minigame: Blastballl! (It used to be called Blastball, but in 2015 Nintendo announced a game called Blastball, so we had to add an extra l to our name).
Here are some pictures of Codename: Nuclear v0.3 (July 2013):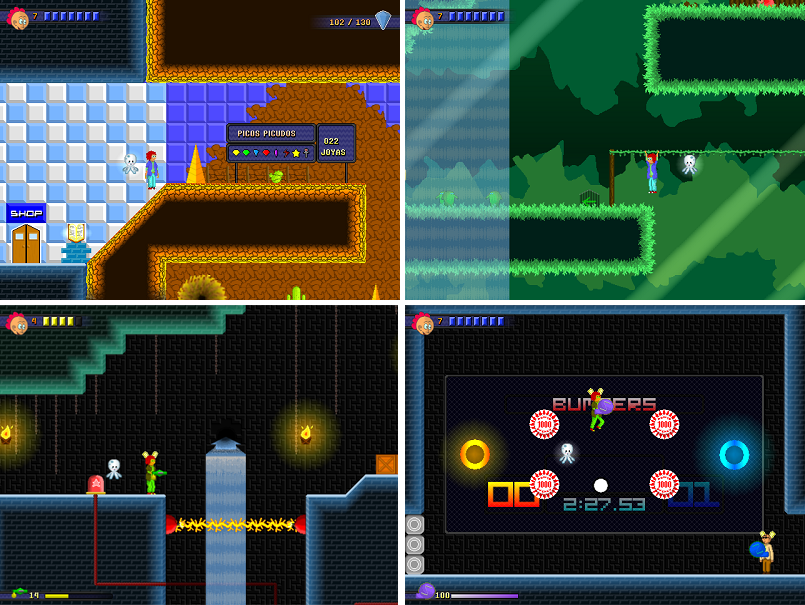 And here's a video showing Proxima Pipes and a Blastballl match at the end - that I barely win:
This is the trailer we did for the demo we released in Sumer (it's in Spanish too):
In 2014, everything changed. Something clicked inside our heads, and we were determined to finish the game as soon as we could, and with the best quality possible.

That's why we completely made a new engine for the game; we added a new optimization system; we redid a lot of menus (inventory, pause, etc.);and we designed as many levels as we could. However, University got in our way. That meant we had less time to do stuff.

It's interesting, though, that as we were getting less and less free time from University, we ended up doing more and more Codename: Nuclear. I would even end up going to bed at 5-6 am most nights during Summer holidays to program and design as much as I could!

But University also brought something really good. We met somebody who offered himself to compose Codename: Nuclear's soundtrack. And he did an amazing job to get it all done for the release date!

It seemed that the finish line: finally finishing Codename: Nuclear, was starting to get tangible. In 2014-2015, we've done 4 levels, and there's only 1 more to go! (Bumpy Desert, Frozen Heights, Blue Hill, Wire Station. The one left to do is Molten Summit).

Not just that, but we redid the graphics for all the old levels – the ones we did in 2010.

We ended up skipping v0.4 because we decided to divide the game in 4 chapters. The first 3 chapters would consist of each of the three game 'worlds'; and the 4th and final chapter would be the final level. By doing this, we could release chapters 1 & 2 separately, and make it feel as a stand-alone finished game. However, it would end in a cliffhanger in terms of story – cliffhanger that will be solved in chapters 3 & 4. That's why we ended up calling the version we released v1.1 (version v1.0 was given to betatesters. Once we finished adjusting everything they had told us, we went to v1.1).

Here are some pictures from the updated levels of Codename: Nuclear v1.1 (August 2015)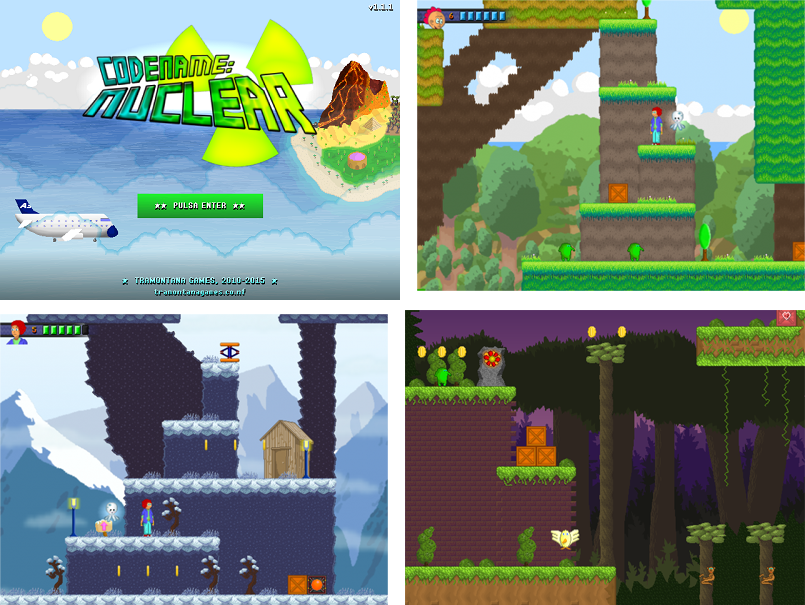 And we finally reach present time. In June 2015 we released a preview trailer: