I started working on this game a while back writing almost everything from scratch. While I learned a lot, it was just too time consuming. So I'm back at it again, this time (gif) using Unity and targeting VR. It's not much right now, but I have ported conic patch (parabolas only...) and rk4 numerical integration. I'm also using VRTK for the basic interaction mechanics with the motion controllers. As of now, the "game" implements ship selection, change velocity/orbit from current position, and basic view controls (rotate, move up/down, and zoom).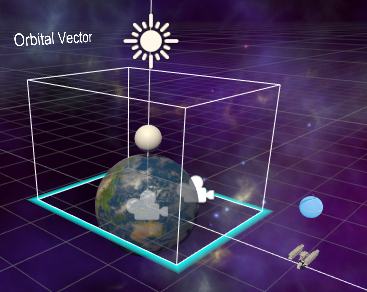 But in VR, this already feels like Ender's game. Imagine Ender in his control room, zooming in and out of the battle field, directing fleets of warships this way and that, maneuvering through gravity wells while conserving deltaV. Except unlike in the movie, space mechanics will actually mean something.
The vision for this game is a combination of Homeworld's sensor manager view and Kerbal Space Program's map mode. There will be asteroids and mining regions on moons and planets.Build harvesting operations, refineries, shipyards, and others in these areas, and launch completed ships to your fleets. Mined ores will need to be delivered to ground refineries, refined products will need to be shipped to marketplaces and orbital shipyards. Shipping routes may be vulnerable to pirates or competing nation-state fleets. Your task is to take control over an existing fleet, augment it with new ships, and maintain existing ones while defending container ships, attacking enemy strongholds, and general solar domination.