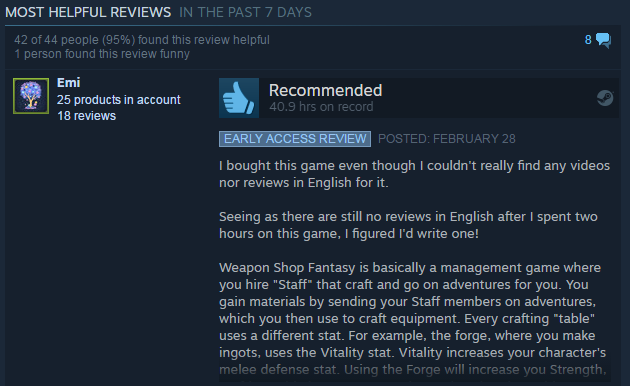 I bought this game even though I couldn't really find any videos nor reviews in English for it.

Seeing as there are still no reviews in English after I spent two hours on this game, I figured I'd write one!

Weapon Shop Fantasy is basically a management game where you hire "Staff" that craft and go on adventures for you. You gain materials by sending your Staff members on adventures, which you then use to craft equipment. Every crafting "table" uses a different stat. For example, the forge, where you make ingots, uses the Vitality stat. Vitality increases your character's melee defense stat. Using the Forge will increase you Strength, Crafting Table increases Dexterity, and Enchanting Table, Intelligence.

The higher your stats are on a Staff member, the better gear they will craft using these "tables", which means they'll be worth more money. There are several quests/objectives to complete. There seems to be two types I've encountered so far, static quests and timed quests. The timed quests give you a nice amount of money, while the static quests seem to always unlock new recipes.

With all that said, the game is quite grindy, at least in the beginning, because you need to constantly send your Staff on adventures to grab resources, then craft a few things, sell, and repeat. It takes a bit of time to progress through the game at first, but it seems to be taking off now that I'm getting higher stats (50+) on one of my adventurers, he comes back with a full inventory on most adventures.

Also, I believe this game is translated from Chinese and, quite frankly, there are a LOT of typos in there. I personally don't mind it, but there definitely is a lot of work to put into correcting all of them. And it's not just typos, there is a lot of information/speech that is simply not written properly, sentences that make no sense. You get a good idea of what the developpers mean, but it's really poorly written.

Besides that, I haven't encountered any bugs, and I've had fun with the game so far! I'm excited to see what the devs have planned for the future!