Our last news post was in August. Now it's February, and we feel terrible about that. We've neglected to update you guys on our progress, and we're sorry. Real life got a lot more stressful, and we're having a lot less free time for game development, and have been too busy to write these newsposts. Of course, that doesn't excuse not even putting up a small update explaining exactly that - our apologies.
Last time, we've outlined a timeframe for when we were going to do betatesting, and by now it's obvious that hasn't happened. So, when can you expect the game? This time, we're not even going to try and estimate this. The dates we've given in the past were honest estimates, but we're not experienced enough to estimate this well, nor do we know how our Real-Life-situation will change in the next few weeks and months. So in the interest of honesty, we say: We do not know. We do hope we'll be able to finish in the first half of this year. But, well, no promises.
Development has gone on for over two years now. We do really want to get this game "just right", to nail the feeling and the options you as players have; and we do want to create this game so that we can easily continue to support it and add new features. Our apologies for taking this long, and a heartfelt thanks to all of you who've stayed patient with us! Note that we've kept our Twitterfeed relatively up-to-date, with (almost) weekly "screenshotsaturday"-posts. If you're fed up with our slow update schedule here, try following us there!
But enough of that. What did we do? There's two new additions that give you more options in the creation of rooms: First, you can now have floors at different heights:
There are two types of floors. The ones without a fence and those with a fence at a border to lower tiles. Not only gives this dungeons more depth, they also let you more easily control the flow of the dungeon, not to mention they create unique puzzle-opportunities. When you have a block or something similar on a higher floor, you can just move it down to another floor. Have the player create bridges! Squash your enemies! This allows even greater individuality in room and puzzle design.
We're also working on some statistics for dungeons. We track some of the more interesting data about the dungeons and player journeys. A few of those can be accessed as a reward to players who answered a few questions about the dungeon (that help the creator improve it) after playing the dungeon. Those statistics happen to be more than a few bars in a graph, and answer all kinds of questions you may have: How many managed to reach the goal, and how many chickened out and left? How many died and got turned into sad little ghosts giving hints to players?
Besides improving security und usability, we decided on updating the website design to polish the homepage. We're still in the process of the redesign, so we cannot show all that much, unfortunately.

Finally, we leave you with a trailer - this time, we want to show the variety of dungeons, puzzles and situations you can create in the game, so prepare for a rather quick pace!
Music by James Flamestar
As always, any feedback or comments you have are much appreciated! We look forward to them!
Want us to notify you on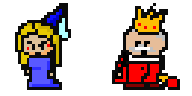 ce we start the next alpha test?
Subscribe to our one-time-newsletter at www.dungeondeities.com - or watch us on IndieDB or Twitter for the news!