Greetings all,
As many of you know, we had scheduled to have our public beta released on Valentines Day, February 14th, however a family emergency had made this a virtual impossibility. I apologize for not having announced this sooner, but I believed there was still a slim chance that we may have something playable out by that time. We've been working hard up until my departure to have this beta out on time. I had only just returned on the 13th and my computer had a physical read error on my main hard drive. I am unable to access it or any of my other drives at this moment.
But all is not lost,
I managed to preform a rudimentary repair on the disk, and sent it to my dad so that he can attempt to extract the information on it, and copy it to another disk, which should hopefully amend the aforementioned problems. Most of my information is backed up and saved on different drives, however without a system disk, progress is stalled. Even if the drive cannot be salvaged, most of the mod's materials are saved on other disks which are intact.
I'm reluctant to put a date on everything returning back to normal, but my dad says he can have everything on my system drive copied to another hard drive and have it sent to me by this up coming Saturday, of course as I had mentioned earlier, our family crisis makes this a secondary priority.
Just to give you an idea of how far things have come along, I have the prowler 95% modeled, the CCS is about 90% modeled as well and it's about 60% textured, and I have a weapon module 95% modeled for the frigate and corvette. I've also finalized a UNSC corvette concept and a heavy cruiser concept. Since the previous update, we have made major strides graphically, I do have an atmospheric effect working in game for the planetary invasion gametype. Additionally the effects have been upgraded, bullet sprites are now 3 dimensional objects with smoke trails and glow effects courtesy of the HW@ team.
Again, super sorry about not having the beta, I'll try to keep you posted on my progress. (updating off of Library computers.)
And, just so we don't come to you empty handed, we have conscripted the professional aid of the esteemed Halo modeler Liam Keating, for a city model which will be used in the planetary invasion gametype I mentioned earlier.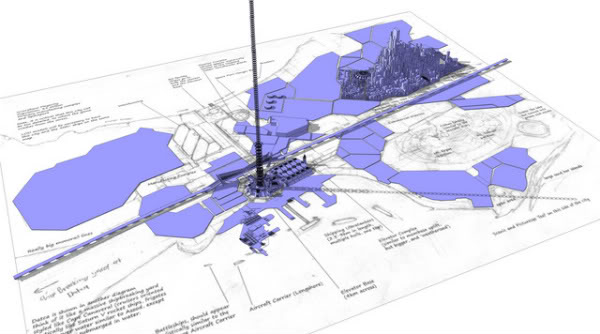 Fortify it, or raze it to the ground, the choice will soon be in your hands.