A Look to the Future
Looking back on the development of the mod (which can be found in article #1, #2 and #3) has been rewarding to see how far the team have come in a relatively short time. The team, with the help of great people at The Starport (a Freelancer Community Modding Site), have taken the Freelancer engine to limits I'm sure the original game developers never possibly could imagine.
So, what does Freeworlds: Tides of War have in-store for its fans and future players? Quite a few things
Brand New Icon Hud
This is an exclusive to FW:ToW. Some of you may have seen the first prototype of the new heads up display we were developing here. Well, FriendlyFire, our resident whiz at all things that involve Freelancer, found a way to make ships have specific icons allocated to them at particular distances. What this has allowed us to do is for each ship class (fighter, interceptor, cruiser, battleship, etc) we have a specific icon allocated to them. Then, through modification of their colour, all players will know who and what they're getting involved with at a great distance.
This is an example of the system below in action:
Images of the new icons: (if you click and hold and drag the images, you can see them much better)
Fighters:

Bombers:

Freighters


Corvettes:

Frigates:


Interdictors:

Destroyers:


Cruisers:

New Forum Features
Qi has been working on integrating our forum with the running freelancer server. Here's a clip of what he had to say about it:
Qi wrote: Made by Demios`, w0dk4 and me. First release will be finished next week. Then it depends on testing and implementation how soon it will be running on the 18.x server. Probably another week.
You can:
- open a list of your own ships, and take money from them;
- open a list of your bank accounts, and take money from them;
- send money to any bank accounts (except of Pirates and Civs, because they are anonymous);
- send money to any ships;
- send money to a any faction account;
- make an invoice (bill) about a service you did, and bill somebody (incl PM)
- when the bill is unpaid, have the system send a reminder every day, or every couple of days
- make an invoice of a loan you gave somebody, having a percentage of accumulated interest per day
- the loan amount, which is increased each day by the interest, is sent to the 'client' every day (obviously this simulates loan sharking, and sending a goon for "reminding")

Most time costly was to make the system fool proof security wise and system glitch wise. You should never be losing any money.

The FWCP has an ear on server events. You can see all system chat, as well as jumping and docking, death and spawn that is going on at the moment on the game server. During TEs this will be given a 3 min delay for obvious reasons. But at least people who died on TEs will not be totally blind any more, sitting on Teamspeak and FWCP. A special control panel will be provided where SPs can do beaming and event logging.

Talking back from the forum into game chat is possible, but I will make that later. It is already a snake pit, way more complicated than the memberlist and the auction house.
For FW:ToW we plan to
- replace the user interface by Flash
- add trading of goods between ships and stations
- add stockpiling for cap construction.
- add auction house for ships (as we have already) and for goods (trade between factions for cap construction).
Here are some images of it in action below:
Chatting from the forum with people on the server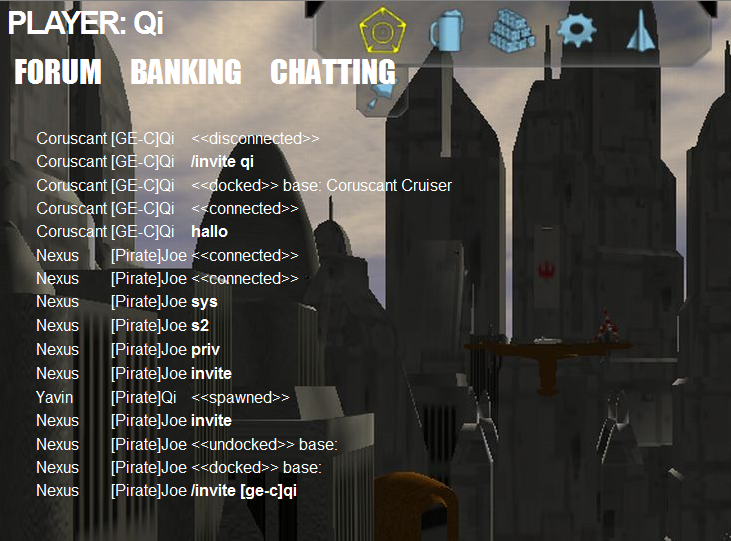 The banking system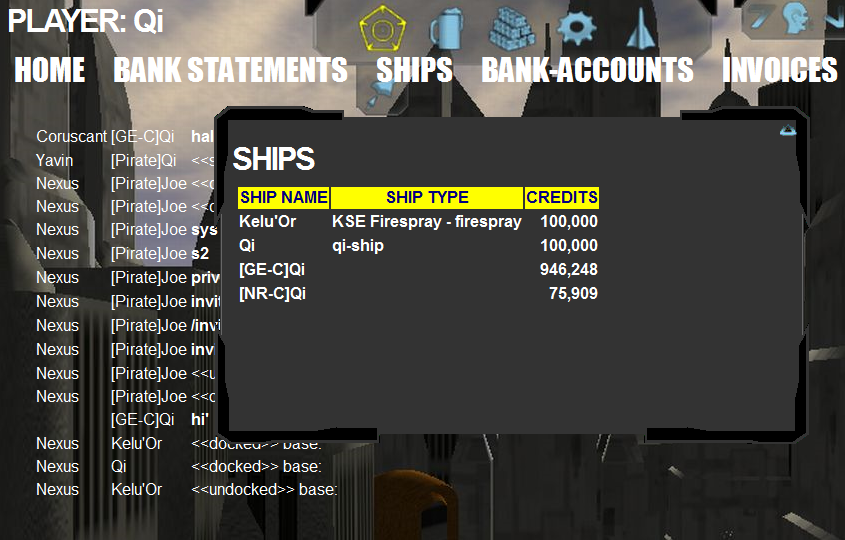 The transaction system (sending credits from one character to another from the forums)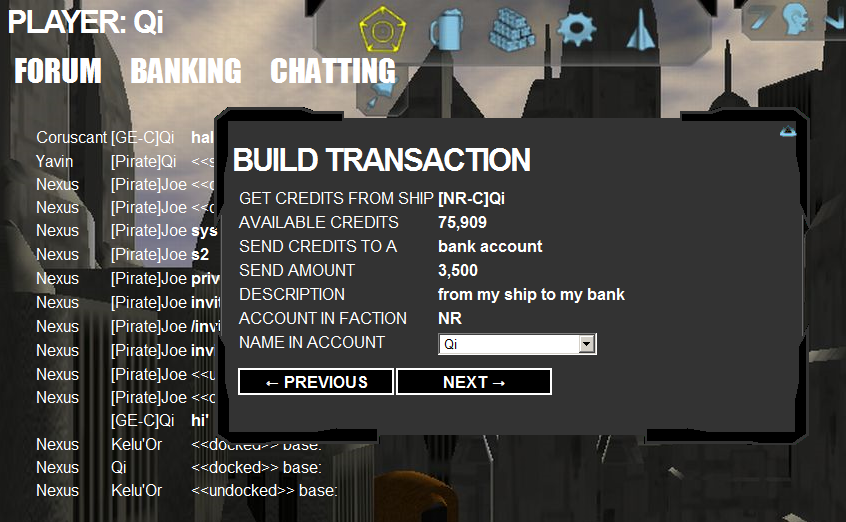 The Economy
Here is what you can expect from the economy:
Qi wrote:
I made programs that generated the economy. There are over 1000 trade runs.

Goods fall under categories. Each category has a base price, higher when more valuable, highest for passengers. So if you are trading something more valuable, the risk of losing it is higher. And each category has a matching profitability. The profit is also measured against the time to reach the target selling station; so there is a fixed profit percentage per category per second trade time.

Each type of good has only one place you can buy it, and 3 to 5 places to sell it. Except for some strategic goods, like water and oxygen (buy at any planet sell at any station), and tibanna fuel gas (buy at certain canon gas giant-based mining stations sell at shipyards).

The economy master plan is very elaborate and we made many changes during our discussions and prototype testing. Especially about the buy places, which have been made canon as much as possible.

Mining is also important. Made it such that selling mined ore does not make much profit in the same system, but makes a good profit at specific stations one jump away. At those specific stations that same ore can be bought and sold at far away station for higher profits, as bulk loads.

For FLHook:
FLHook will send out events to the forum.
- replace the user interface by Flash
- money on the ships
- add trading of goods between ships and stations
- add stockpiling for cap construction.
- add auction house for ships (as we have already) and for goods (trade between factions for cap construction).

W0dk4 is the FLHook plugin master; he started that work for the entire Freelancer community not just Freeworlds. He will make the economy dynamic, so that buy and sell priced will alter due to offer and demand.
New Custom Bases
While the Aldebaran Modular Station project was a great idea and worked to create custom bases without much difficulty, we felt that they didn't have the same quality as our other models. We've been fortunate enough to have some very skilled modellers and textures on our team and they've created some fantastic stuff:
Overfiend:
Bilbringi Shipyards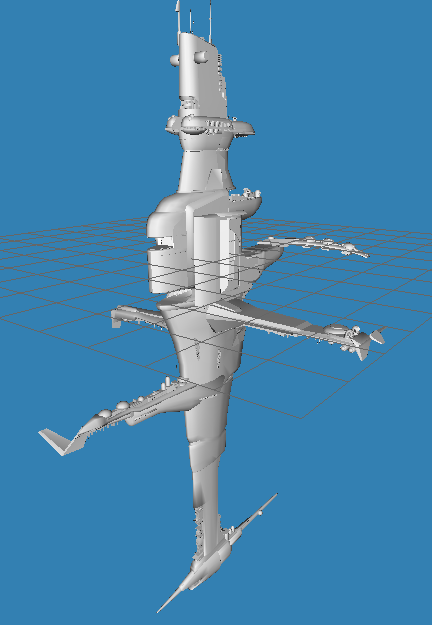 Fondor Shipyards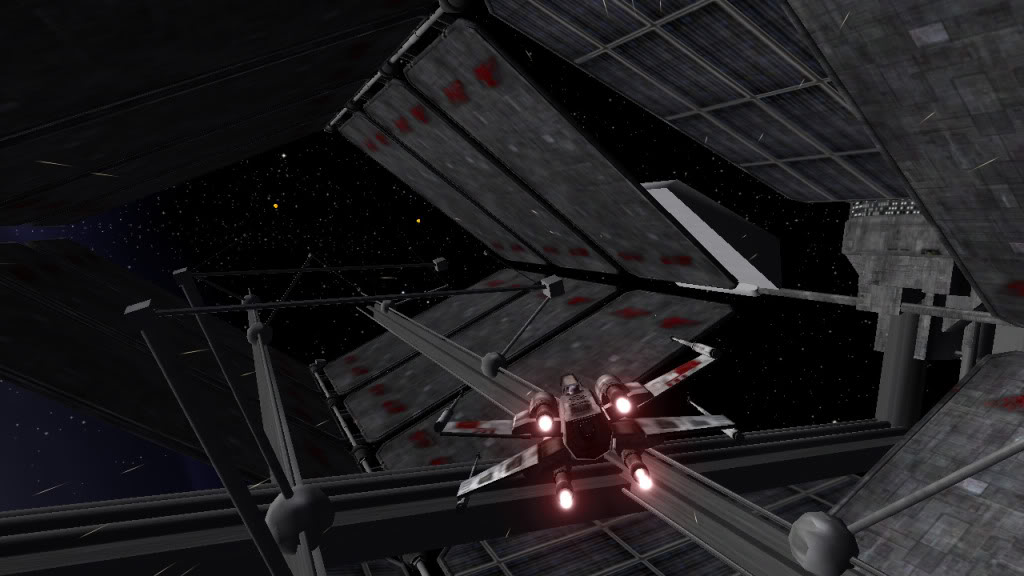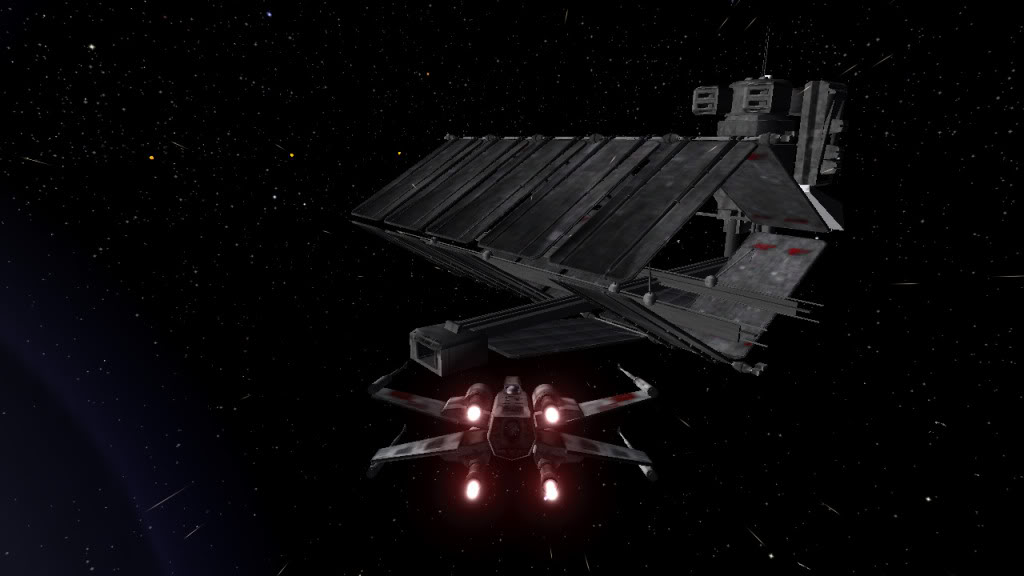 Arvis Taljiik:
Juma-class Space Station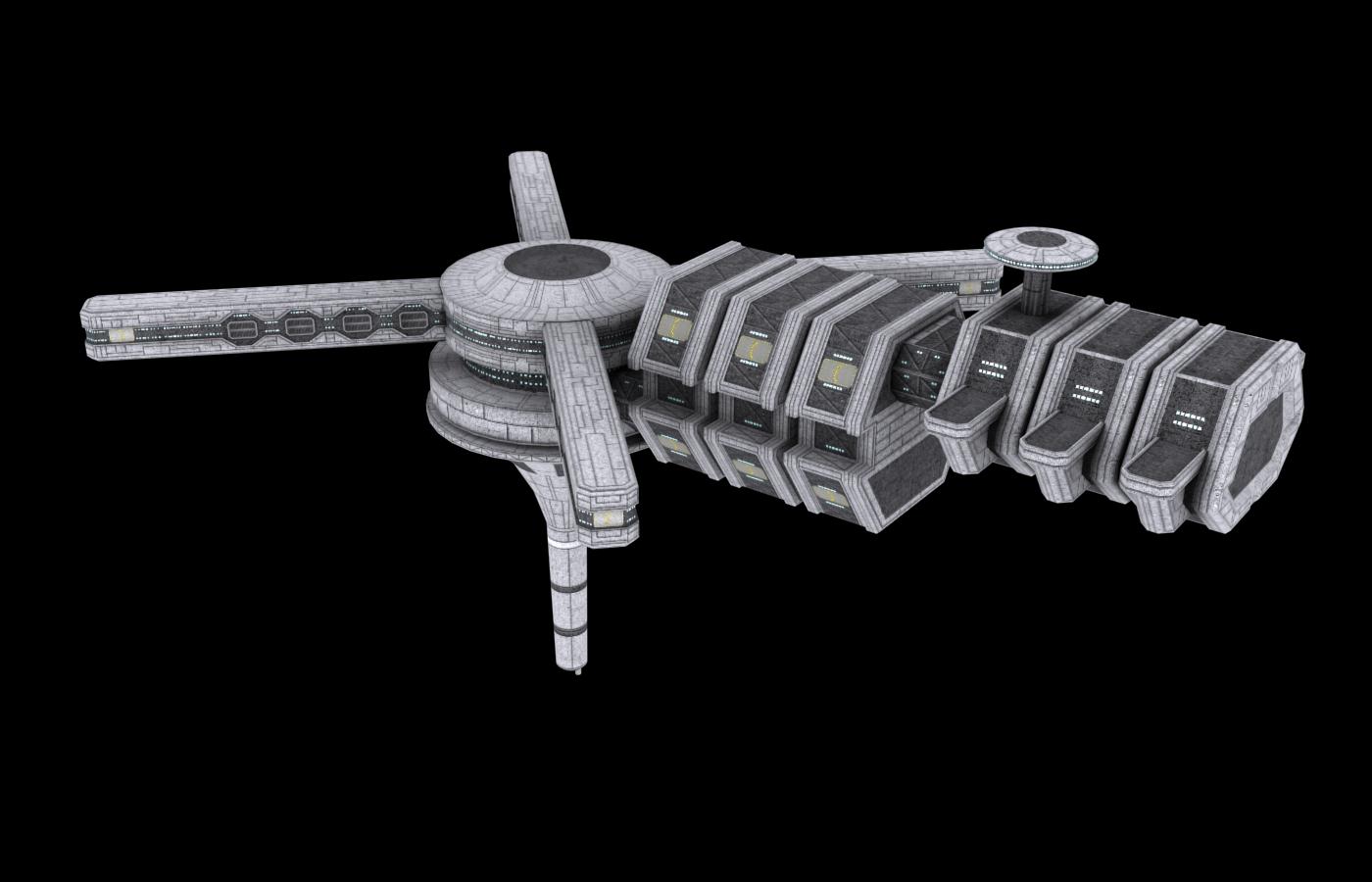 Golan III Platform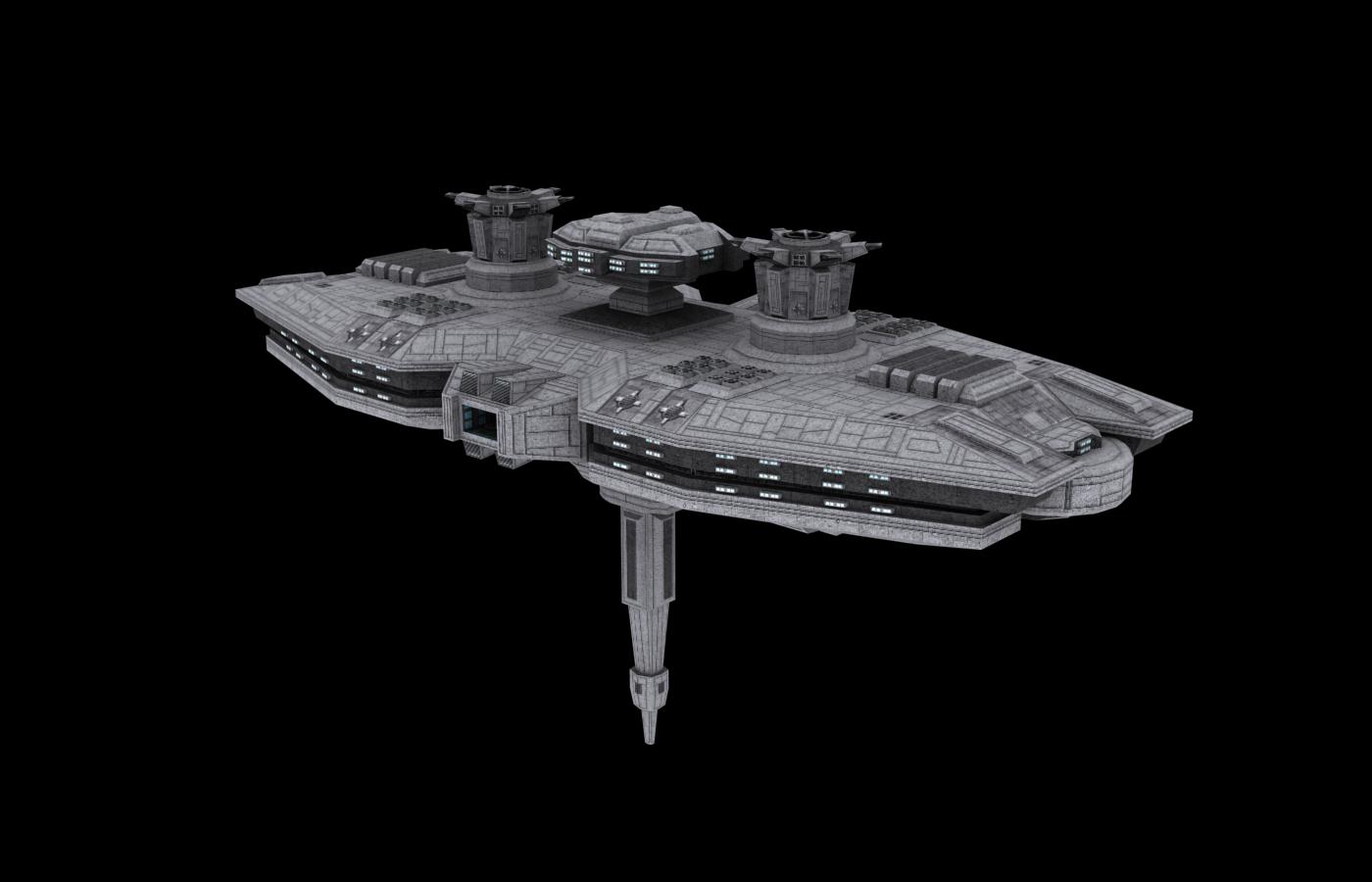 Qi and Solostaran:
Mon Calamari Shipyards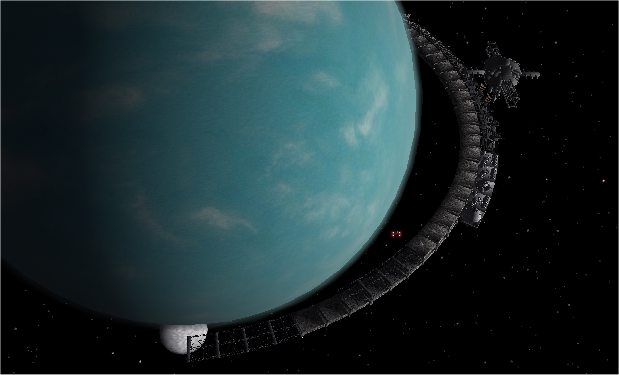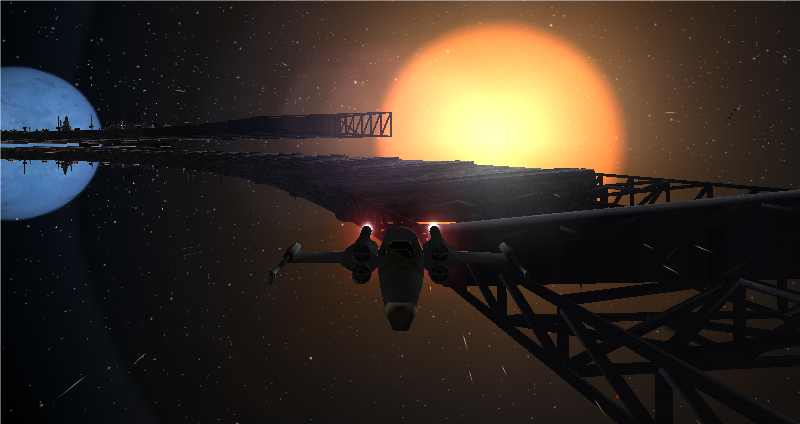 Destroyable Parts
We're currently in the process of making all of our capital ships have destroyable parts, like shield generators, turrets and power cores. With a well coordinated attack, a bomber squadron will be able to do a fair bit of damage against the much larger capital ship. By creating a wireframe, shown here,
the players will be able to find the equipment targets and focus their attack on them. When I finish the remaining details of the ships, I'll be sure to post a video of the system in action.
As always, any questions, comments or suggestions are appreciated!
Sushi
PS: If you haven't already, and you like what you see, don't forget to vote for this mod under the Best Upcoming Mods of the Year :)
-------------------------
Please follow us also on: