A Look Back in Time - Part III
Our next huge achievement as a mod team was getting our high polygon models into Freelancer; believe me, this wasn't an easy process. You see, the Freelancer engine can only handle, approximately, 20,000 polygons from one vmeshdata (the place that holds the polygon information) at a time. Anything more, she craps out on you. This was a well known thing until Devast8tor, the FL genius, told us we didn't need to be bound by such limits. The thing was we never had models that were even close to the 20,000 polygon limit...until Sovereign came across some stunning models. Some SOOO beautiful, we HAD to get them into game. There was a slight problem, though; not only were these models over the limit of Freelancer, they were triple and quintuple over the limit! These two ships I speak of are the CR90 Corvette, which is 70,000 polygons and the Imperial Star Destroyer weighing in at a cool 130,000 polygons. So, this posed a significant challenge to Dev's theory of having flyable ships over 20,000 polygons. But in the end, to make a long story short, he was right: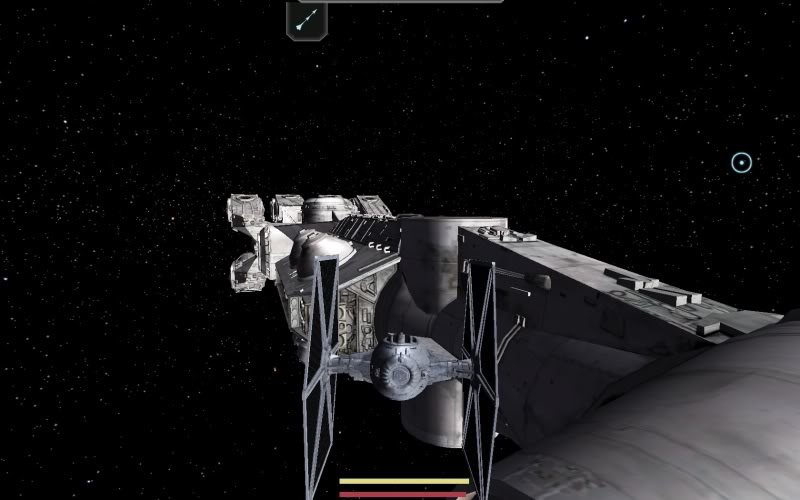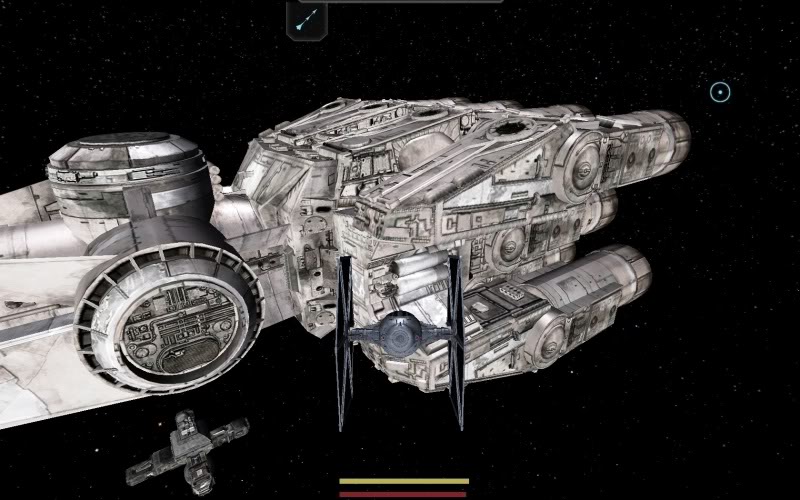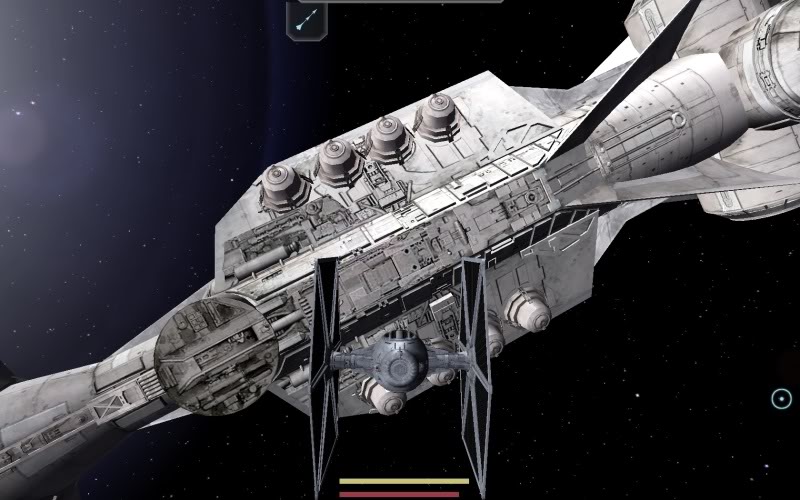 So now we had some amazingly detailed models and we didn't stop with those:
While all this was happening, Deety, our AI/Gameplay wizard came up with a hairbrain idea of his own; Mission systems. If you want to read the nitty gritty about it, go to this article here. The Coles Notes version of it is, it is a system that would be within the mod that had a huge scale mission/battle for players to co-op. It was quite a novel idea. Dedicating an entire system to one mission seemed a bit much but we decided to go with it. When he showed me the results...wow, I knew we made the right call:
Now, this is a good point in the story to bring up the massive bug that almost destroyed this mod. You see, Freelancer wasn't meant to have huge-to-scale systems. The systems were made to be about 250-300km in diameter, having a dozen planets or less, with multiple trade lanes and asteroid/wreck fields and some NPCs buzzing about. However, when I originally got the demo, Dev had broken this mould.
He hacked Freelancer in such a way that it could support systems over 2000km in diameter with massive planets, humongous suns and objects, gigantic ships and pretty much anything you ever wanted, or so I thought. When I saw this, I knew this had to be the way we designed FW:ToW. And that's what we did, as was posted in the other articles. Well, about a year in development we started to notice some weird things happening with our systems: First, we couldn't put asteroid fields further than 130km from the center of systems. For whatever reason, the developers of Freelancer thought they need to put this constant in to prevent this from happening. But this was no big deal. It was annoying, as we could only put asteroids in a 230km diameter in a 2000km diameter system, but we could live with that. No, the deal breaker was that hitboxes, the invisible model that allows laser and collision detection to work, stopped working. You can imagine that the immersion factor of the mod would be gone when you could seamlessly flew through entire stations, ships and other objects like you were some phantom.
Here we were, a year into development with 95% of our system layout down thanks to Oma; new, perfectly crafted hitboxes, which took Mikrha and Overfiend hundreds of hours to do; with our highly detailed models which Soverigned slaved over...that were absolutely, and utterly, useless. To say that I was heartbroken was an understatement. I was shattered. At this point, I contemplated throwing in the towel.
This feeling lasted a few days, until w0dk4 came up with the discovery that would save the mod. He found a way to hack the engine into allowing collision detect to work and we were back in business. How he found it, I still have no idea. To put it in perspective for you, it's like finding a real life, goregous woman that loves a man that likes video games...
W0dk4 didn't stop there either. Nope, he found hack:
after hack
after hack
I believe this is a good time to stop this article. My next article in the series will wrap up the history of the mod development. Then I will write about our future plans with this game.
Thanks for reading,
Sushi