Hey people! This is not an actual full-fledged article, but this is still worth taking a look.
As you have probably discovered, the E3 2002 build is quite whimsical and hard to run on modern computers. It seems to only work on older NVidia cards (as far as I know, it was made for GeForce 3 or something like that. It did run hassle-free on my (changeroftheways') GeForce 840M) and on OpenGL versions 4.4.0 and older. And it will definitely fail to properly load a level, if you have, say, a 1070 Ti and/or OpenGL 4.6.0.
Can't run it? Fear not! Now you'll have a better chance (but only if you have an NVidia, for now).
Thanks to a very helpful comment by a ModDB user _emoose_, a partial solution to this problem was found: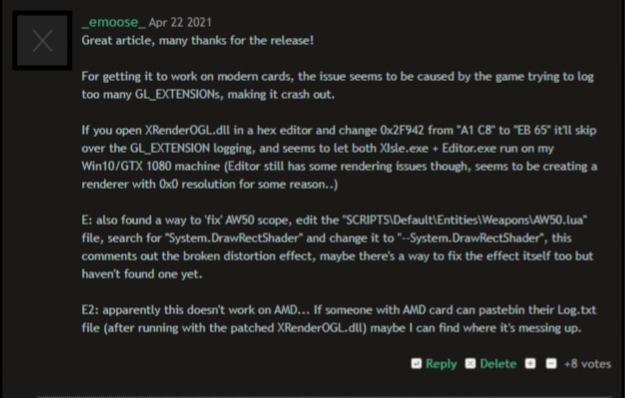 And then a person on our Discord server, JpF_FlemA has made a modified XRenderOGL.dll, with changes described in the comment by _emoose_:
Now, if you replace the default dll with this file, it should work on modern NVidia GPUs, like FarOut's 1070 Ti. New drivers (with OpenGL 4.6.0) should work too.
Still, there's no success with other GPU brands yet. For example, AMD graphic cards don't work. But we'll certainly make an update when the solution is found.
Do stay tuned for a proper article, it's work in progress.
P.S.: sorry for being kind of late with the ModDB update.