Unfortunately, our indiegogo campaign didn't reach the numbers we'd hoped. But then the greatest of victories have often been preceded by terrible defeats, and we remain unfazed. The Red March continues, and we still need your help to spread news, information and the links to our pages.
But rather than just tell you this, we have some pictures to do the talking too: some renders of a PT-76 and a T-55 by our newest member, Ilves, whose work on "Rogue Republic" has been truly inspirational. Now these units won't necessarily be in the game, and we don't even have a unit list yet, but we have been practising our abilities and we do have the intentions of creating units with a similar scope.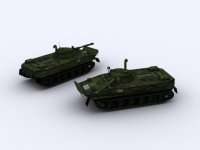 PT-76 Amphibious Tank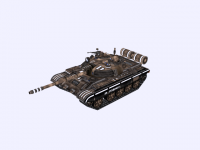 T-55 Main Battle Tank
Also in this update, a few pictures of the Soviet War Factory, also by Ilves. Soviet tank production will be impressive to say the least, and this building may just become the central focus of many a Soviet Player.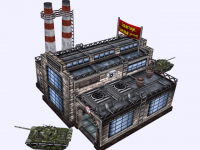 The Soviet War-factory
Other news? We're progressing slowly. Most of us are back at work or education, as you'd expect, but we are working our way towards a playable first build to show off to all of you. We are also working on a website with official forums, and there is also a little work on a few high level and imaginative gameplay concepts.
Stay tuned, comrades. The Red March has become quieter, but continues with no less dedication than before.