I did not lie. In my last post I mentioned that I've updated to Windows 7. Well here's the proof, this latest screenshot, appropriately entitled "A Hole In The Ground Formerly Known As The Enemy Base" features the Windows 7 window dressings. They could be photoshopped though, so I'll let you be the judge.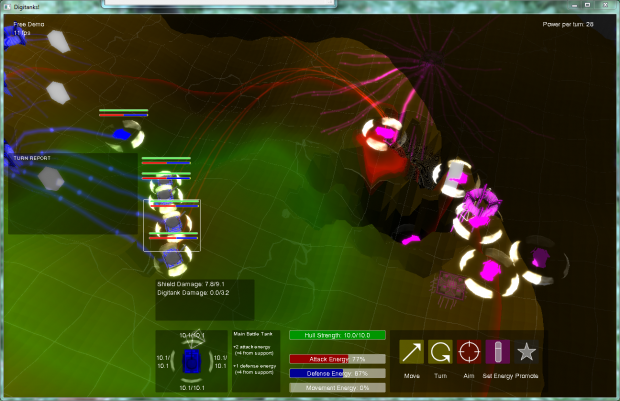 In this screenshot, the blue team pummels their pink adversaries into submission. As you can see, the bombardment has created a large hole in the center of the enemy base. My artillery (offscreen) has assisted greatly with this attack, wearing down the enemy defenses so that my tanks could step in unfettered.
After extensive playtesting, progress is being made on balancing the gameplay, getting the demo ready for an imminent release. As I play the game over and over I continue to identify areas of the game which need improvement, and my work to repair and improve them is steady and time consuming, but a delivery of packaged goods containing a Digitanks demo is forthcoming. For example, this evening I identified a problem with excessive unit construction. Most RTS's have some kind of limit to how many units can be built, but Digitanks lacks this, and so huge masses of units can be produced without consequence. That means that a player can build huge masses of defenders to effectively eliminate the possibility of taking a base. So that and a number of other gameplay problems need fixing, and then after some graphics and UI work the demo will be done.
Thanks again to all of those who follow the game's progress. You're getting this additional screenshot because the last news post I made was so rudely archived by the IndieDB mods, and thus didn't make it to the front page. So rude! So rude!! I think it's because I spent so much time talking about my computer and not about the game. Clearly my fate is held at the whim of the omnipotent Indie gods. I can only hope that my offering of digital ambrosia in the form of this screenshot can appease them enough to grant me this humble post. In effort to sweeten the pie I also present to you yesterday's screenshot again: