This will most likely be the last update for the year, so I am going to wish you a Merry Christmas and a Happy New year in advance!
There's some interesting things being said about Grimm, here and in 'the press'. First I wanted to share with you Medve's video review on Grimm over at Eat at Medve's. He talks in depth about the game and shows you all the maps that were part of the latest release. It's not a full walk through as quite a few secret areas were missed but it gives a great image of what Grimm is all about, so go check it out! LinuxGameCast Weekly also did a piece about Grimm which was interesting to watch: Linuxgamecast.com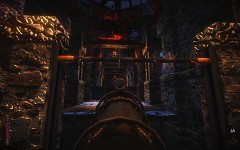 Basically most of my time has been going into streamlining Grimm in many ways. I've been going over the code meticulously to find ways to clean out things that were used in the original Doom code base and are unused in Grimm but still consume CPU cycles nonetheless. This will propably take a while but I hope it will reward me with a bit more room in the performance department to add new features. Because of checkpoints I've also been looking into trying to speed up save times, cleaning out any variable that I'm not using for Grimm. Smaller filesizes will mean shorter save times.
A lot of the breakables code has been cleaned out and many features have been added to it. Instead of simply dissapearing, breakables now dissipate with effects and sound, adding to the immersion of the game. Most of the gibs scripting has changed entirely and has been moved into gamecode. Gibs now drop proper blood decals and even drips down from surfaces.. (somewhat eh.. it's a work in progress). Every effect is customizable from the much cleaned up and feature filled new main menu and options screen.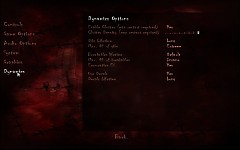 Two new sections have been added the options screen: 'Graphics' and 'Dynamics'. The Graphics options screen offers a lot of customization options and now also offers a host of presets that players can choose to customize Grimm. In the Dynamics options screen all the options for objects that are spawned dynamically in the game can be set. Players can customize the clutter system, making maps very full with objects, or sparsely filled and they can set all kinds of options regarding to how Grimm creates gibs and breakables. The system menu has been completely recoded to offer a host of new resolutions, widescreen modes, FOV settings and other options. An 'apply' button will appear when Grimm needs to reset the video for the new options to take effect and in most instances a map restart is not required.
A lot of good stuff will happen with Grimm in 2013, so make sure to track and be the first to know of any important update! For now you can check out more of the menu screens over at the images section!