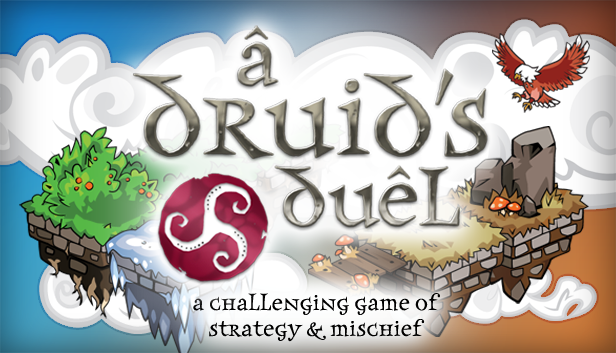 Release Day is Here!
It is with an enormous bundle of excitement, gratitude, anxiety, and pride that I offer to you the finished game of A Druid's Duel. Available now on Steam, Humble Store, and a host of other digital stores across the world wide web! Go get your copy for Mac, Windows, or Linux!
Don't Take My Word For It
A number of previews and reviews have gone up. You can get a list of them on our Press page.
Couple of highlights:
"A wonderfully plucky exercise in territory control...landscaping, and rampaging bears."- Tom Chick, Quarter to Three
"...A challenging strategy game. But most importantly, it's fun."- Rafiq Mandal, Indie Game Magazine
"...One of those games that's easy to get into and hard to master...the gameplay is very tight." - Lana LeRay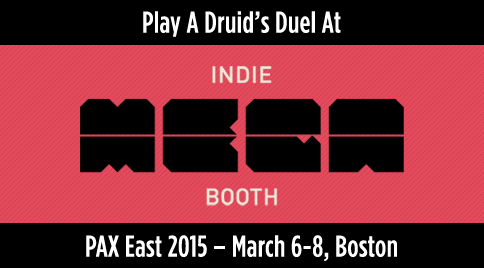 I am extremely honored to have A Druid's Duel selected to be a part of the wildly popular Indie MEGABOOTH!
I will be on hand showing off the game next week at PAX East in Boston. As you know, I showed 'Druids' at PAX East last year, having been a PAX attendee for years and years. I have the opportunity to reach more people than ever by being a part of this amazing collection of top-notch games.
I am so humbled and grateful to be among such a great group of successful developers. Two years ago I attended PAX and spent a lot of time among the MEGABOOTH and could only think, "Someday I could be standing here..." It was one of my goals when I started out on this crazy adventure and now, to have achieved it, I could not be more happy or excited. If you attend the show, please stop by and say "hi."
Then What?
You can, of course, continue to follow the development and chatter on Twitter and Facebook! The online gameplay is just beginning and will be seeing updates and improvements over the coming months.
A Druid's Duel will still be making its way to iOS in the near future, so if mobile gaming is more your thing, keep an eye out for more news on that front.