I have revived John's Adventures into Warlord Era: Yerland Chronicles which I had in mind for a long time. The new game is based in a province called Yerland. It will be a medieval/fantasy game with the same graphics like John's Adventures. Well. The story goes like this:
Yerland is a province that is oftenly attacked by Dragon Knights. There is only one man to protect Yerland. He is Warlord XVI named Drake Varkan. With his soldiers, he protected Yerland for years. But then Dragon Lord Drakanass had enough. He started studying old, forbidden magic. He was almost killed in the process, but he uncovered the magic of mind controling. So he
attacked. This was the first time he was personally fighting with his
forces. When Warlord saw him, he wanted to end the attacks once and for
all and attacked Drakanass in rage. Drakanass used his mind control spell on Warlord. And that was
it. Soldiers were nothing without Warlord. They lost. Then Draknass ordered Warlord to go to his castle and kill everyone in it. Warlord did what he was ordered. But not quite well. While he was killing, one soldier went to Warlord's quarters, took the baby from the crib and ran in the secret escape tunnel. He then gave the baby to a farmer named Jack Enclaster. Then he returned to castle to help other soldiers. No one knows his fate. When the work was finished, Warlord returned to Drakanass's domain. Together they conquered 80% of Yerland. All that remains is now called Erinland. Because there was no Warlord's son, they had to have a leader. So now the leader is king Erin. Then Drakanass didn't need Warlord anymore. Some say, Drakanass killed him, but others say that Warlord
destroyed the magic and went to make his own domain to location
unknown, but the Evil of the magic remains in him. So our story begins
24 years later out of eyes of Ryan Enclaster, which is wondering why he has red eyes, so he adventures to find the secret behing them.
Logo: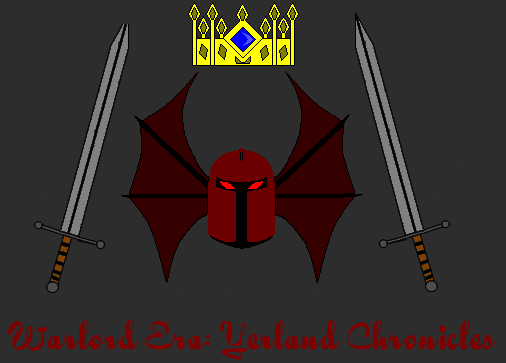 I am gonna keep you updated, so stay tuned! Go to the official website for some info about the enemies and other things.
Got any questions about the new game? Email me!
Warlord42