Tyrum, this time in the morning light!
Last week we released our first official screenshot featuring one of the small surface villages, Tyrum. We found the night scene to be interesting, but some people got back to us saying that they find the screenshot to be very dark. To provide them with a good look onto our work in progress stuff, we're now presenting the scene in a sunrise setup.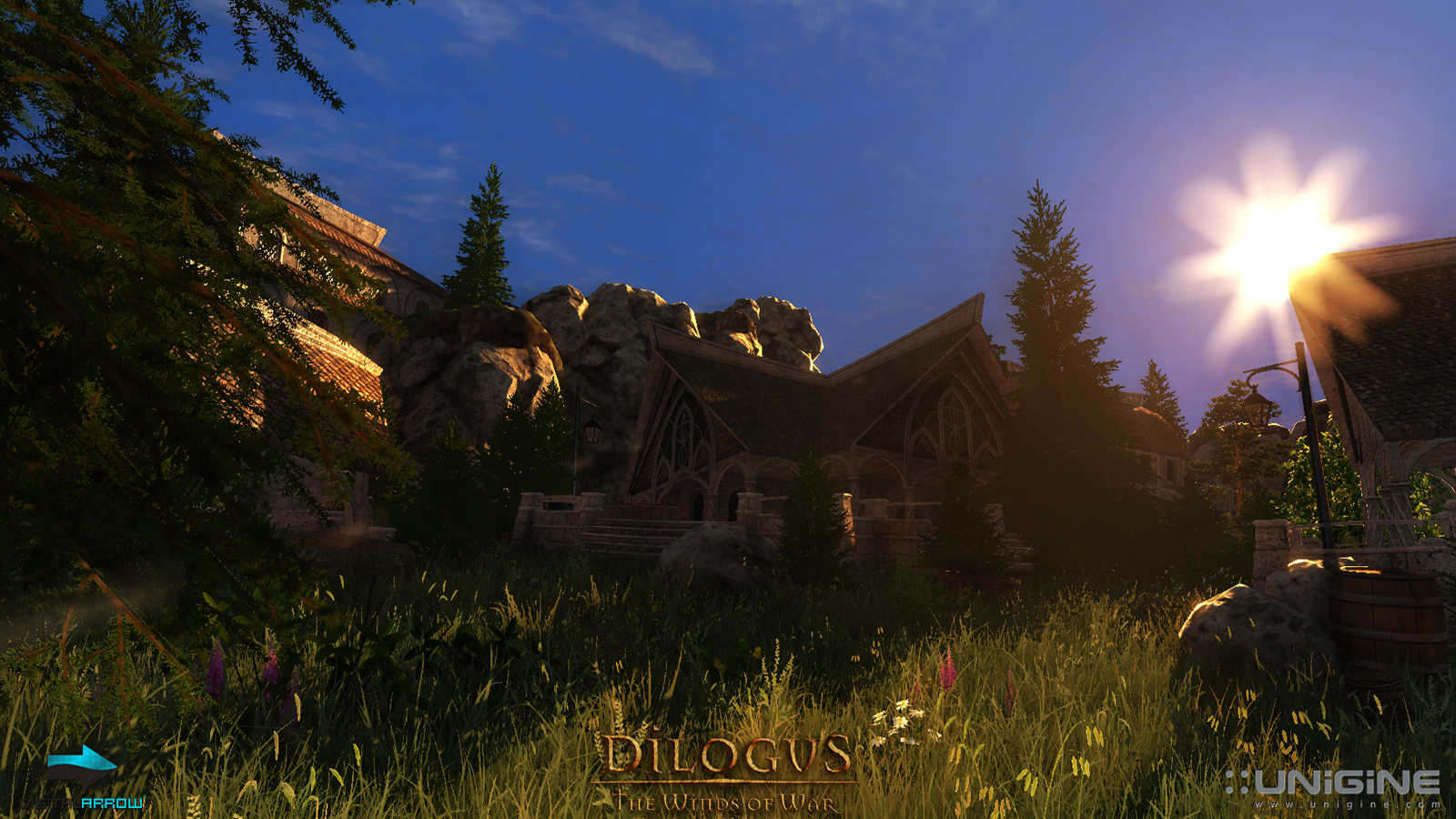 A Sunrise in Tyrum
A bit of community Q&A!
We've put up questions on out Facebook page allowing our fans to ask questions. This will not be the first and only time we've done this, so if you would like to ask a question yourself, head over there, join the community on Facebook or Twitter and ask away! Each week we pick a couple of questions and answer them either here, our forums or our blog. Our community means a lot to us, and if we can answer your question, we definitively will.
Here are some of the questions from last week:
Krzysztof Kietzman asked:
What is Dilogus aiming to be, a mainstream AAA game or an indie game?
Our answer:
The answer is actually somewhere in between. While we are a bit beyond smaller indie projects, we still consider ourselves to be indie developers. Going mainstream or AAA is currently not our main goal, as we don't really care if it's indie or AAA. At the end, the only important thing is to make a good game, isn't it?
Nicholas Filippelli asked:
Will it be in the Ubuntu Software Center at or near release?
Our answer:
That is actually a question we can answer when we will be at release, or near it. But we do plan to look into various possibilities, including the Ubuntu Software Center.
Jim Raredon asked:
Will this be an open-ended game, like the Elder Scrolls series?
Our answer:
We aim to let the player go anywhere or do anything in the game that they want. The only limits will be his stats, as the world will NOT be tuned to the players level (as in TES IV: Oblivion). Most of the choices in Dilogus - The Winds of War aren't black or white, right or wrong but fall somewhere in the shades of grey. We aim to give the player as many possibilities to shape their own story as possible.
Michele Proverbio asked:
Will classes be highly customizable? I don't like when all the players have similar characters...
Our answer:
Neither do we. Players need to feel unique in a game, therefore we are putting in a lot of effort to make this real. While classes will have a set of general and class based skills and abilities, none of the character paths (disciplines) can be "maxed out", therefore players will have to choose which skills or abilities they want to specialize in.
---
Thank you for supporting Dilogus: The Winds of War!
If you would like to follow our progress, you can
Watch
the project or tune in with one of our community sites. Another option is to have a check in at our
Blog
and
Forum
.