This week we've fixed a lot of small bugs and overall balancing issues, it is something we will continue to work with.
We have had a DDoS attack on our in-game message system, measured up to 4.5 GB/s of data traffic flooding one of our servers. Because of the servers being down we have been able to track a couple of game crashing bugs. It is always good when this kind of things happen, so that one better can secure the game from future crashes!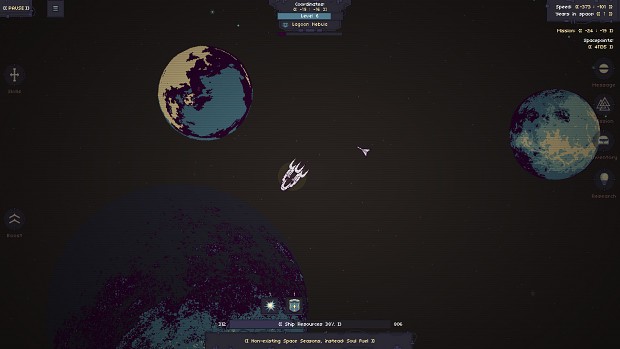 More things we've done this week:
★ Gotten more awesome beta-testers on-board, testing RymdResa on Steam!
★ Implemented new diary logs, short floating texts and exploration quests.
★ We have fixed a bug with the pause-button, there is still a small issue here we need to sort out.
★ Increased space zones size by 100%.
★ Fixed the back-button trigger, click-offset was wrong.
★ Treasure box improvements and rewards.
★ Display what item is new in inventory.
★ Added a chance for exploration to succeed, without a quest.
★ Increased the resources losses and findings, on explorations without quests.
★ Fixed a bug in chapter 3, where junk was invisible.
★ Now the ship is always on top of entities in space, instead of sometimes going behind them.
★ Increased fussy spawn positions for new objects in space, we are trying to reduce the clustering of objects, we still need more work on this.
★ Revamped our item generation system, most of the bugs fixed and performance increased.
★ Better item finding the longer you travel.
★ Added support for better items in dangerous zones.
★ Better memory management when loading game, this will ironically increase load time slightly.
And we have also made some super secret progress on bosses and missions in chapter 3! We hope that we soon can share that with you!
/Morgondag