So, changes. Actually more changes than depicted on this picture: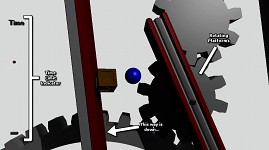 But I didn't have the patience to get through a narrow spot so that I could close in on the turrets. Sorry. What you see here are basically two things:
A Time Limit:
If you are too slow, you are done for. I can't tell for sure how long the ball takes to get all the way down, but it's adjustable per-level - it can have 1x, 2x, 0.5x and 0.25x the time. When the ball reaches the small block underneath it, it resets the level. Not depicted: Powerups that give you extra time.
Rotating Platforms:
They come in two versions: Red and Grey. The red one, just like the walls, kills you instantly, while the grey ones just bounce you around (which, come to think of it, will most likely end with you hitting something red). The platforms are rotated by the cogwheels in the background, which looks badass in motion.
What is not in the picture?
The previously mentioned powerup, granting you some extra time to make it to the end of the level. This is not to be understood as a checkpoint, since dying will still send you to the beginning of the level.
Turrets. They shoot red balls and if you hit a ball, you're done for. Other turrets - distinguishable by looks - shoot grey balls that have little mass and only bounce you around a little, disorienting you without neccessarily killing you unless you move hastily.
Obviously, other levels. One planned feature are levels in which the player is an orange box (no pun intended, Valve people) that has less mass and stops spinning faster than the ball does. I originally wanted to swap between ball and box within the level, but that didn't work out too great.
Some decoration. Nothing fancy, just to make the level look a little better.
So... yeah. That is about it. Any questions?