I can think of no proper way to begin this update, so we'll just jump right in.
First up, the first episode of BWL's Video Update is now posted on our site. The Video Update is something new we are trying as a method of making some project news updates and creating discussions among our members in the steam community chat room.
In this first episode, we talk briefly about our plans to wrap up Cat-Life and move on to Cat-Life for Source. We also talk about machinima, particularly random clip shows it seems, and what we hope to do with our own three planned shows.
The episode turned out longer then I had intended and we barely managed to squeeze in any of the From The Chat Room segments, but it works well enough for our first time out. The episode itself is divided into two clips. Part 1 is the news and Cat-Life discussion. Part 2 is the machinima presentation.
You can see both parts in the post on our site... here.
Normally, there would have been much more to our "From The Chat Room" segments, but the video felt too long already. In future updates, we'll probably focus considerably more on "From The Chat Room".
There are also some errors and artifacts that I may be the only person to notice. But I'll be working to avoid those the next time we do this.
Now, even if we had included more of the chat room segments, we knew it would be more content then we would use and could even be made into an MP3 for your listening pleasure. Thus I made a "From The Chat Room" mp3 and posted it here.

Videos & Audio - BWL Development - Mod DB
As an added bonus, and since we spend a fair amount of time discussing Cat-Life, I used cuts from two of the Cat-Life for Source soundtrack. The first is from a track that I have yet to name, but that King Cobra made specifically for Cat-Life. That can be heard during the intermission.
Second, I used a snippet from a track I tentatively call "Military Precision". That can be heard at the end.
***
Okay... with all of that out of the way... allow me to summarize the subject matter addressed in the video and mp3.
First up... Cat-Life.
Cat-Life has been in development for seven years. It was on hold from 2003 through 2006. And once it resumed... it literally resumed its original development. Meaning that, although cat memes appeared... although tastes in mods matured... although expectations of our site and, in fact, the entire site itself was consumed by the wonder that is BWL... Cat-Life was still a mod for 1997's Half-Life.
It has aged considerably in concept and has not seen the giant leaps in development that one would hope for. As was pointed out in the December 2008 article in PC Gamer UK, the author pointed out that Cat-Life likely could not live up to expectations. And I believe this to be a very true point.
Cat-Life is the last remaining project that truly dates back to the old "Friendly Garg's Stories" website. When I took over that site back in 2006, I merged my own msn groups with it and began moving it toward my own desires for a site.
Finally, during this past year, the remnants of the old FGS site were converted into a form of archive. Except for Cat-Life.
At this point it should be noted that BiGToM, when he assumed the leadership role of Team Cat-Life in 2007, re-joined as a mapper and began developing the mod as a map pack.
Without any custom source code until November last year, the project was developed as just that. Sure, we added sounds, models, textures, and so forth... but the plans for the project were much greater and simply have not come to pass.
For example, we had planned to include weapons such as a baby shock roach and a hornets nest. There were several secret areas planned throughout the game, each containing its own little gags and jokes too. But those were all scrapped due to the extra work needed.
We've been criticized in the past for not changing enough of the game... even having some complain that they feel like the demo is too much like a mini-Gordon and not enough like a real cat. Or we don't have enough extras. Or we don't have enough of a graphical update.
These are all legitimate enough given that the world has grown and Cat-Life has not.
Beyond all of this, Cat-Life is still not finished and has been scaled back considerably by now. I personally have a problem with that... particularly since I have grown tired of certain professional development studios that have failed to release certain games in the course of 12 years... or so... and other corporations that have decided to focus on one corner of their market and neglect all others.
Therefore, as I have stated previously, Cat-Life will be released. BiGToM is still debugging maps and has now uploaded the needed files to our Team Cat-Life file storage. This means that other members can download and work on debugging maps too. And bluefire40 of In Development is also working on our source code.
Once the maps are ready, Cat-Life will be released in its current form. If the code is ever finished, we will also release a code update after that. We will make these releases so our followers can play the game they have been waiting for since 2003 and it will be good for those that can only play goldsource mods for whatever reason.
However, all other development on this mod is now finished. It's time to move on to Cat-Life for Source. A newest coder, kenners, is learning to code for Source now and is working on one of the old to-do lists. I am personally taking the leadership role on this reboot of the Cat-Life mod.
Specifically, Cat-Life for Source will be a much bigger project then the original with a deeper, darker story written by myself. We intend to incorporate path splits, secret areas with bonus weapons if you choose to search them out, cat abilities once again, and a few simple new monsters. Yes... I do intend to include cat zombies.
For now, our only focus is on programming help and possibly a 3d artist/modeler/animator to work with our coder. I will be working on the plot in the background until after the original Cat-Life is released. So don't expect many updates on CLS for a while.
***
In other news, I intend to complete all of my existing comic and fiction projects in their own time, but they are being arranged around work on our planned machinimas and the Cat-Life projects.
Of note, however, I plan to reboot two web comic projects: Errant Pixels and Operation: Save Friendly Garg. Also, I have started planning a Trinegate comic and two "original" comics... Ambition and Honor, and an unnamed project.
For your viewing pleasure... here are a couple of line drawing samples.
Trinegate -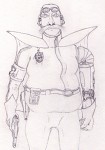 Inter-Dimensional Power Corps - Operation: Save Friendly Garg -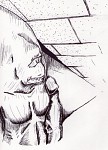 New and Unnamed Comic -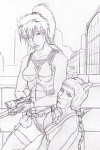 ***
Finally, our main topic for Video Update and From The Chat Room was machinima. Mainly, I described some of my own opinions on existing machinima projects. I also spoke of what I felt were the short comings of our previous "random gmod" video Disorientation. And then we talked about our three planned shows.
Only one of them has a proper title... Team Play. This show will be the first we work on. It will follow a team of heroes as they battle the combine and an unknown enemy in a universe where Gordon Freeman has been abducted before he can inspire the rebellion against the combine.
The second, codenamed "Chicken", is our planned Robot Chicken type of show. In this show, we intend to create movie and game spoofs... 2-3 per episode... and separate them with stinger gags. In the end, our goal is to make something better then just a random gmod video. Instead, we want to make an actual skit show with spoofs and parodies.
The third show, codenamed "Renegades" is our more dramatic action-adventure. Set in my "Source" universe, this show will be the most difficult and thus will be the last one we work on. That show will use as many tricks as we can to make a quality program about real world people adjusting to life in the Source and becoming a super-hero team to battle various foes.
So... that's about it I think.
What do think?