---
The soundtrack for EpicVessel Games' forthcoming Rogue-like Adventure/RPG 'The 9th Wizard: Rings of Eternity'. Created by chiptune musician Comptroller using a Commodore 64, this is an atmospheric collection of fear-invoking sounds and situational beats. The album is a treat for fans of the genre.

Included Tracks (21):
01 Opening 02 Incidental 1 03 Noises 1 04 Noises 2 05 Incidental 2
06 High Enemy Presence 07 Noises 3 08 Noises 4 09 Boss Theme 10 Boss Win
11 Incidental 3 12 Noises 5 13 Noises 6 14 Near Death
15 Shop Theme 16 Incidental 4 17 Noises 7 18 Noises 8
19 Final Boss Theme 20 End Theme 21 Game Over
---
The 9th Wizard: Rings of Eternity OST
is available in IndieBundle.org 's SummerSun Chiptune Bundle: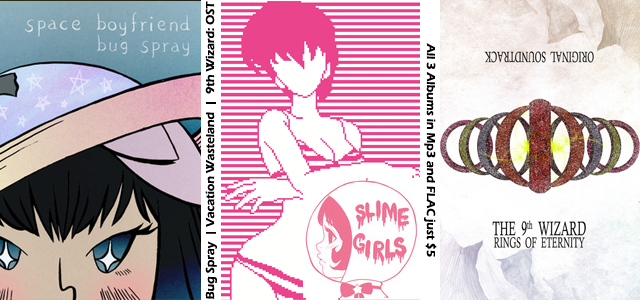 Bug Spray, Vacation Wasteland EP, 9Th Wizard OST |
$5 Bundle .

Support the artists with your purchase.

Bring back the summer with the Slime Girls EP, Vacation Wasteland. These chip-beats are the perfect cure for a rainy autumn day.
Space Boyfriend evokes thoughts of warmer weather with Bug Spray, his latest album. The upbeat and fun tunes remind you of watermelon fights and swimming pools.
Comptroller gives you an atmospheric welcome to the October festivities with mood-setting chiptunes that evoke emotion and danger.
All three chiptune tracks are offered in both mp3 and FLAC formats. Please note your support goes allows the continued creation of awesome music like this. Please visit the individual bandcamp or personal pages of each artists to show additional support with a PWYW contribution or purchase of their fundraising merchandise.
---
Follow on Twitter:
@ComptrollerA @EpicVesselGames @IndieBundle2012
Visit Comptroller's Website