After a long preparation, here it is:
Fruitbat Factory is proud to announce our new project, Puzzle RPG 99 Spirits is doing a simultaneous entrance on IndieGoGo and Steam Greenlight.
99 Spirits, recently released in Japan Fall 2012, is the first RPG produced by the Japanese indie game circle TORaIKI, and is currently being localized for English speaking audiences. 99 Spirits was the recipient of the December 2012 Indie Dev Grant.
The game features an original battle system where players will have to puzzle out the true identify of the enemy before defeating them. 99 Spirits revolves around the real Japanese legends of Tsukumogami, where everyday objects come alive on their 100th birthday.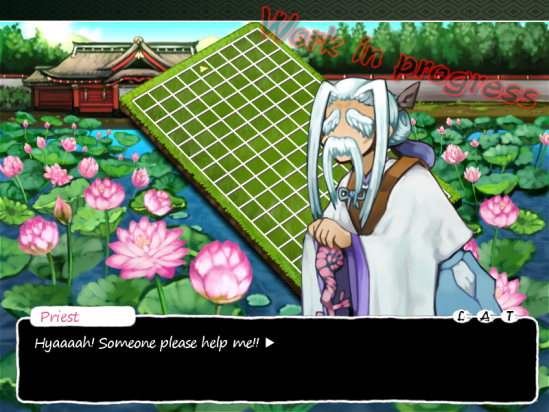 We are actively seeking the community's support for the ongoing localization on IndieGoGo and for the game's Steam release on Greenlight. "We truly appreciate the support of everyone interested in playing more unique Japanese PC games in English to help fund our current project and ongoing work. We are doing what we love and will continue to do so even if no funding is made available. We are doing this to gauge popular demand and to cover some of our immediate project expenses in the hopes of making a timely release possible so that we may continue creating interesting titles in the near future." explains project lead Jakke Elonen.
30% of all the proceeds of a successful campaign will go to the original Japanese developer of the game, TORaIKI, giving fans a unique chance to support both the localization and original developer directly. Fans of the genre will also be able to enjoy exclusive items for their early support of the game including t-shirts, posters and a sneak peak of the game before it's available to the public.
The project also offers all kinds of cool rewards for the pledgers, including t-shirts, posters, an artbook, a special boxed collector's edition and a dakimakura.
99 Spirits will also be making it's debut on Steam Greenlight. "Every independent developer faces the day they must enter the arena known as Steam Greenlight. For 99 Spirits, today is that day," says Yoshifumi Ishii, the game's translator. "Go to the game's Greenlight page to check it out, and vote for it if you like what you see. Tell your friends. That's all we can ask of anyone."
99 Spirits is planned to be released on PC (Windows) in Spring 2013.