Wow, look at that dreadful title. One might think I had resigned to some kind of grizzly fate. "2010 Mid-Year Update"? Yes, it's true...I will be updating far less than I have in the past, which by comparison is far less than I updated in the distant past. The upshot is that I get to surprise the community better when I do come around to show off my pet project.
HAPPY LATE BIRTHDAY, 99 BOLTS
Well, not exactly. You can't really have a birthday until you are born into the world and get to explore the planet for a while. But I am celebrating anyways because about 1 year ago last month, I started this project. And my, how it has grown. It has quite possibly grown well out of my control. But still i hold the reigns of power and with great patience, I try my damnedest to please the mod community. For example, here's a new video!!
I hope you enjoyed that. I also hope you enjoy THIS video:
In addition to having two videos to watch, check out the awesome screenshots posted below.
This large brick building will be home to some crazy wastelanders, so, uh, watch your footing...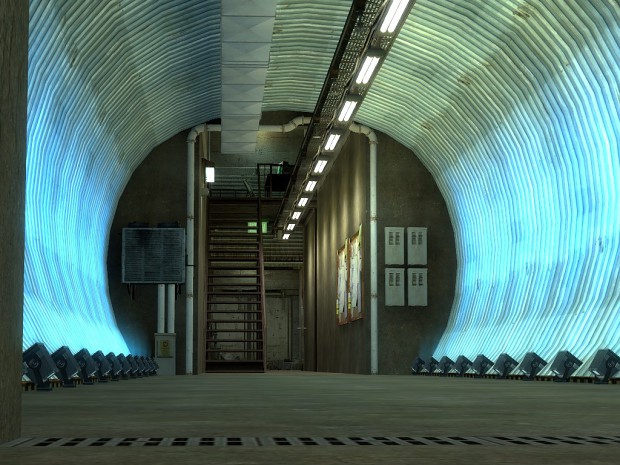 And this awesome place - well, let's just say you will visit this place at the end of the game.
Guys, this may not really seem like much but I have been busy working for a few other mods, so my time has been short. Not to mention my military affairs are not over YET, so my work will continue to suffer until I get them resolved. Yikes. So anyways, I hope you enjoy this paltry offering. (BTW, I saw the Dear Esther updates today and nearly deleted my entire mod folder, so yeah. That guy is a real one man army in the world of modding. Truly amazing work, everybody should check out his work.)
RADIO SILENCE
99 Bolts is officially going into radio silence from now until much later. That means I will not even think about updating the mod page for a very long time. I may occasionally throw up a few pictures but I want to really knock the socks off my friends, watchers, and followers. Don't be discouraged if the next update doesn't take place by the end of this year. I truly appreciate all your assistance, guidance, and support through the last year. And I hope to bring you a much wider variety of wasteland / salted earth sometime within the next 9 months.
In the meantime, feel free to periodically check out the other mods I am working on, one of which is another one that I started. Also check out the set of maps I released called Chasing Winona. You might be wondering why I opted to work on so many projects. I mainly did it so I could escape that sense of "boredom" that I feel from working on one single project for too long. As you can see, I manage to find time for everybody, and I like my setup.
Although I would never abandon one of these projects of my own free will, I feel no shame in telling you that the most important project to me is 99 Bolts. And as the video says - this project will never die. Thanks for watching 99 Bolts, and thanks for watching and supporting all the other mods I work on - however unusual they may be.
Zonbie - July 2010.
(BTW, it's either Ben on the street, joe_rogers_11155 on the web, or Zonbie on Steam. All one guy. I don't know the hows or whys of this naming convention. I am an idiot, lol.)