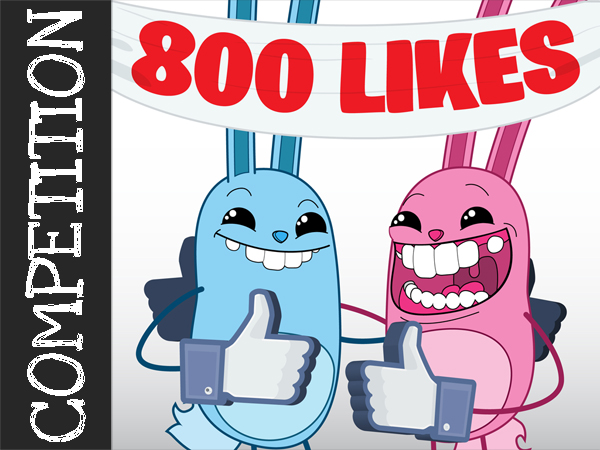 Reaching 800 likes on our Facebook page gives us joy. We are still pre-alpha, but the support from not only family and friends but the people we've met at conventions and other events has been really encouraging.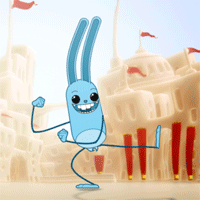 The above conveys our present feelings.
Blue is much more entertaining to watch dance than we are. Promise.
To celebrate the milestone, we've created the '800 Likes Draw' - we're giving away some goodies to say thanks!
Entry is simple.
There's a post pinned to the top of our Facebook page - users simply need to comment and tell us what their favourite Double Happy video is (they're here) and of course like the page to be eligible.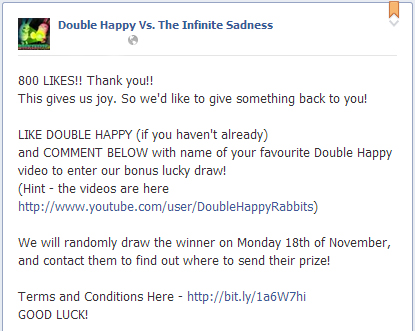 If we had tried to run this competition earlier on the year, we would have risked our page being permanently deleted. Late August Facebook revised their rules; allowing entry mechanics that pages were using anyway (often because page managers hadn't read the T&Cs!) to facilitate their competitions.
You can download the official Promotion Guidelines and best practices document here, but in summary:
Requirement that promotions could only be run through apps has been removed
Promotions can be administered on Page Timelines or Apps, but NOT on personal timelines (yours or your audience's)
Pages cannot encourage users to tag themselves in content they're not actually depicted in
Pages can now collect entries via users:
Posting on the Page
Commenting / Liking a page post
Messaging the page
We have actually tried to engage our fans on Facebook with comments before.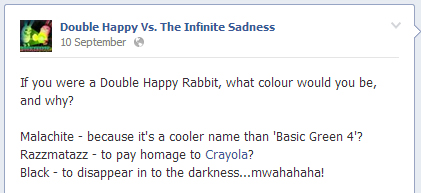 The results weren't too bad; we did post a few comments of our own but it wasn't long before we started getting a few interesting responses!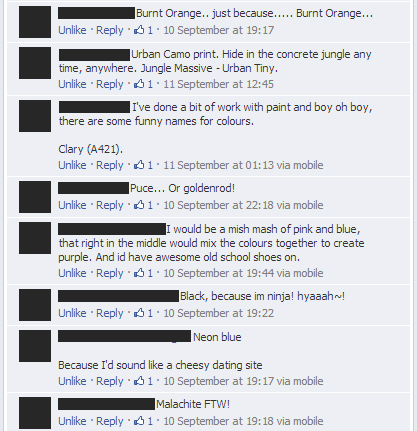 We're hoping that attaching a prize to this post will encourage more entries, and it also gives us a way to find out what some of the favourite webisodes we've made are!
Are you running competitions? (on Facebook or otherwise) How did they go?
We'll keep you posted on the results of our competition - and what we did with the prizes!
Feel free to enter our comp too! :)
Cheers!
The DH Team
www.doublehappyrabbits.com
Double Happy Facebook
Double Happy Twitter