<!-- begin content --> Mission Accomplished: 75K Facebook Giveaway Date: Jun. 24, 2010 Listen Up Soldiers!
Right before our very own eyes, Combat Arms Facebook fans have grown to over 75,000! Thank you for being a fan of the game! Your support keeps us going.
As a thank you, we will be giving away 20 Combat Arms Gamer Kits. The Combat Arms Gamer Kit includes a USB headset, perfect for planning strategy or taunting the enemy and a Nut Shot t-shirt to proudly display what it takes to be a Combat Arms player. Head on over to our Facebook page for your chance to win the Combat Arms Gamer Kit.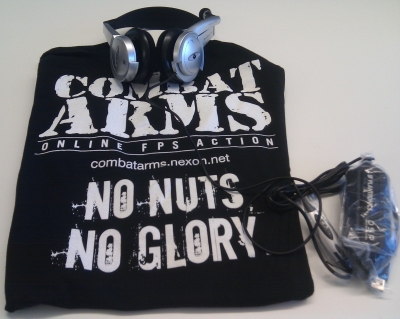 --Combat Arms Command--