Since I haven't been able to pin down a real release date for Operation Remembrance, I've decided to release weekly updates every Monday (provided I remember to do it) to keep everyone interested in this mod informed on what's going on. I'm also going to use each update to highlight a new feature in the game, whether that's a new vehicle, weapon, or game mechanic.
As I mentioned in the introduction article, the vast majority of the programming is done and all that's left is finishing the 25 maps planned for release with version 1.0 and doing some minor debugging. As of right now, the progress with the maps stands at:
Welcome to the Jungle: Finished
Quang Tri-1968: Finished
Ia Drang Valley: Needs new text for the loading and briefing screens.
Fall of Lang Vei: Needs new text for the loading and briefing screens and a new loading image.
Nung River Mouth: Needs new text for the loading and briefing screens and a new loading image.
All other maps still need heavy reworking. Progress is largely dependent on how well the bots play the maps after changes are made. If I'm not happy with how the bots perform, the map gets extra work until I'm satisfied.
*************************************************Weekly feature highlight*****************************************************
So, would you like buckshot or slugs to go with that shotgun? How about both?
Operation Remembrance features multiple new shotguns, while the original Mossberg 500 has actually been removed due to lack of conclusive evidence that it was used in Vietnam. The new shotguns are:
Browning Auto-5 (from Bf1942: Secret Weapons of WWII)
Ithaca 37 (from BfV: Arsenal)
Remington Model 870 (from BfV: Arsenal)
Remington Model 11-48 (combination of the Browning Auto-5 and Remington 870 models and textures)
Stevens 77E (retextured Mossberg 500 with a full stock taken from [if I remember correctly] the Ithaca 37)
Winchester M1912 (from Bf1942: Forgotten Hope)
Winchester M1897 (retextured M1912 with slightly altered model, plus the hammer from BfV: Arsenal's ".38 Revolver")
I admit I made the shotguns a bit overpowered. Real-life 00 buckshot as used by the military only holds nine pellets, while Operation Remembrance shotguns fire 40 pellets. They're an absolutely devastating weapon in close quarters combat, and can be used with reduced effectiveness out to 75 meters, but I used an in-game mechanic to make it impossible to hit anything beyond 75 meters. By that I don't mean I made it extremely difficult, I made it physically impossible. With some simple math based on the pellets' velocity and their "time to live", I made it so that at 75 meters, the pellets simply cease to exist. A bit silly, but it's the best I could come up with given the game's mechanics. It also encourages players to use an entirely new feature for shotguns in Operation Remembrance: slug rounds.
The zoom feature (right-click) for all shotguns has been removed. Instead, right-clicking while holding a shotgun will switch to an alternate version of the shotgun that fires slugs instead of buckshot. The slug version of each shotgun fires a single projectile that does much more damage than a single buckshot pellet, and has unlimited range, but since it's only a single projectile, obviously you won't be able to hit more than one enemy with it, and although the slugs are reasonably accurate at medium-long range, they're no replacement for an actual rifle.
In real life, some manufacturers use different colors for their shotgun shells purely for identification reasons. While the vast majority of shotgun shells are red, some are yellow, green, or blue. In Operation Remembrance, red shells are buckshot, blue shells are slugs. I did this partly for aesthetic reasons, and also so the user has one more way of being reminded which ammunition type they're firing: if you're loading or ejecting red shells, you've got buckshot; loading or ejecting blue shells means slugs.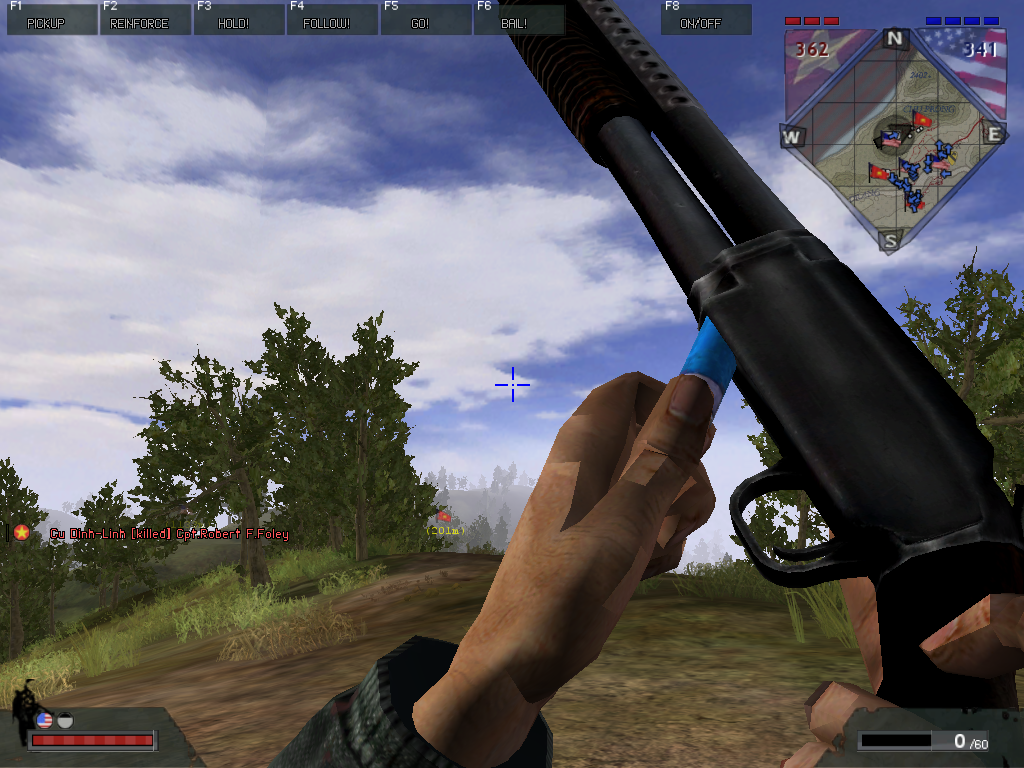 Loading the Winchester M1897 with slug rounds at the battle of Ia Drang Valley.
************* Bonus Update *************
I decided to throw in a little bonus for everyone since I watched a recently-made review of Battlefield Vietnam by an Australian YouTuber who complained about the lack of ANZAC forces as a playable faction in the base game. Operation Remembrance WILL be implementing the ANZAC faction in version 1.1. The vast majority of components for the ANZAC faction (weapons, player models, textures, etc.) have been taken from "BfV: Arsenal", while the in-game dialogue for the ANZAC is taken from the dialogue for the Australian faction from "Bf1942: Forgotten Hope". Technically speaking, the ANZAC faction is ready to go now, but I'm holding all of the maps in which they appear back for completion in the first patch after the release version. HOWEVER, if I get enough comments asking for the ANZAC faction in the very first version, I'd be willing to hold back some of the maps planned for 1.0 and add in the ANZAC maps instead. Even if not, I'm expecting the 1.1 patch to come out within 2-3 months of 1.0 being released. And as long as everything goes smoothly, I've got something special planned for next ANZAC day (April 25, 2022).