First, I would like to say thank you to everyone for making this group what it is. We've got 83 members, which I would say is quite an achievement.
I have decided that this group's new leaders shall be .FallenAngel and Packy21.
.FallenAngel- A person I know and trust to run the group really well. She has been a great help to me by making things for me, and always does a great job. Better yet, she loves the 501st. In short, she's gonna be the Tech Support Girl, CSS Girl and HTML Girl.
Packy21- A friend of mine on Moddb who is very kind and helpful, who helps people out will sorts of stuff, and was also one of the 501st's first members. For the longest time, he's been the group's second in command.
Assistants For the Leaders:
CrazyOldTeenager- One of my good friends on Moddb. Together, him and I have spammed people's pages with all kinds of poetry and rhymes. As his name suggests, he is mildly insane, and can be quite crazy at times. You'd better watch out for this one...
Ori'verda- The guy who made the awesome side banners for our group. He is willing to help the 501st, and will be a godsend for those who plan on entering the Star Wars RP group. His girlfriend, (Ooh-la-la...) is .FallenAngel. In short, Ori'Verda will be our Tech Support Guy, CSS Guy and HTML Guy.
Now, I would like to give a big hand to of the contributing members: Gumwars,Null12,Shadowguard1000,nowhere3pro,DarthJokerFett [SOS]ARC_Troopa_Nate peanut3143 ,Larry-3,Mace-Windu and Super_battle_droid.
If you have any questions regarding these recent changes, feel free to ask me.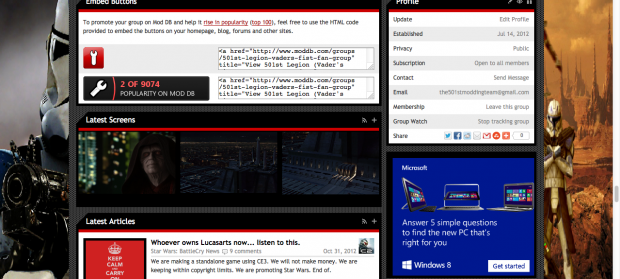 As former leader and founder of this group, I would like to thank you all for the time we've had here. It's been awesome, and hopefully, it will continue that way.
Picture by Me to show new leader ship.