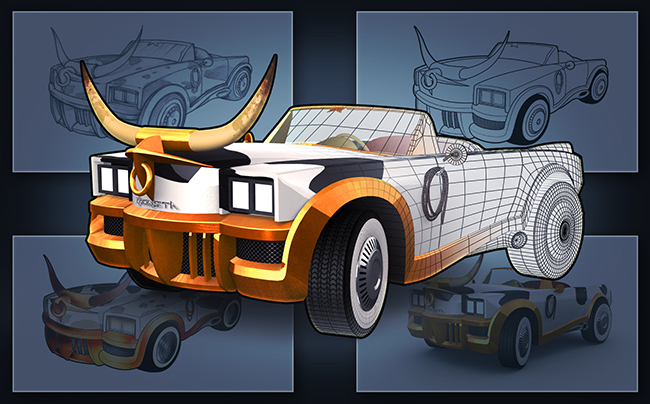 Today we deal with an essential aspect in the development of any game made in these times, and more specifically in a racing cars game like it is our case: how to make the best out of your game's assets creating a great variety of skins.
Through a five step scheme, you will know more about this mode to add a bigger diversity to a videogame. Simultaneously, we will also show you how the cars and skins in Wincars Racer are made so you can have a look to your future favourites!!!
1. Start from a modifiable and recognizable design
This is very important. If you want to have the chance to create a wide range of skins,it is essential to have a good model to start with.
The cars need to have a recognizable base but they also need to be somehow moldable, they have to be blocks with a personality of their own with space for modification and able to endure variations.
This is achieved leaving more neutral areas in the design by avoiding adding too many contrivances or small elements, and focusing on a few powerful elements: colours and shapes, undulations of the car body, bumpers, which give sufficient personality to the element but equally match future revisions of other areas of the design.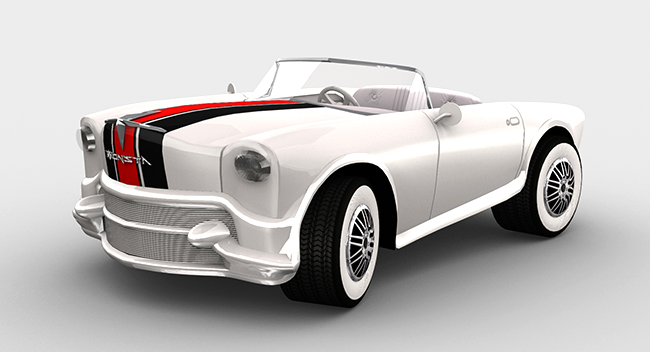 Carelle car in its basic choice, best model to start working on
2. Brainstorming
Brainstorming must be an organic process, natural and fun. This is the time to benefit from your human team strengths and letting the imagination of as many people as possible fly freely and add new points of view.
Don't be afraid to do research and having a look at pre-existing designs. Inspiration is always positive, and you will sure end up contributing your personal touch, want it or not, while progressing in the creative process.
The fundamental conditions are that, despite all the changes, the base model to which they belong should always be recognizable, that they are cool, and that they stand out by themselves with a unique personality.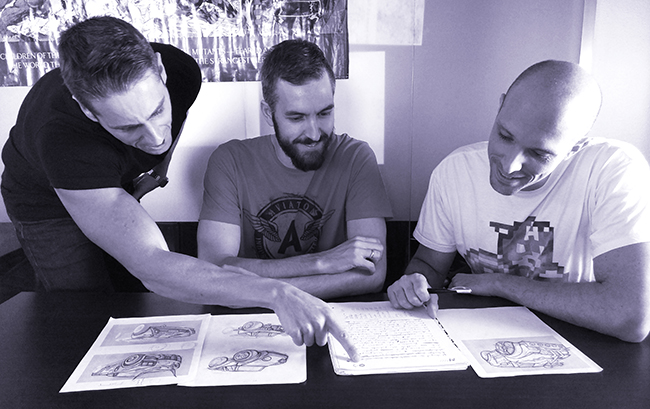 Last, there's a less fun stage in which one person must give shape to all this.
"My work consists in taking all those ideas, giving guidelines to the team that set a "game board" upon which they can contribute, and finally, filtering the ideas that arise in the process, deciding whether they have a place in the game or not, sometimes even combining them or some of their elements. In the end, each new skin is like a collage in which different elements and ideas of the team are combined", says Jesús Luengo, Game Designer of Wincars Racer.
3. First Sketches
When the final list is ready, quality hand-drawn sketches with all the details are made. If you feel comfortable with it, you can also draw digitally on a tablet, that is up to you, whatever suits you best.
If you are old school like me, you will use pencil and paper. A good trick in order not to lose references from the basic model is printing it in a light colour and using it as a template to draw a new skin over the old one.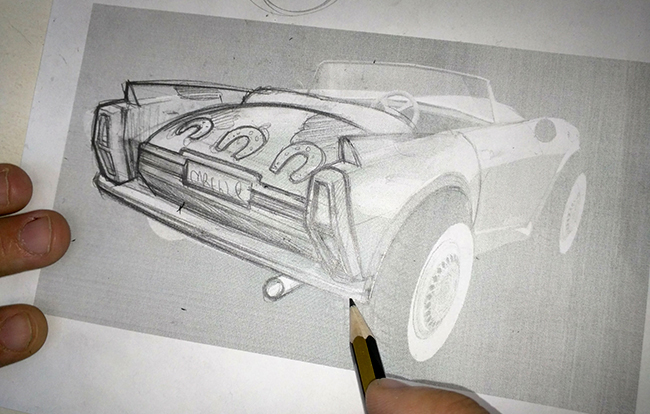 In the case of our game's assets, the challenge is to adapt the new elements of the car like spoilers, sills, tailpipes, lights and adjust them to the original car body. Sometimes it will be possible to suppress or modify some elements of the base car if the premise of keeping it recognizable is maintained, and the general result is coherent with the design.
The sketch will be done when you manage to give shape to a harmonic and balanced design which includes both the original model lines and the shapes of the skin to develop.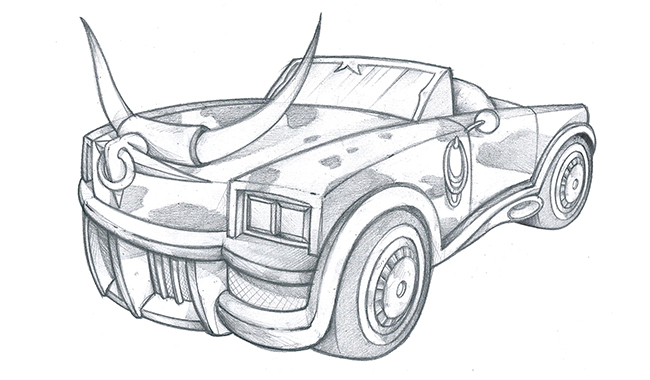 4. Colour
Colouring is really part of the same creating process of the sketch. But truth is that an intelligent use of the colour in the creation of skins can be so important that we have chosen to give it a specific space.
Same as with the first sketch, you can colour both by hand or digitally, but you need to take one thing into account: doing it with pencils will increase cost and time enormously, which makes most of video game artists opt for digital in this stage of the process.
If, like us, you have chosen to start your sketch drawing by hand and continuing the colour work with the computer, this is the time to scan it.
In the preceding step we asked you to never lose sight of the original model, however, here the advice is to radically do the opposed. Forget the base and let the new skin colour palette rule. With this combination of master lines from the base model, slight structural modifications and a completely new colour palette, you will obtain the perfect mix for your skin.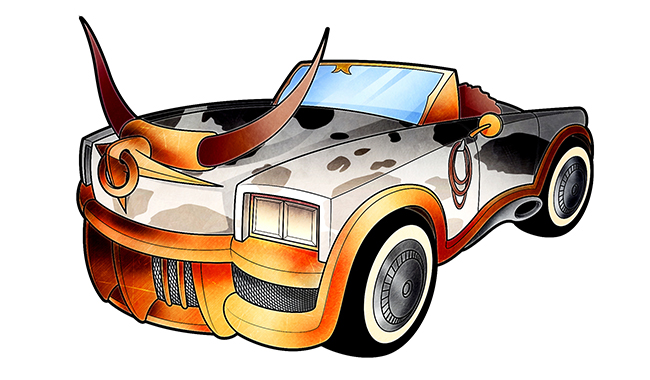 5. From concept art to the game
Once the concept art is finished there is just one last thing to do: to create the final asset which will be shown in the game.
Again, it will all depend on each game, so we will show how it is done in Wincars Racer, trying to keep a general approach that could be applied to other projects.
In our case it will be necessary to make a 3D model from the concept.
Before starting, the lines have to be well adjusted, proportions need to be double checked, and the model has to be observed from all the possible angles, many times. It is also the time to consider if it's necessary to make any modification if you observe that the proportions are not the expected when going to the third dimension.
"Considering the technical side first helps being quicker: deciding if if it's best or not to separate the "meshes" to get different materials and how to distribute the UV mappings. In general, it's a long process and, and tiring too, though it also has its fun parts like the initial modelling, which shows results fast", points Rubén G. Torralbo, Wincars Racer 3D modeller.
Rubén also explains the difficulties to be faced and how he manages to get the work done: "The most difficult are always the UV maps, you have to open each shape so when you apply the texture, this blends in the most natural way possible. When there are many shapes and details this process always ends up taking longer. Also, one of the biggest challenges is to achieve that the subtleties of the round curves of the car are correctly traced in the 3D model. Occasionally I've also had to redo some specific material until I got where I went to get, which is when I look at it and I see it's credible, when it looks like the original concept and at the same time shows the finishing I'm looking for"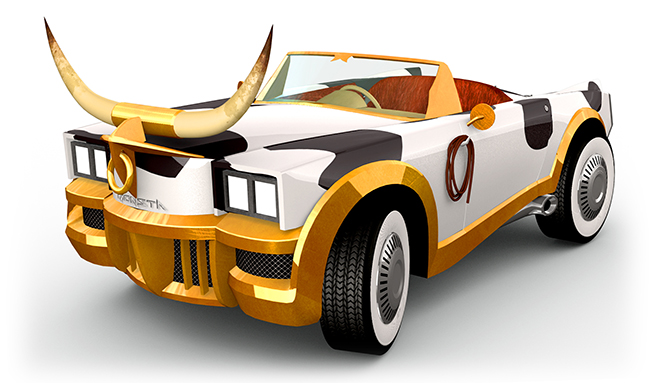 Et voila! the Texas Ranger skin ready for burning some rubber in Wincars Racer
The effects and the animations also count!
One last thing that you need to take into account: you can also rely on new effects or animations to give your skin an original personality.
This topic would make for a post of its own. It's widely known by those who work on animation how important it is the way a character moves for the personality that you want to instil to it. In fact you have to be careful if you give new animations to a skin, you could lose the original base model's conception. If you use this be subtle and be very careful about it.
Regarding the effects, the risk of distorting the original idea is somehow smaller, and yes, it's something that we use in some car skins: lights that glitter, some sound effects or even steam smoke on some very special models. We encourage you to benefit from this resource for your most singular creations!
And this is the end of this post, it makes me very happy to be able to share part of my job and maybe help or inspire someone who is taking his o her first steps. Don't forget to leave a comment if you want to ask about any doubt you may have!!!
Greetings to you all!!!
Javier Pajares