Hi game lovers!
We think it's time for some earlier 2014 holiday teaser quizzes here so people get a better idea of what we're making! These give a fine idea about the party game features.
Try the multiplayer at a party with friends and test who knows more about these topics! Just click multiplayer, have friends surf to the presented web page and add the token!
August 1 : World Wide Web Day >>
August 9 : Book Lover's Day >>
Augus 21 : Poet's Day >>
August 31 : Pony Express Day >>
September 12 : Video Games Day >>
The game will also feature a social community where players can collect, create and publish their own 'question packs'. But that's still very much in development! Visit our website to learn more about us and the game: Catlab.be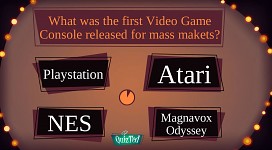 Thank you all and don't forget to feed the cat!