Hello everybody!
First of all i would like to thanks the whole IndieDB Community for following this project!
I was very proud to see, that i got it into the TOP100 for two days.
I hope i can bring you much more stuff. If you have questions about the Project, just ask!
The next thing:
Yes, in the last news i told you that i dont want to Kickstart this project.
But i thought about some problems that will appear, if i release this game.
The important thing is, that i need to get some Software, that i can use for commercial use.
I got the student version of the most ones, but for sure, that is not licensed for commercial, so i need a way to get this. But more important is to upgrade my Unity to a Pro license to get the most positive out of it. First of all of cause, the support of things like Postprocessing, and realtime shadows. I want to polish this game to high levels, so that you have a "realer" feeling, when flying through the space.


The next thing is, that i can get this to a fulltime job. And that means, that i can give you a faster progress in this project.
I want to know what you thing about Kickstarter, and supporting projects financially.
Just write it down as a comment!
And now for the interesting part:
I finished the [PROTOTYPE:v004.2] and with it, the new Trading System for wares:
The player can select the "EC" (Stands for ElectronicCash (whooray, who knowed it before? :))) button, and a Tradewindow will popup. There you find all the traderwares AND the shipwares the player got. Note, that the inventory system is not just a "inventory". The system try to figure out, what kind of storagecomponents the actual playership got.
You can maybe upgrade your ship with a "Ore" or "Liquid" Storage. Theese kind of storages are only able to carry the wares of the "Ore" or "Liquid" Type. But thats not the only check it will do. There are six containersizes that must fit for the ware (XS – XL).
The next thing is to check the storagespace. You need to imagine, that a bunch of coal is much smaller than a complete machinechasing or something like that. So the coal just take 1 space in your inventory. The machinechasing maybe 100.
And here you can see the new Trading UI: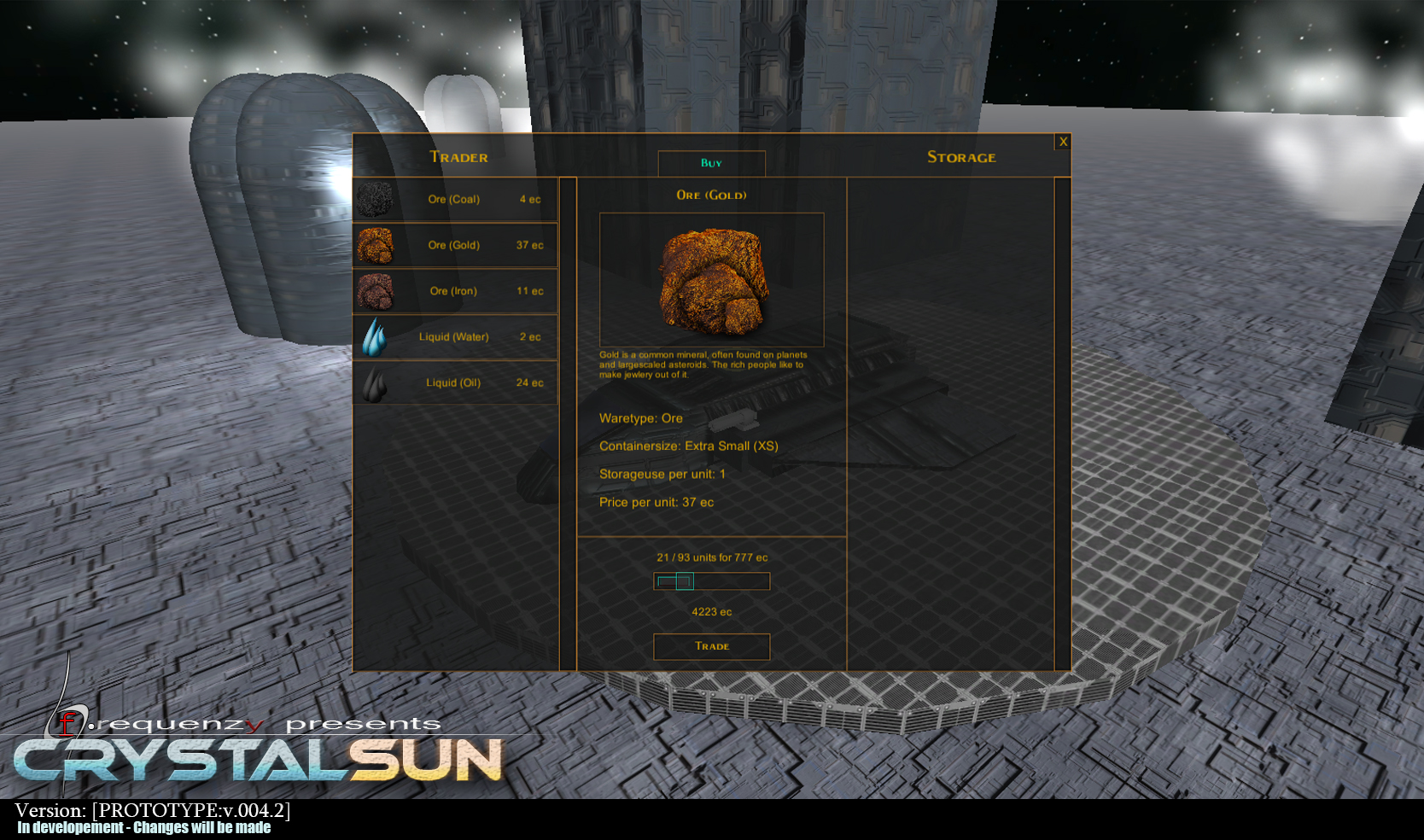 If you click on the Item you want to buy, you got all informations about it in the middle.
There you can see things like name, description, the waretype, or the containersize.
On the bottom area you can choose your amount to buy.
There you can instantly see how much you are able to buy, how much it will cost, and how much money the player got after you trade it.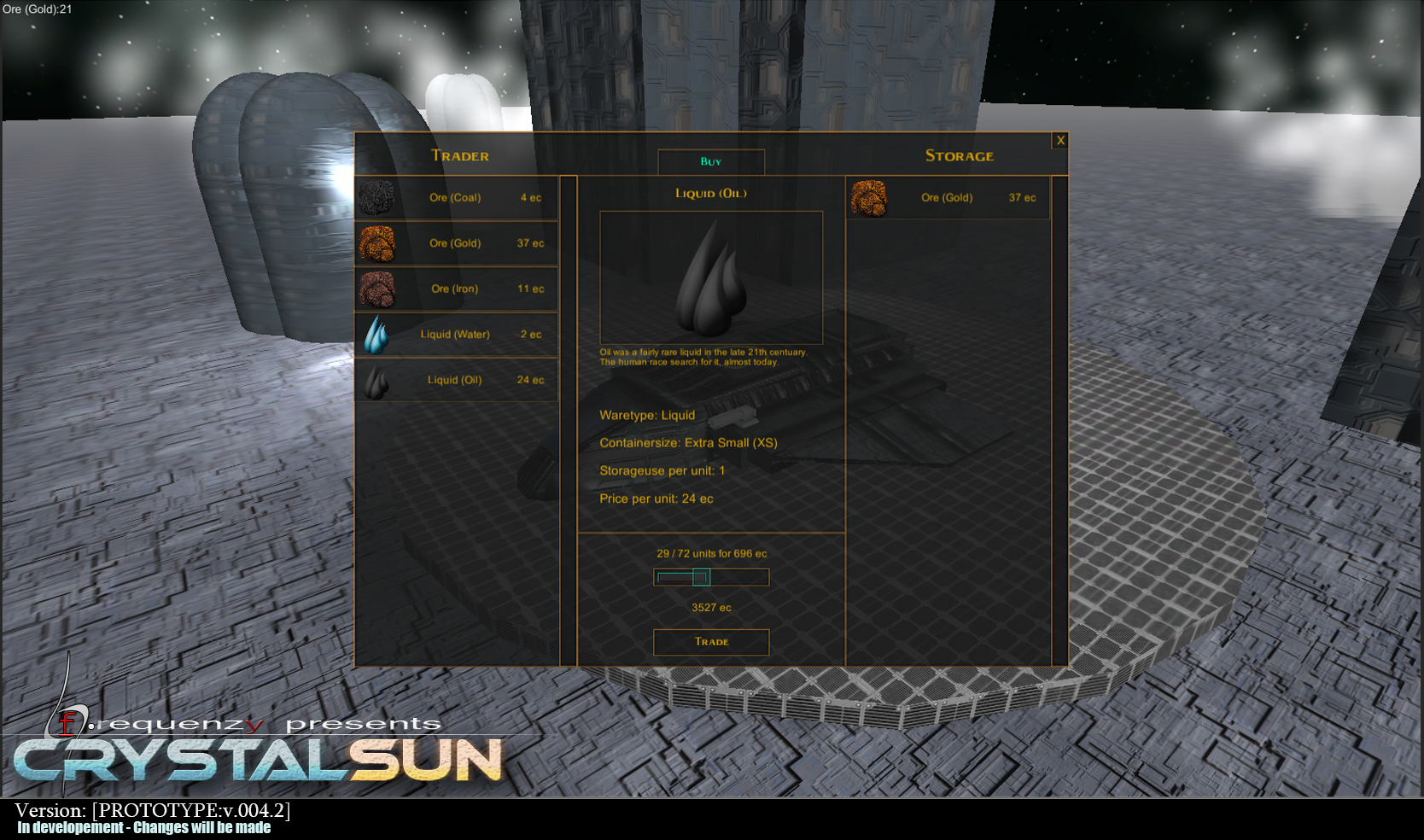 Note, that the player now got only 72 units space for that item.
But he would have enough money to buy more. Well, the ship's storage seems to be full after 72 more units.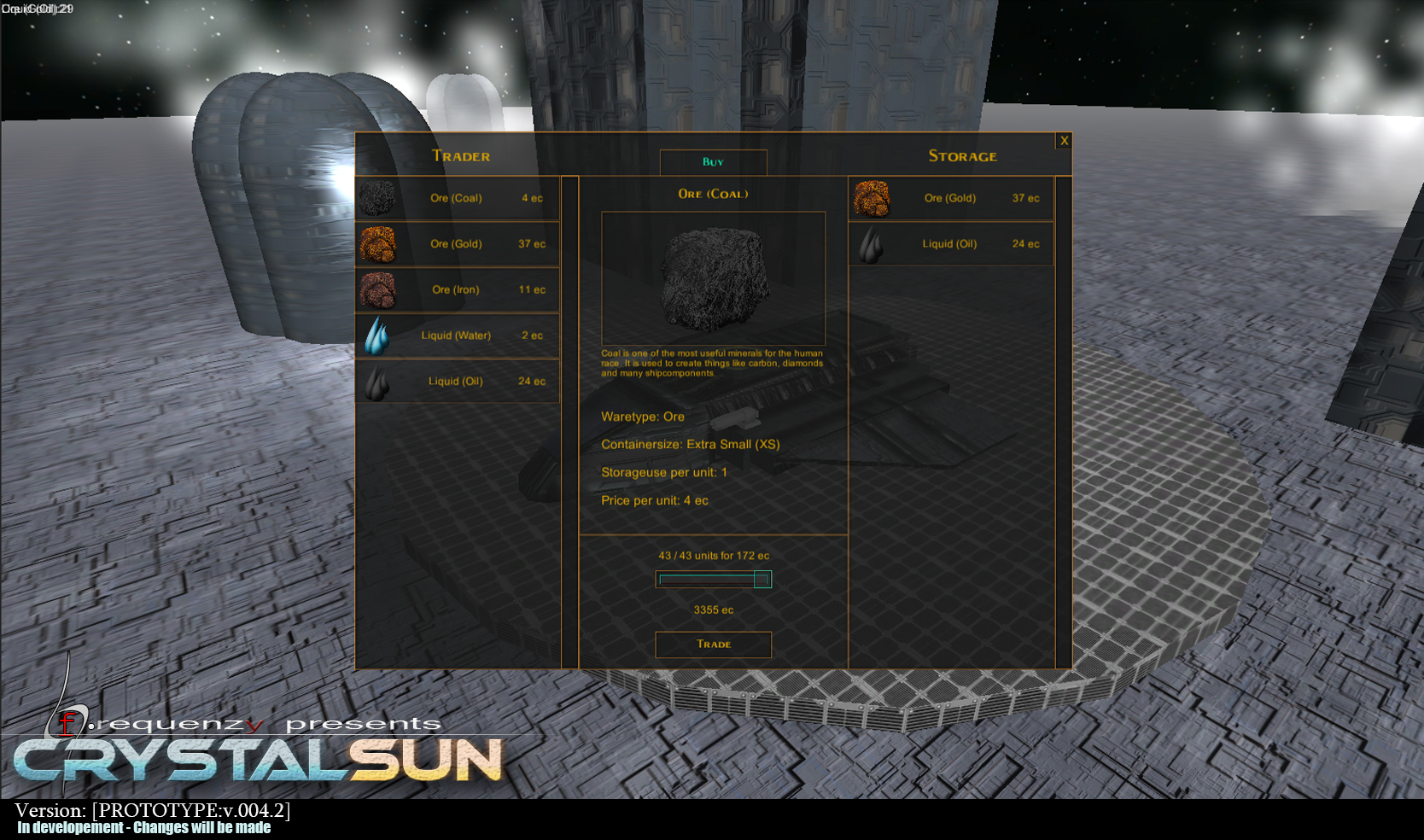 After you buy or sell something you will instantly see what you got in your Ship inventory.
Thats it for now.
The system works very fine and just need some more polishing in handling and information overview. But thats for now!
The last thing i got for you is the new test of a nice looking "Sun" effect.
What do you think?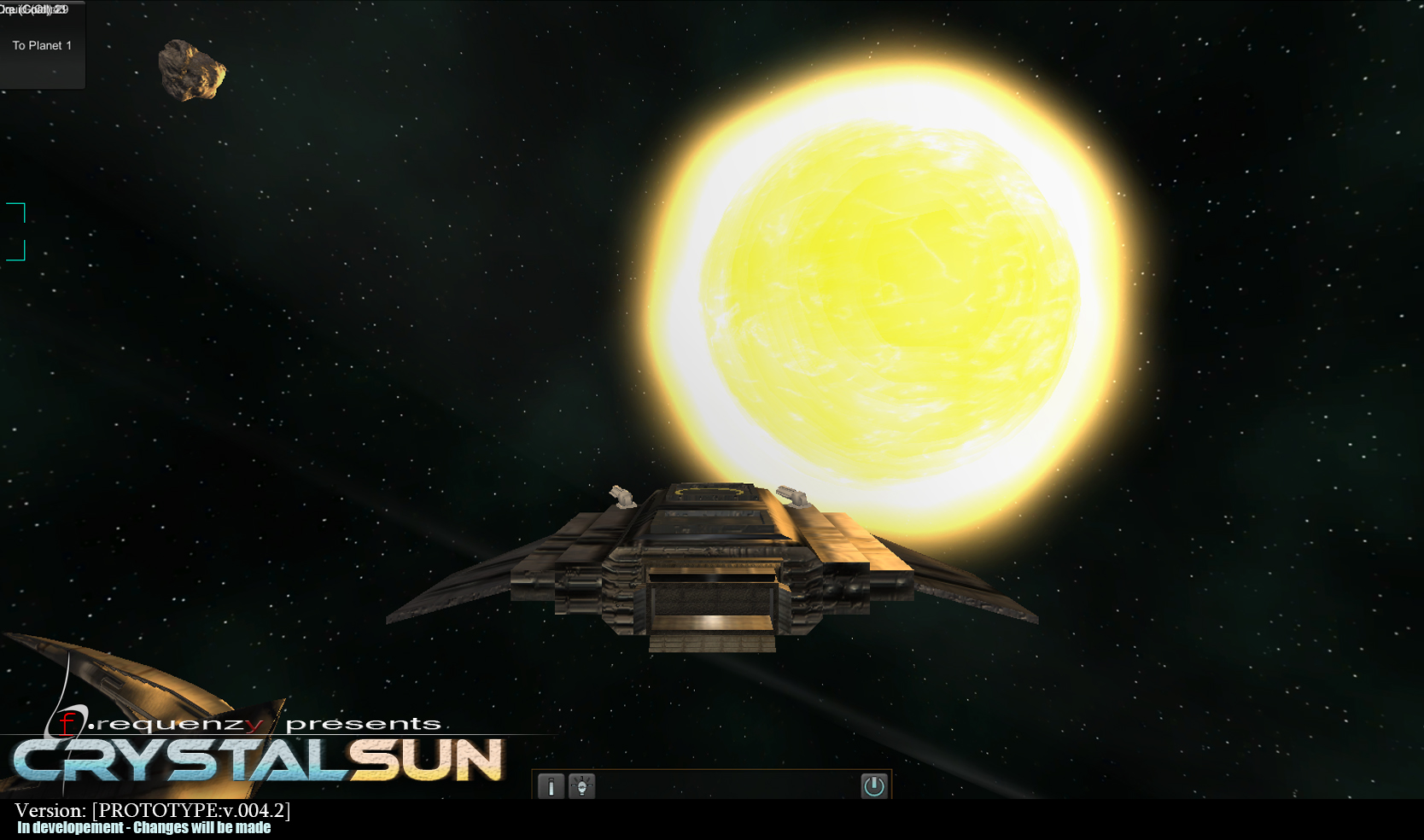 At this moment, that should be all for the planet and dock itself.
There are still some fixing in Menuehandling and userfriendly polishment but that should do it for now. For sure i'll add more things like researching etc. but thats definitly not for now.
I would like it if you leave a comment!