Fellow fans of Creature Chaos
Work on Creature Chaos 4.23 has been completed and it is now available for download. Although initially mean to be only a small patch, we have added the complete Woodpecker and Grasshopper, as there's no reason to keep them from you any further. Many of the much complained about balance issues, especially regarding the 'Herding' and 'Regeneration' abilities have been resolved, as well as another number of small changes including:
- Loner added to Liopleurodon
- Alien back to 2.82 values but retains tail attack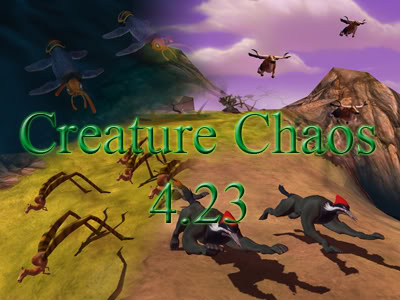 (click on the image to download)
Should you not have Creature Chaos 4.2 or higher installed, download the full version here.
If you have downloaded the full version previously and it is not working, you currently need to add this fixed DLL into your Impossible Creatures folder.
On another very pleasant note, our long endeavour for recreating the old online services has come to an unexpected end, as Dengus, a former frequent online player has provided us with his own version.
All you have to do is start the game with this exe and log onto Impossible Creatures Online.