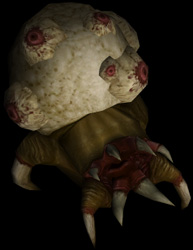 Scarabus Blaster
Since killing enemies is more important than an individual's survival, these creepy creatures will explode if they're really afraid. Watch for signs of impending explosions and run away!
.
.
.
.
.
.
.
.
.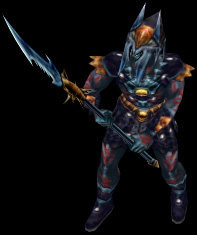 Dark Elf Warrior
In a forgotten time the elves were one diverse, surface dwelling race. A question of the heir to the throne divided the empire in two. After unprecedented betrayal and a murder that shook the foundation of elven society at its core, those involved and their supporters were banished from the surface of Aleria. Chased by elementals, this group found a loophole in what was meant to be a death sentence. They fled underground and sealed themselves off from the world above.
Generations passed down bitter hatred for the other elves, but they forgot who did the dispelling. They began to believe they sent the others away. They became dark elves, adapting to the darkness around them. The Goddess Valta found them and nurtured their anger, feeding on their violence and hatred.
Dark elves have no limits of morality. Twisting magic, they attempted to create legions of monsters to hunt down the others, the banished elves. When prospectors dug into dark elf territory looking for large lifestones, the dark elves discovered a new world they had forgotten, ripe for the taking.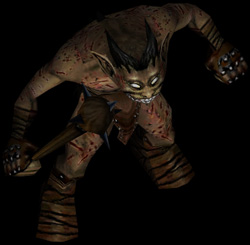 Torva
Torva are the cousin of orcs, descending from a recessive trait that causes them to be smaller and more vicious than orcs. Unlike orcs, they had the ability to band together with a great deal less internal strife. In the Battle of Hellsink, the orcs killed and ran off torvas, fearing their growing numbers and power.
Torvas prefer warm climates, and are especially fond of the jungle environments where they fled from the orcs. While in Greenblight Jungle, they learned to use fire magic.