Finally we're here, the final game mechanics Dev Diary! This time its time for a revisit of city building mechanics and an introduction to Zoning mechanics and the Reward Buildings
Video: City Building + Zoning (3min)

Above: City building mechaincs
If this game looks interesting to you, consider giving it a Watch, or adding it to your Steam Wishlist
---
Its been a while since I covered the economic model of the game (Part 1, Part 2), and I've not covered Zoning yet! Check out the video to see zoning mechanics! There are 3 ways to make a city in Voxel Turf:
Manually place buildings
Manually build buildings
Zone land
Today we'll cover land zoning!
Video: Making Custom Buildings (1min)

Above: Making custom buildings & making templates!


You can make you own custom buildings in-game and convert them to populated buildings! You can even save them as templates to place them like normal buildings. Finally if you generate a new random city your custom buildings will appear there!
Lot Zoning
Like most other city builders you can zone land to develop your city! The lore is that you give a cash deposit for people to invest in making buildings on your zoned land. In turn they submit to your protection when they develop,

Zoning chance is improved with high Reputation and low Aggression. Naturally you also need to satisfy the demand requirements for the building type. For example, Industry has no demand requirements, but Residential requires Industrial population.


The Turf Zero Game Mode
In Turf Zero all construction and zoning costs are reduced by 75%! The income and expenses from buildings is also reduced by this too. This is so that you can get your town up and running in a timely manner.

You can stack this multiplicatively with the Small Town Mayor perk to help get your city up and running faster!

A singleplayer Turf Zero city created with zones after about an hour. If you play with friends you can make a bigger city come together a lot faster!
Reward Buildings
What's a city builder without reward buildings? Reward buildings give the players that own them a small economic bonus and a small stat boost.

Reward buildings have objectives that can either be achieved by a single player, or by several players working together to unlock them faster
List of Reward Buildings
Community Hall
Gives +1 Acumen (Acc) and +1 Allure (Alr) stat boosts. The community hall is a hall where citizens groups can host weddings and small parties. It is unlocked quickly once the total city residential population is 75 and the residential tenants you have is at least 50. Please note that "tenants" refers to both population in Owned and Racketeered lots!
Cemetery
The Cemetery is unlocked by killing bandits. If you kill 60 you unlock it for yourself. If you and your friends kill 60 and you kill at least 30 then you unlock it. Gives a small +2 Attack/Defence stat boost.
Town Hall
"I'll sue you in privatised court!" With the collapses of the government many facets of the apparatus of the state to manage bureaucracy and disputes has fallen onto your character. Fortunately you've got this building to send all the squabbling parties and their paperwork too. And it looks cool!
Gives +2 Desirability to owned Residential, Commercial and Office buildings and +2 Acc/Alr stats.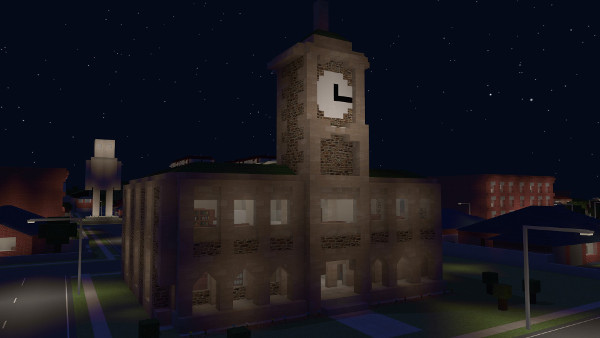 Also spawns a special "Bandits in the Town Hall" bandit killing mission.
Great Monument
What is a city without a marble obelisk? The Great Monument is a monument to your greatness, complete with +3 Commercial Desirability and +2 Acc/Alr.
Statue
Of course you need a big statue of yourself. And you need the +2 Desirability to owned Residential, Commercial and Office buildings and +2 Acc/Alr stats it gives!
Technology Centre
Your industry needs some love too! Getting your industrial population to 1500 with 1000 tenants will unlock this. This gives +6 (!!) Industrial desirability as well as +3 Acc/Alr.

Spawns a special "Bandits in the Technology Centre" bandit killing mission.
Sky Tower
Okay this one's cool. Its a big disc in the sky, kind of like Seattle Space Needle, or its various knockoffs around the real world. You can go high up into the viewing platform to look upon your amazing city. Gives +4 Commercial Des, +4 Office Des and +4 Acc/Alr.
Space Program
The end-game needs an awesome building to finish it off, and you can't get much bigger than a Space Program! This features a control building complete with a meseaum and library, a vehicle assembly hanger, a crawler, a launch pad with tower and a rocket that may or may not be loaded with explosives...

The economic benefits are not to be sniffed at – they give +8 Industrial Desirability, + 4 Office Desirability and +6 Acumen and Allure.
Hidden Extras
In each reward building there is a hidden chest containing a weapon, a weapon mod and an Easter Egg. If you collect all 8 eggs there is an achievement! See if you can find them all!
For Updates, hit Watch, or add to your Wishlist on Steam


Until next time,
Twigz.