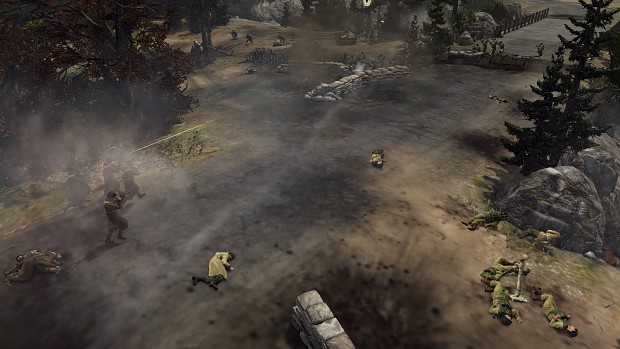 So, what are the news? Well, a lot of stuff has been added ver since the tank combat update, both while trying to "normalize" the fragile balance which was ruined with tanks, and adding new content, because new is almost always good, right?
Right out of the bat is Majors . These are higher ranking officers than Captains which were added previously; Now you can make 2 Captains, and the 1 only limit is transitioned to the Major. The Major has 3 most powerful features: Mobile Retreat Point, Supervising Base Buildings, and better & bigger artillery and air abilities.
The last one will be expanded dramatically in time; right now there is only one air strike, which is recon added today, and 2 artillery strikes. But there is space for 6 each, since it utilizes toggle menus.
Second we have improvements above tank combat. Increased deflection damage and introduction of Shaped Charge shells give a chance to lighter tanks and break the pseudo invincibility of German tanks, and later Soviet models. And one of the Major's 2 recent artillery strikes is a concentrated barrage, which is a cheaper and more precise artillery, particularly useful against tanks.
Third is the introduction of a new game mode: Infantry only.
What can you expect in a few days is a total rework of some critical aspects: Criticals, Repairs, Medics and Upkeep. Work on criticals has started, and right now you can see the new system with Panzer IV and T34. Only them are done for testing purposes. The 3 others aren't started now, though they will change from core.
About Criticals: There are 6-7 new criticals, and old ones have been reworked. In total, 11 criticals. Every penetrating hit can cause a critical, and even from full health, there is a chance for the tank to die with a penetrating hit. The chance to die increases to by P health, and to p at 0 health. This sytem will be best implemented at the end of the week; all tanks will have critical system by a few days, and after that it will be best suitable with the repair rework.
Well, was a long list. Stay tuned for updates!