Ladies and Gentlemen! Thank you so much for your support, you've helped us make it to the 25% mark on Kickstarter!
I'm excited to bring you an update on MUSIC, complete with a brand new track available on Soundcloud, "Yorktown Mix 3!"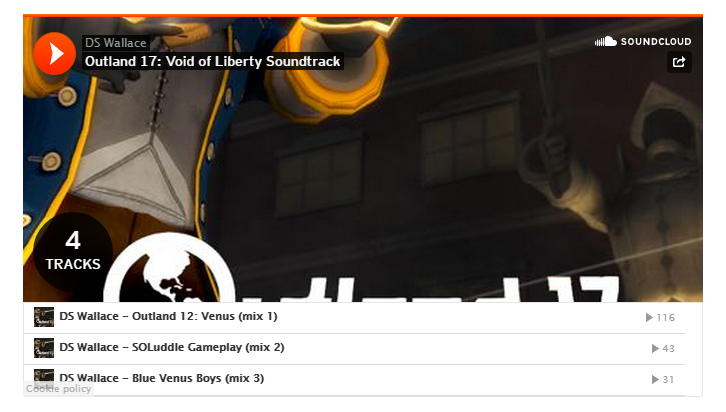 I might be the luckiest composer around – Outland 17 gifts me the opportunity to futurize (I wasn't sure but HA! that's a word) as I was saying, to futurize revolutionary music. I get to take ditties played on the fife and drum and blow them out of contextual proportion!
Rewriting tunes meant to encourage soldiers to die for king or country has been hard. They're all so… old, and happy, and…bouncy…ish. That's great if you're lemming cannon fodder, but players aren't wide-eyed school boys witnessing the horrors of war. We want players to feel the action too. So I've been using a few tricks – stretching beats, minor chords, static distortions, and tempo changes. The result has been so unique we made the decision to take each song and rewrite it twice. You can already hear this with two tracks – Outland 12 and Blue Venus Boys were both based on The Ballad of the Green Boys, which happens to be the state song of Vermont. Good ol' Vermont.
Meanwhile, SOLuddle is a rendition of classic Yankee Doodle, probably the most famous tune of the revolution. Here's a good primer with the music:
Best of all, I've got a new track for you! I reworked When the World Turned Upside Down into our next game audio track, named Yorktown for a placeholder title. Here's the music and theme proper:
Why "Yorktown?" Reports say this was the song the Brits played after they were defeated in the siege of Yorktown, BUT there's a problem, in the form of a second song, of the same name, set to the tune of When the King Enjoys His Own Again. Here's that version:
Luckily, lyrics aren't an issue so I can have both! This highlights something interesting. If I've learned anything about music in the Eighteenth Century, it's that songs stuck around for a long time and aged slowly, being repurposed often. Finding sheet music and performances of known period pieces has been tough. Never fear, I've been doing the research and have a great list!
Before I wrap, let me give a few quick notes on the music itself. Thus far the orchestration has been big, but you'll notice somber, sparse tones and dissonances beginning to pop up, as well as so good ol' bouncy happiness. Expect to see us pushing our music in both directions, as we build the game story in both directions. And of course if you haven't yet, please check out and support the Kickstarter, even if it's sharing the link on your favorite social media
-DS Wallace