Thanks to everyone's amazing support in Mod of the Year, we've once again cracked the Top 100, and are eligible for the voting in round 2. So, if you haven't already voted in the second round and you want to continue showing your support for Thrawn's Revenge, be it Ascendancy or Imperial Civil War, you can click on the banners below to go to their profiles and vote. We'll wait here. Keep in mind you can vote for however many mods you like in this round.
Done it? Great! So, we've already covered the other two new playable factions in 2.2, being Warlord Zsinj and the Greater Maldrood, leaving us with the Eriadu Authority (and the various minor factions, but more on those later). As far as screenshots go, this is actually the least finished faction at the moment, so you'll see more of their new stuff later on.
---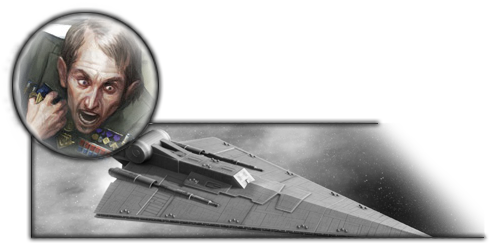 Yes, this is the only picture of Delvardus.

The Eriadu Authority

Leaders: Superior General Sander Delvardus (4-12 ABY)
Capital: Eriadu (4-5 ABY), Kampe(5 - 12 ABY)

Although the Eriadu Authority's reign outside of the Deep Core was short lived, for a brief time it controlled some of the richest parts of the galaxy outside the core, centered around Eriadu (home to the wealthy Tarkin family) and the Seswanna Sector, with territory up and down the Rimma Trade Route and Hydian Way. Delvarud was initially fairly successful in the establishment of his Empire. Along with these wealthy planets, he managed to recruit the likes of General Maximillian Veers and the remainder of Blizzard Force, afterwards granting himself the (rather irksome to Veers) title of Superior General.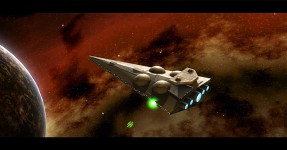 "I'm not sharing my glory."
―Sander Delvardus

His ambition would soon become the cause of his undoing; when Delvardus launched an assault against Sullust, Sullustan Captain Sien Sovv, who would go on to succeed Admiral Ackbar as the Supreme Commander of the New Republic and Galactic Alliance Fleet during the Yuuzhan Vong War, took his forces to aid his homeworld. With the cooperation of Admiral Firmus Nantz and the First Fleet, Sovv was able to not only drive off the assault on Sullust, but launch a campaign which ended with Delvardus forced into the Deep Core and the elimination of other warlord groups such as Prentioch's Dominion in the Western Reaches.

"We've researched the amount of funding Delvardus funneled into his operations, and I am not impressed with what I saw at his fortress. I hope he hasn't been squandering the Empire's resources."
"I assure you, Admiral, he has not. I think even you will be impressed."
―Admiral Natasi Daala and Colonel Ivan Cronus

Once established in the Deep Core on the desert world of Kampe, Delvardus began the construction of his secret weapon, an Executor-class called Night Hammer for its unique black stealth armour, believing it was the key to ruling over other Warlords. His plans were delayed when Emperor Palpatine returned and reunited the forces of the Empire for a campaign against the New Republic, Operation Shadow Hand. Once this failed, as Imperial plans so often do, Delvardus returned to the construction of the Night Hammer and infighting with other warlords, especially Treutan Teradoc. Delvardus, along with twelve other Warlords, was invited to Tsoss Beacon by Admiral Daala in order to secure peace amongst Imperial forces. Once the warlords refused to meet her demands, Daala killed them all. She then brought Delvardus' body to his former fortess, and gave his second in command, Colonel Cronus, an ultimatum; join her or be destroyed.

Keep in mind unit lists aren't necessarily final. With both Maldrood and Eriadu in particular, there's some stuff (including vehicles, ships and infantry) we may end up doing but we're trying to focus on getting the already-planned things done.

Space Unit Roster
Executor
ISDI, ISDII, Tector, Torpedo Sphere, Praetor II, Interdictor
VSDI, VSDII, Class-II, Strike Cruiser, Acclamator
Vigil, Gladiator, Bayonet, Escort Carrier, Ton-Falk, Carrack
Unique Fighters: TIE Hunter

Ground Unit Roster
AT-AT, A6 Juggernaut, A9 Floating Fortress, SPMAT
AT-ST, IDT, AT-AA, U-LAV, Imperial Escort Fighter, 2M Saber Tank
Stormtroopers, Shock Troopers, Storm Commando, E-Web, Specialist
---
Corey is still going through a lot of the new features of 2.2 in full preview playthroughs on his channel. He's currently doing Maldrood, and Eriadu will be next. If you're interested, you can watch that by clicking here.