Welcome to another mod update!
Gosh, we haven't had a mod update since last year! Hee Hee. in all seriousness lets get going
First, mod of the year! if you didn't already know, Awakening of the Rebellion won fourth(4) place in the best upcoming mods! We really appreciate all the support we received from you all. Thank you so much, it means a lot to us all the support you show for the mod and the work we do!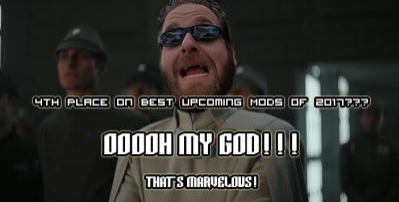 We also want to give a shout out to all the mod teams that have helped us with the creation of 2.7. Without their models, code, and insight we couldn't have worked on this mod at the speed we have.
Thank you to the developers of Empire at War remake! Check them out at this link: Moddb.com
Thank you to the developers of Republic at War! Check them out at this link: Moddb.com
Thank you to the developers of Yuuzhan Vong at War! Check them out at this link: Moddb.com
Thank you to the developers of Rise of the Mandalorians! Check them out at this link: Moddb.com
Thank you to the developers of Star Wars Empire at War Rebellion! Check them out at this link: Moddb.com
Thank you to the developers of Star Wars Rise of Hope! Check them out at this link: Moddb.com
Thank you to the Development group Thrawn's Revenge! Check out their mods:
Imperial Civil War: Moddb.com
Fall of the Republic: Moddb.com
Ascendancy (for Sins of a Solar Empire): Moddb.com
So what is the team doing now?
First, there is a new developer! Octravon was added as a developer on December 25th. He now helps manage the community and creates models.
Throughout the year, Maxim and Bullet have tirelessly stripped the AI and put in a new one. So now the AI knows how to attack beyond blockaded worlds, build up its defences and production properly, use the new systems Maxim and Bullet created, and even make a mistake. Yup, the AI is so human-like it actually makes mistakes too! But that's only the tip of the iceberg, there are so many more changes to the AI that two games will never be alike.
Just Rush the Landing Zone to Win...
Yea... about that... Sly took the painstaking task of adding hard points to every landing transport. This wasn't an easy task. At one point the gallofrees were invisible, another point nothing worked, but finally, we have it working and it's beautiful. The new transports with weapons add a much-needed balance to ground. Now you can expect to have more interesting ground battles instead of camping the landing zone.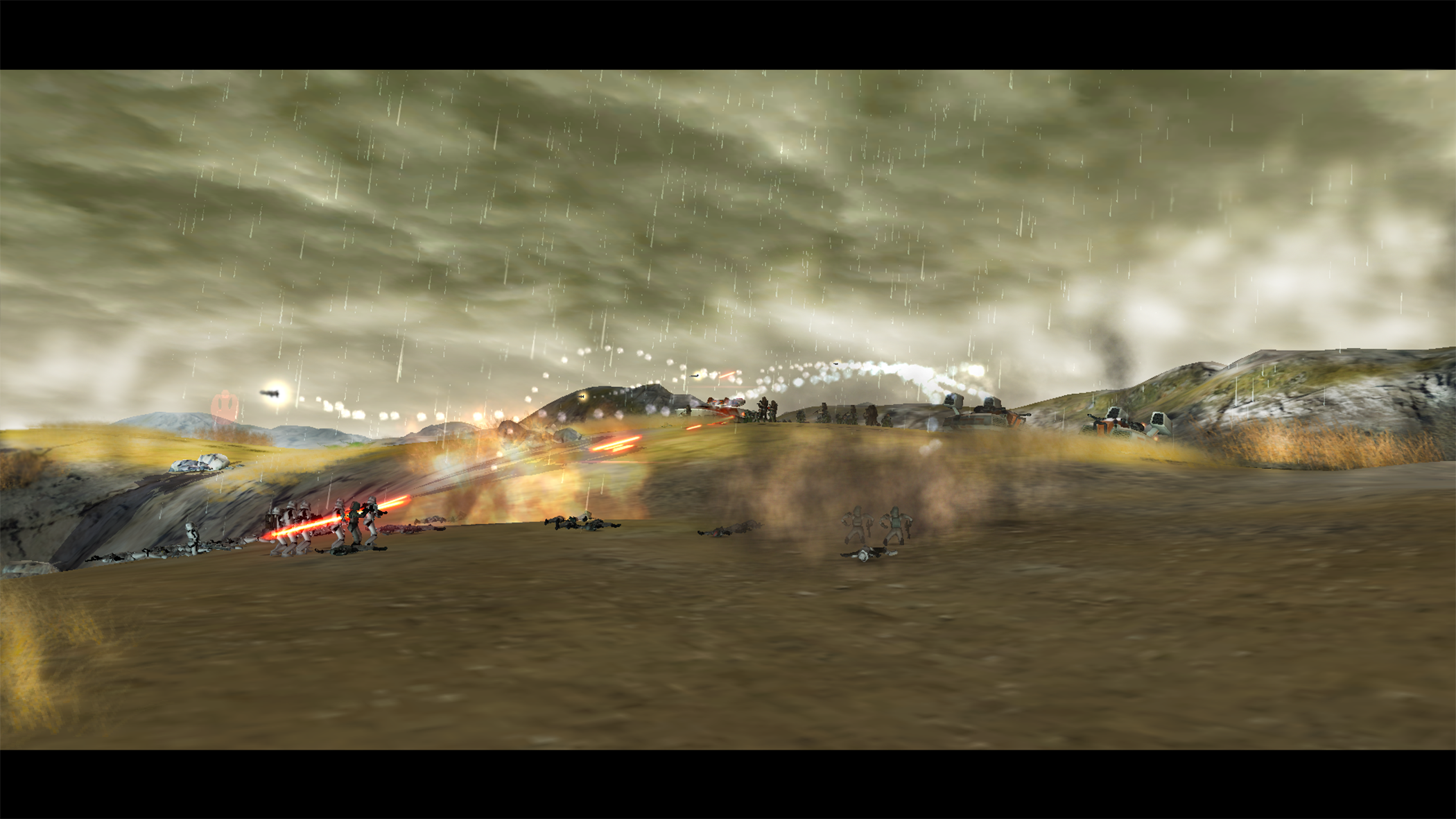 Will you be adding...
As the new movies come out, they give Star Wars fans many new heroes and units to expand our universe. With all this new information, we get the recurring question, "will you be adding the units from Rogue One, The Force Awakens, and The Last Jedi?" In 2.7? No. But don't worry. We will be adding all of these ideas in due time.
In 2.8 we will be adding a campaign that takes place before the battle of Yavin. This campaign will include many new units and heroes seen in the Rebels t.v. show and in Rogue One. It will also allow players to experience the struggle of building an alliance and the importance of allies when fighting a monster like the Empire.

In 2.9 we will be overhauling the New Republic era of the mod. The First Order will be added as well and all their units! The Empire will get a special story that allows them to choose their path in the New Republic era story. This will allow us to incorporate the Imperial Remanent and the First Order.
All Units are to Scale... for the Most Part
Something that Steiner started doing was creating an official scale for all of our units. Now we can make sure that our units on the ground and space have a realistic scale. While seeming small and irrelevant, it actually gives a more immersive gameplay. Now on the ground, AT-AT's tower over infantry and look monstrous! In space Star Destroyers look huge and menacing to your small rebel force. Now this scale does come with its exceptions. As we get into the larger ship area like Super Star Destroyers and small ships like fighters, you will notice the scale not be perfect. To make every unit playable we have to use our discretion to size these ships.
Updated ModDB Page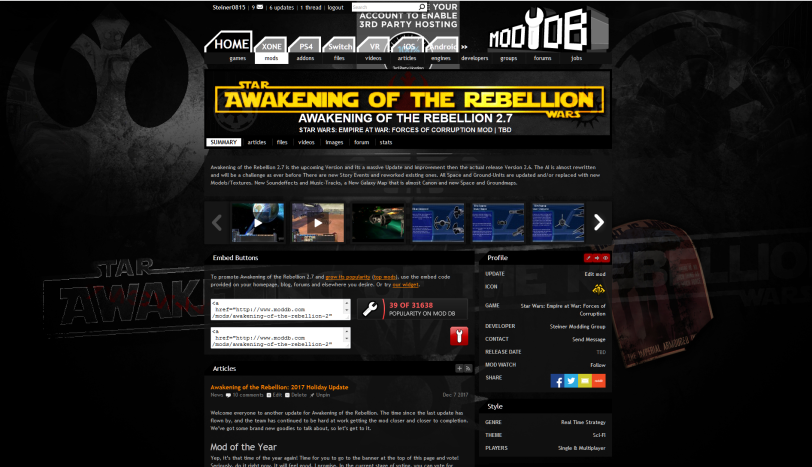 Steiner decided to create an updated ModDB page background. Looks pretty amazing. This will be updated soon, but for now heres your sneak peak!
Until Next Time
That's about it for this small update. If you want to better socialize with the community and ask your questions, join our discord: Discord.gg
Until next time. Bye!