Hello and welcome back to the latest Boss 101 update!

Today we are talking about some of the weapon effects in the game as well as what makes a great game! Or, as I like the phrase it WHAT MAKES A GAME GREAT!

What makes a game GREAT!

I'd like to put something out there for all the friends and fans reading this. You really can be the person you want and live the life you want to live. You really can FOLLOW YOUR DREAMS. You might be saying "Oh Tim, that's easy for you! You just gas around drawing sneakers on robot T-Rexes for a living." Well it wasn't always that way!

I have come to believe a great game is really made by great teams. Great teams are about inspiration, trust and most of all respect. I consider myself very fortunate to be working with two people – Manon and Joshua – who inspire me regularly to bring my A+++ game to the table.

When Boss 101 is released I believe in my heart it will be a great game. That's not a brag or a boast. I say this because what you are seeing in Boss 101 is our best efforts and we are proud to stand behind the game. Will you PERSONALLY like it? We hope so. We would love you to purchase Boss 101 and feel you got a fantastic game at a great price. That is the hope! To that end we are working EVERY SINGLE DAY UNTIL RELEASE (and beyond) to make sure you get our best!

Weapon Effects

You know we're looking to give you the sweetest guns we can in Boss 101. We created what we HOPE is a great variety of cool guns to battle your way through the robo hordes. When we started most of the guns were based off standard types you see in many games – pistols, shotguns, bazooka, melee and even bows! Later we rolled in high tech ones such as Lasers and Multi-shots. Lastly we dropped in throwbacks to the Boss 101 web game – namely the ULTRA GUN!

Before we look at the VFX guns can have, let's quickly overview their use in game. To start with they all have inherent abilities like speed and power as well as unique attributes such as limited tracking (lightning guns) or giant areas of impact (flame thrower). From there bosses can be weak or strong against them. What this means is a boss might take MORE damage from a flame thrower and LESS damage from a shotgun. That is all explained in the game. At the start of each round you are given a chance to inspect the boss as well as YOUR EQUIPMENT so you can make the best choice to winning the battle.

But enough about that, let's check out boom-booms! We set up a test room for the guns to help us sort out damage and twizzle the special effects till we got something special.

First up a high level pistol – nothing wrong with it and a SOLID gun. Hits hard and can do some damage on a single target.





The shotgun – a nice spread and a good punch. Little slower on the firing but overall a goodie!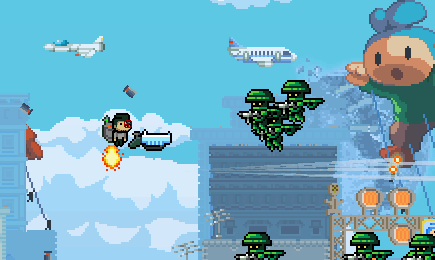 Laser – here's a mid-level version doing work!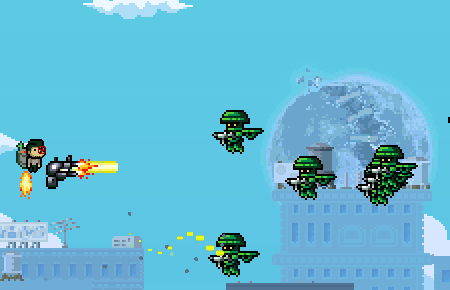 Multi-shot – a CLASSIC – lots of bullets, fast but each shot hits light. Them's the breaks with a gun like this.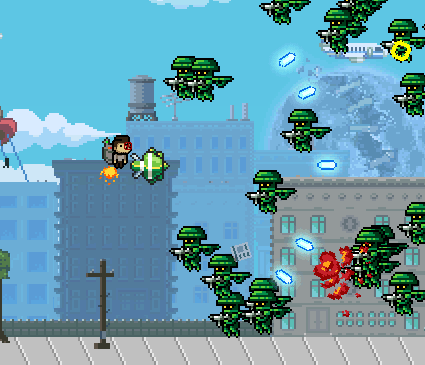 Throwing knives! Come on! – these are just cool. Some bosses are weak against them too!





Wrenches – ok these have limited range but the high level pipe wrench hits in a 360 arc – BOOM!!!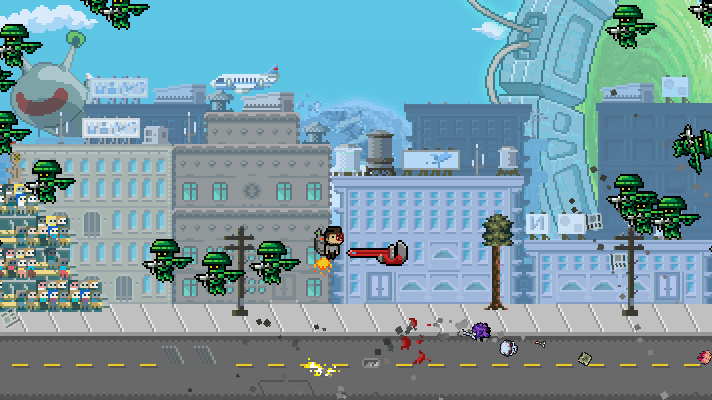 For today we'll wrap up the gun preview on the good ole ULTRA GUN. This is a holdover from the web game and one of the most powerful guns in the game hands down. Of course – we ain't gonna just HAND THIS to you. You will have to earn it! But yah – pretty powerful!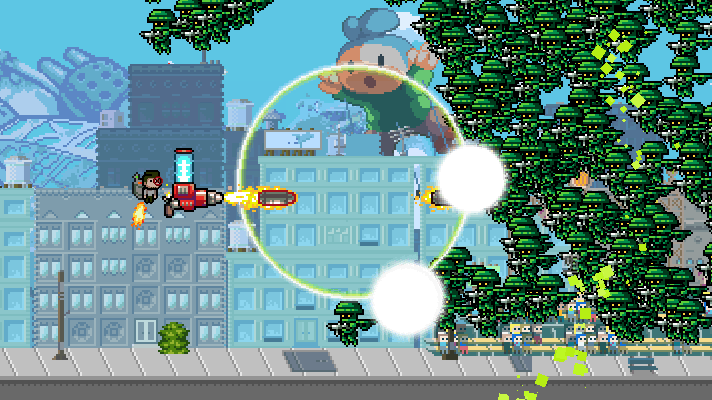 The Gamemaker Podcast – Boss 101 Interview

In case you missed the announcement earlier this week. Check out this snazzy interview posted up at the Gamemaker Podcast. Learn about Boss 101 and hear my (Tim's) actual voice!

Link here: Gamemaker Podcast Episode 4 - Boss 101



Boss 101 Screenshot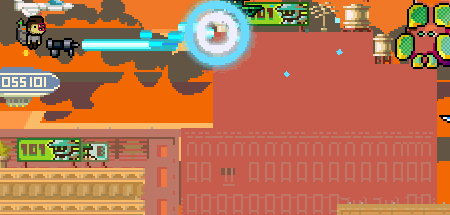 Beams and lasers in your face!
OK – thanks for checking in and remember to always – live your dreams!

-Tim

Boss 101 Info Roundup
Release Date: 2017
Planned Price: $9.99
Boss 101 Steam Store Page: Store.steampowered.com
Please wishlist us if you would be so kind!