Icons Revisited Progress
As previously mentioned several installments ago, we are working on revitalizing and updating all of our icons. This week we would like to feature two icons made by our concept artist, Scott!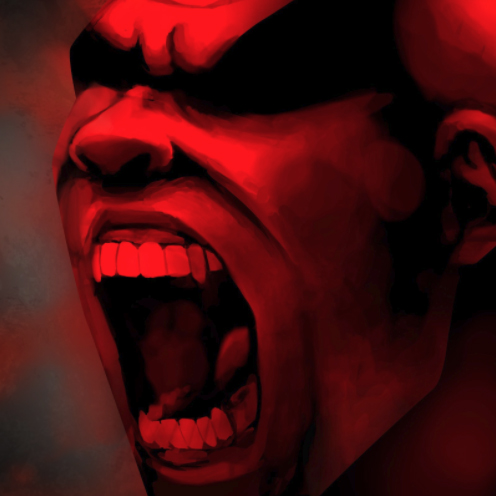 This icon represents 'enrage'. Enrage will be a action combat skill that causes nearby enemy NPC's to attack you for a set period of time.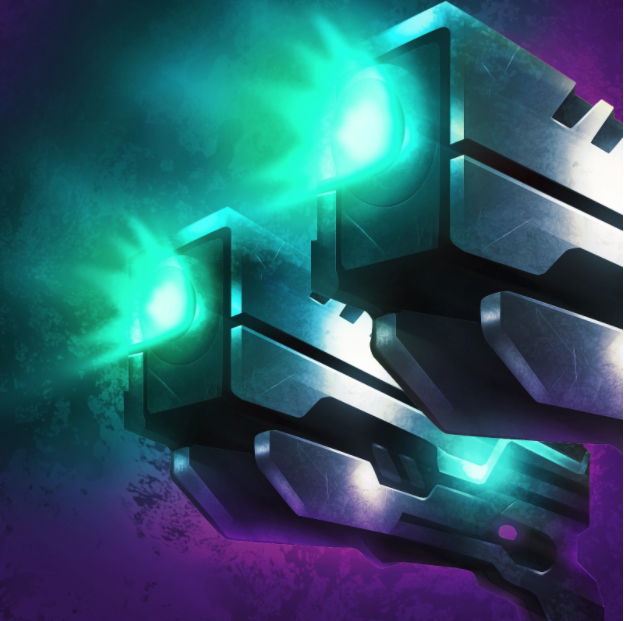 The next icon represents 'rapid fire'. 'Rapid fire' will be another action combat skill that requires the player to have dual wielding, but will increase attack damage with both equipped pistols.
Basement and Street Update
As we have been discussing for several months, we are in the process of revitalizing and also optimizing several of the game levels. One of which is the Tubes. Krissy, a 3D modeler on our team, has recently completed the Poseidon Extraction Sewer Engineer built to be used with UMA.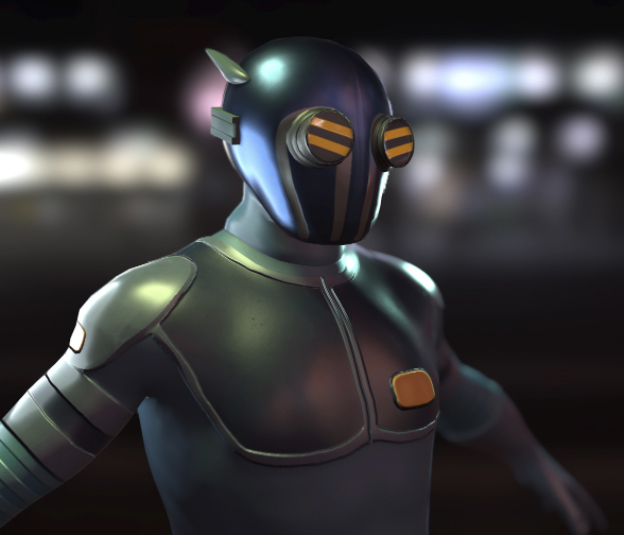 The Engineer enemy type will be featured in a quest encounter and also the 'Tubes' level.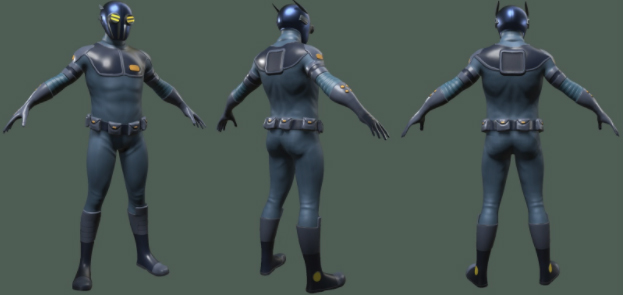 The character is just one example of how we are adding diverse appearances not only to the factions (ACP, UCE, and third party Cartel), but also to specific sub-factions within the main faction. So, the Sewer Engineer will be aligned with the UCE (United Colonies of Earth), but also be a member of Poseidon Extraction which is one of the game's mega corporations. Poseidon is a central corporation to the lore and planetary history of Bastion, where the demo will take place. Know your lore!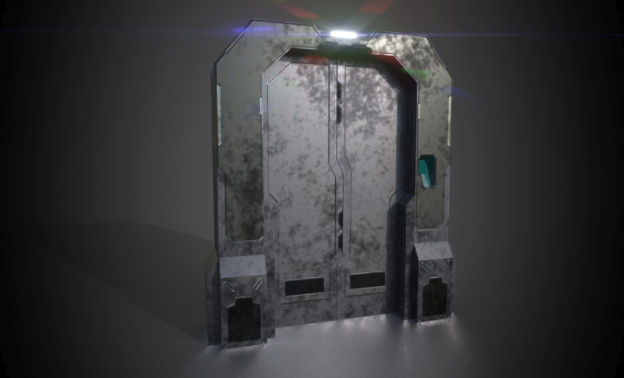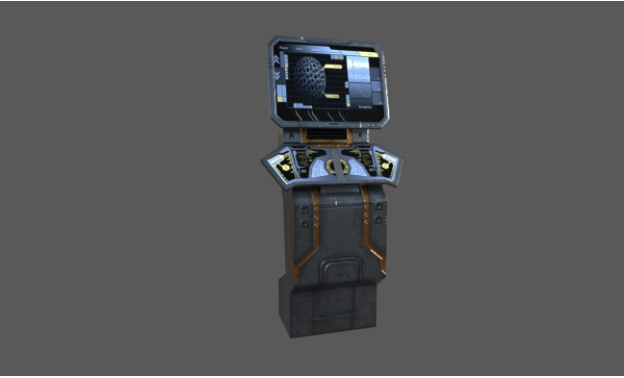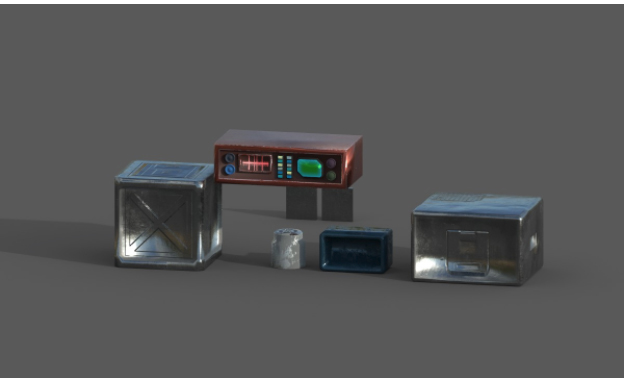 The basement door (image #1), console (image #2), and basement props (image #3) are all props and models that we had finished previously. However, Monte, our Art Lead, has been working tirelessly to optimize and improve these models for the game world. Many hours have been spent updating, optimizing, and renewing older models to update them for the game. A big shout out to Monte for doing this and continuing to improve the existing game visuals!
Street and Ship Update
Two weeks ago we featured Tim's Corvette Ship model in a special ship feature and sound update post. Since then, Tim has finished a new ship model based on Scott's ACP ship concept art.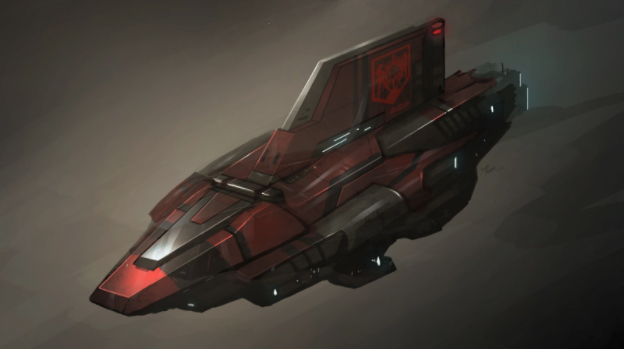 This week's ship design has a uniquely different purpose. Prior to the war, the ship was a UCE trade shuttle. After the outbreak of the war, the rebels (or ACP) seized the ship and refitted it for war while also giving it a nifty new paint job! Kudos to Scott for the excellent concept art.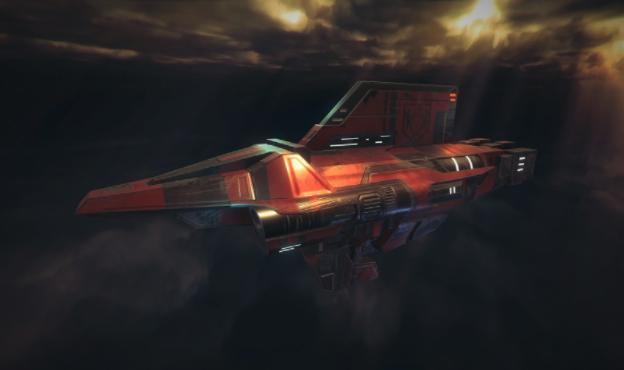 Here is one of the final renders of Tim's ACP Refitted Trade Shuttle. The ship is painting in the ACP color scheme of black and red while also sporting the ACP's faction logo.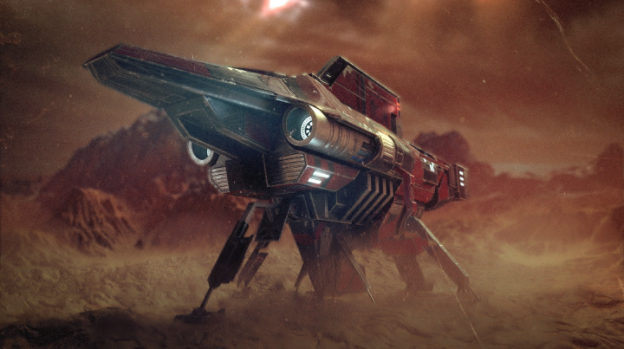 The final render for Tim's latest model is our beauty render. The ship is parked magnificently on an alien world. Once you acquire a starship (like this one or last week's featured ship) you will be able to explore the galaxy post-Demo. It will be your hub for exploration and we are pleased about the excellent progress on the ship designs. We have one more player starship to finish which will be a Cartel faction themed ship. I hope to be able to report on that progress soon!
Street Update
The final update comes from Chris who has been working hard on producing street assets for the game. So far he has worked to build numerous park benches, stores, and the merchant trucks that we featured several updates ago. Through his hard work, we are making good progress on building out the environmental assets and props for the outdoors street location. Please take a look below at one of the park benches.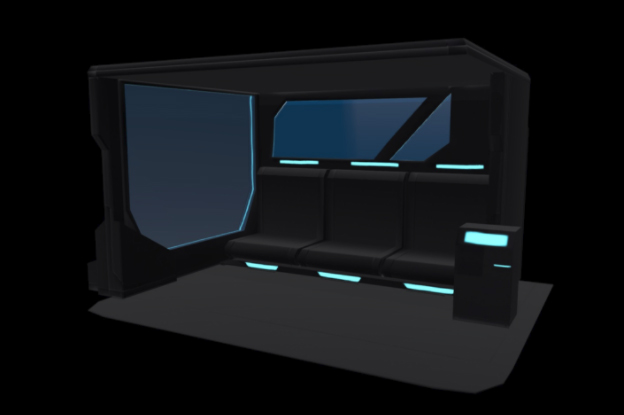 Conclusion
We have been making excellent progress over the past month. The game is really coming together. While we still have work to do, we are planning to continue rolling with massive updates throughout the year. Please look forward to them every other week. Also, please remember to like, share, and subscribe. Heck, a comment or two would be great!
Kudos to the Art team for this fantastic update and also our Writing and Sound teams for all the hard work they have been doing. We are currently looking for a new C# lead developer, but in the meantime we do have several developers working on combat and other system specific optimization projects. If you are interested in the lead position then drop us an email and we will get back to you as soon as we can.
Currently Recruiting
PR News
We will see you in a few weeks for our next major update. Until then, please make sure you check out our following PR links:
Do you have any other suggested communities, topics, content, or questions you would like us to answer? If so, please let us know!