Welcome back to the Boss 101 weekly update! Thank you for joining us once again – we do appreciate your time.

World Building
Today we are looking at environments and world building. Specifically we are talking about some of the touches added to our backgrounds to help flesh out the story and make things more interesting visually. You may already see some of this happening in the screenshots but it bears some commentary.

First – we have a definite story arc for the game. You are moving forward for a specific reason with a specific goal. In fact you have a few overlapping goals at any given time. You have your long term goals and your round to round goals. While you are playing you might be considering a cool new gun you want to buy as your round to round goal. Overall though – you are looking at a way to defeat Boss 101 in spectacular fashion. To help the player have a great experience we look at making each round with special little touches. This might be some sort of object or decoration that looks cool and gives the player a sense of story (what happened before or what might happen) or a sense of scale (how big or small the player is versus the environment he is in).

You probably see this a lot in games and it can be done to awesome effect. Games like Call of Duty or the Battlefield series might have giant set pieces that move or fall in order to bring spectacle to the round. Well, we have our own set pieces and we are picking them to not only look cool but give a sense of what is happening as your progress. You see, the bosses are taking over the galaxy and Earth is on the list. If Max and STEVE can't stop them it's truly game over. The good news is you already beat down the first wave, now it's just a matter of taking out the bosses. Easy right? HAAAAAAAAAAAAAAAAA!!!

Heading into space and witnessing the destruction of a local moon... these guys aren't messing around

Ninja Action in motion



Ninja stillshot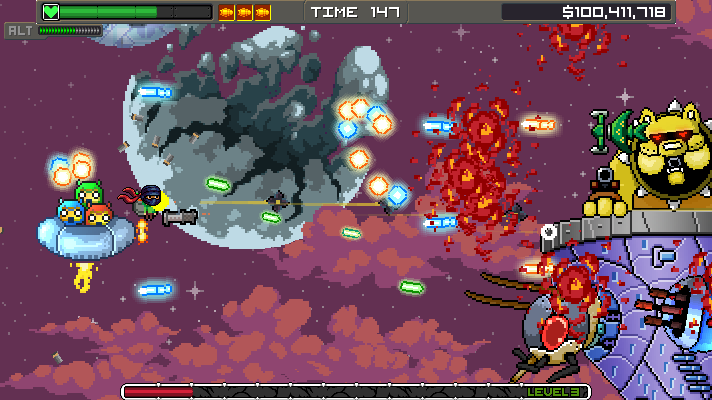 Wrecked Boss ship on Earth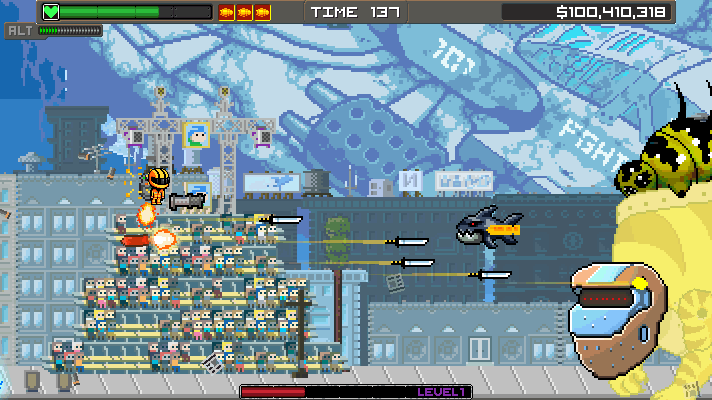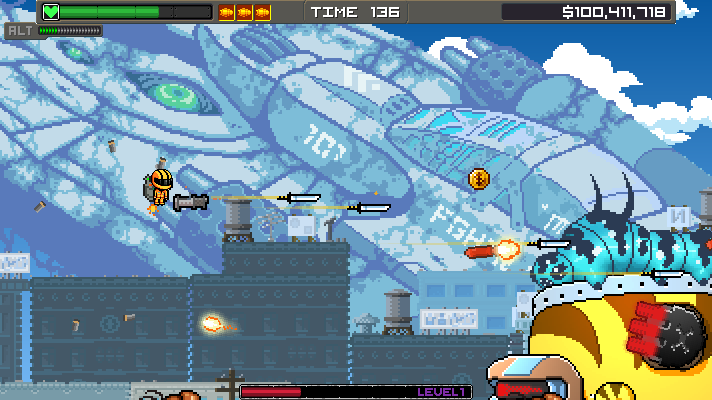 Active Volcano!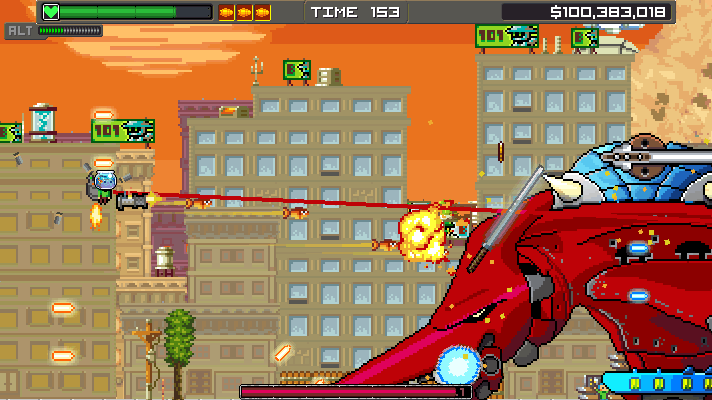 The idea is there is always something interesting for the player to notice on the first, second and maybe even tenth time playing through. Sometimes it may be a big set pieces like what you see or maybe it's a small billboard with something interesting. You never know!

Into the Sky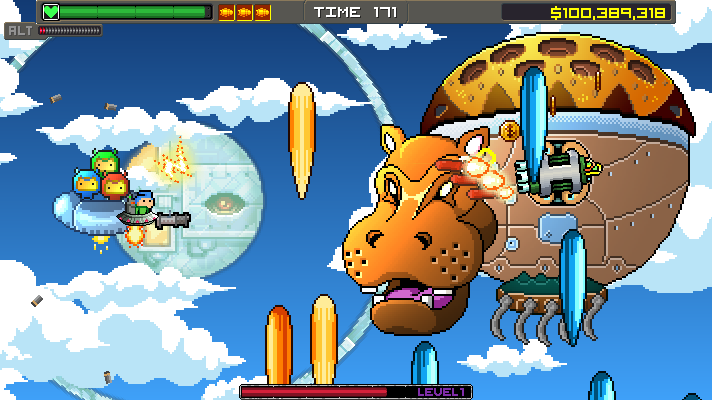 Some things to remember when you make your game (re-posted from my original How to make a Game series)

Here are some questions going through the publisher's and public's mind:
1. What is unique about this game I can't get anywhere else? To put it another way, "What is your unfair advantage?" What do you have that no one else can easily have or duplicate? That is what you must lead the conversation with.
2. Are you demonstrating enough of your product's vision in the presentation? Some games have an awesome tech demo. Some games have a great trailer. Others may have some drawings. It's really up to you to present your unique angle in the best way you can. This goes for Kickstarter trailers, Patreon videos, blogs etc. Everything should turn on what you offer that no one else has. If you have a blog you want people to read, give them a reason! Funny articles? Serious articles? Outlandish articles? Exclusive articles? Give people a reason! Same goes for a game. Unique gameplay (Portal)? Amazing art (Ori and the Blind Forest)? Amazing tech (Battlefield)?
3. Do you, as the project creator, see a clear way you will make the publisher (or the Kickstarter backer) either a monetary return or a return of "acclaim"?
Monetary return is pretty obvious. You are giving someone more money than they initially gave you for investing in your project. Games like Call of Duty and League of Legends fit into this category.
Acclaim for the publisher covers several areas. For a publisher, this could be a game that wins awards and gains the publisher credit from the general public as a benevolent and wise group. Games like ICO are what fit into this category.
Acclaim for the player is a category I think we forget about. Basically, does your game tell a story worth repeating? An example would be a game in which somethingso amazing happens, it makes you want to tell someone about it. So, does your game have memorable moments, a memorable story, etc…? A lot of times people will back and support something that advances their ability to be interesting or popular (for lack of a better phrase). I look at old games like X-Com which have outlandish scenarios all throughout. When you survive one of those, you want to tell someone about it! Same might go for a crazy match of Counter Strike or League of Legends. If you have a game people talk about after they put it down then you might really be onto something.
There you have it. A small look into some of the things we're doing to bring you the best we have. Maybe this gives you some ideas for your game! If so, post your work and tell us, we'd love to see what things you can show us!

Take care, talk with you soon and LIVE YOUR DREAMS!

-Tim