Game Loops! Creating the Boss 101 game loop. Let's talk about this shall we?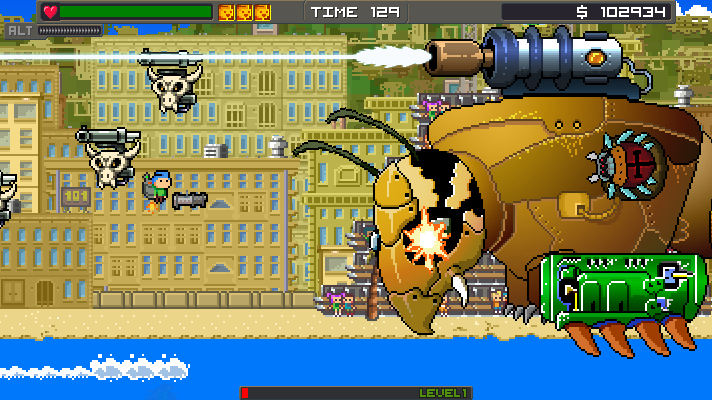 Our game loop is the basic or typical game cycle the player will experience when he plays the game. For us this is the actual action round of playing the game (the part where you shoot the bad guys). In making your own game you want to start doing this as early as reasonable for obvious reasons. It's the cheapest and fastest game development you can do. Mistake and changes are pretty cost free since no one is really working on anything except you on a diagramming program.
The way we started was to lay out all the actions we felt the player would go through from beginning to end in the broadest strokes possible. This is stuff like start the round, read some dialog, see a cinematic etc. and proceed into options like pause the game, get hit by bullets, kill the boss. You can imagine from this tiny list there are tons of things happening in any basic game round. Well, we need to understand and control that so we can actually make the game. Maybe you are working on a game and wonder about this so read on!

(click for bigger version)
First and foremost – this process is something we use on Boss 101 and might not be for everyone – I encourage you to test the veracity of it and see what works for you! Don't take my word for anything without thoughtful examination on your part.
OK – get yourself something to track all this game loop stuff in. We use Visio and Google docs but you can use anything really. Google docs are free, there are also a lot of free graph and chart making software programs. You can even use paper, old school style.
The main point of your game loop pass is to hit all the highlights YOU think will happen at any point in the round. Just write 'em all down and collect them on one spot. Do not worry about mistakes or missing things. In your mind you want to just go from start to finish and list all the things you can do. The thinking here is you can always add things in. The important part is to get from start to finish and re-read what you have for errors or omissions. You don't want to get bogged down at this stage, you want to finish the loop.
When that is done you should go back and arrange things in order if they aren't already. This is where Visio or charting programs are great. You can draw all those awesome little arrows and flow chart thingos to make connections to various prices of the game loop. Cinematics lead to gameplay, gameplay leads to achievements. All the great stuff happening.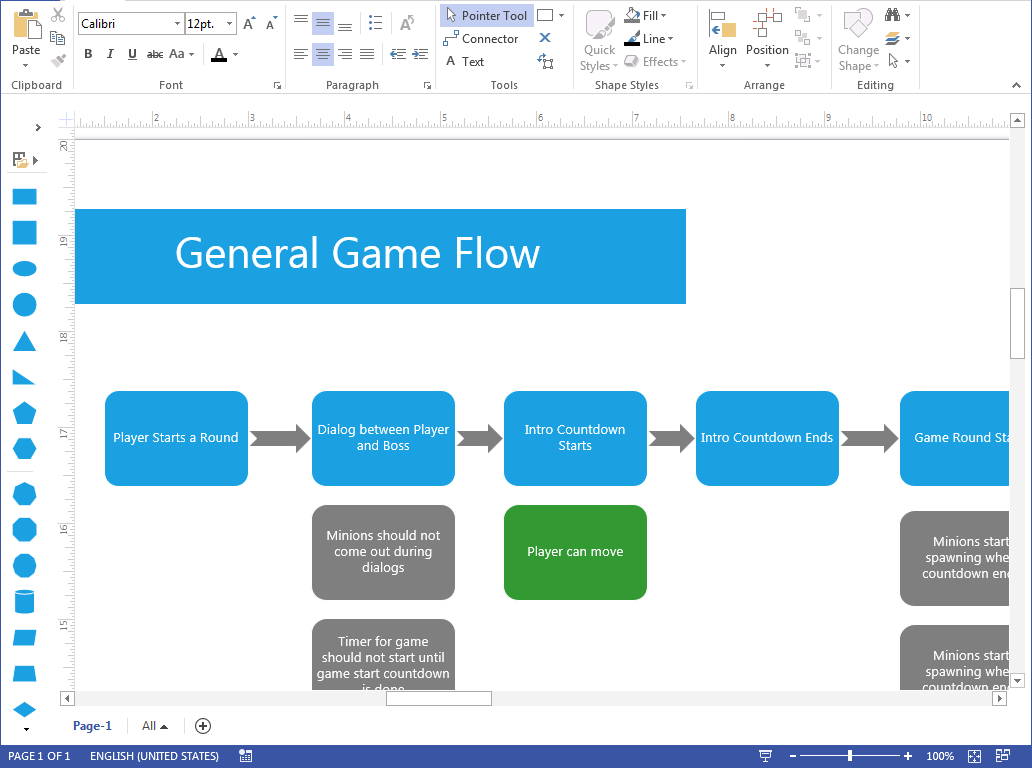 Once you think you have a pretty good overall flow you will then take each item in that chart and start breaking it down HARDCORE. Well, at least as hardcore as you can for the moment. I personally think it's really important to leave yourself some wiggle room with the systems. Many times and idea will just not pan out and you don't want to be boxed in with a bunch of unique or inflexible game systems. Ideally – crap that isn't working you can just take out and stuff that is working you expand on.
Again – the deal is not to turn this into a study in minutia. Rather you want to start asking some obvious questions as early as possible. things like "are we pausing and if so what will the player be able to do?" That sounds incredibly obvious but you want everything out in the open so you can take full advantage of your time and resources. There are few things worse than getting to the end and realizing you left out a 'return to main menu' option or an important end of round screen.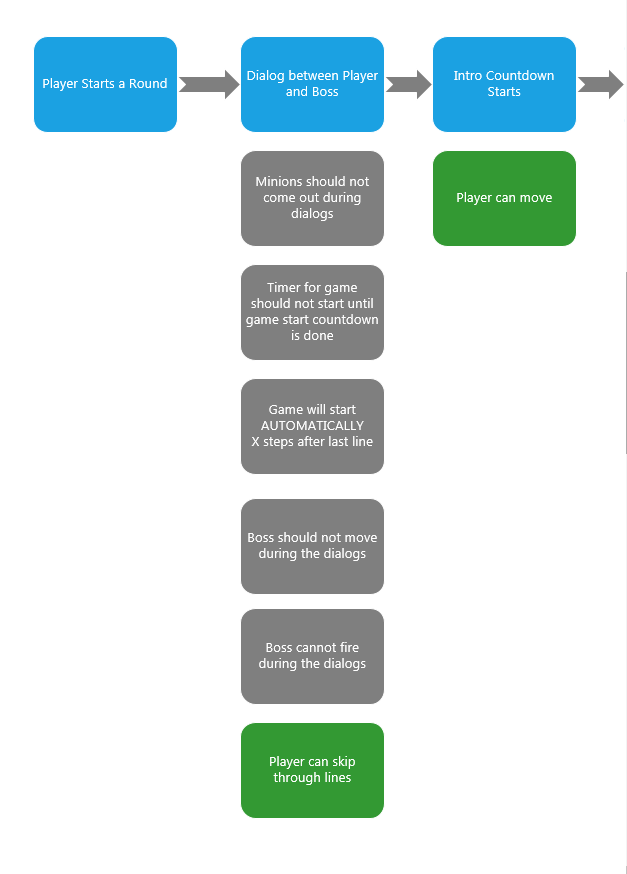 OK – so you went through all that and you have a pretty good list. Well, my advice here is to wrap the whole thing up and let it sit for a few days so you can revisit it with fresh eyes. I use this 'let it bake' philosophy a lot and it has saved me heartache time and again. What seems genius at 3 in the morning might be absurd on Friday afternoon after coffee.
The basic game loop should cover a typical game round and might be more complex for certain gams (think Civilization and its myriad options in a round). Another thing to remember is you can also put loops WITHIN loops. The basic loop exists within the great game loop and that might connect to other game loops like mini-games, upgrades, achievements, save screens and on and on. Start putting those together after you main loop and you are well on your way to really making a game.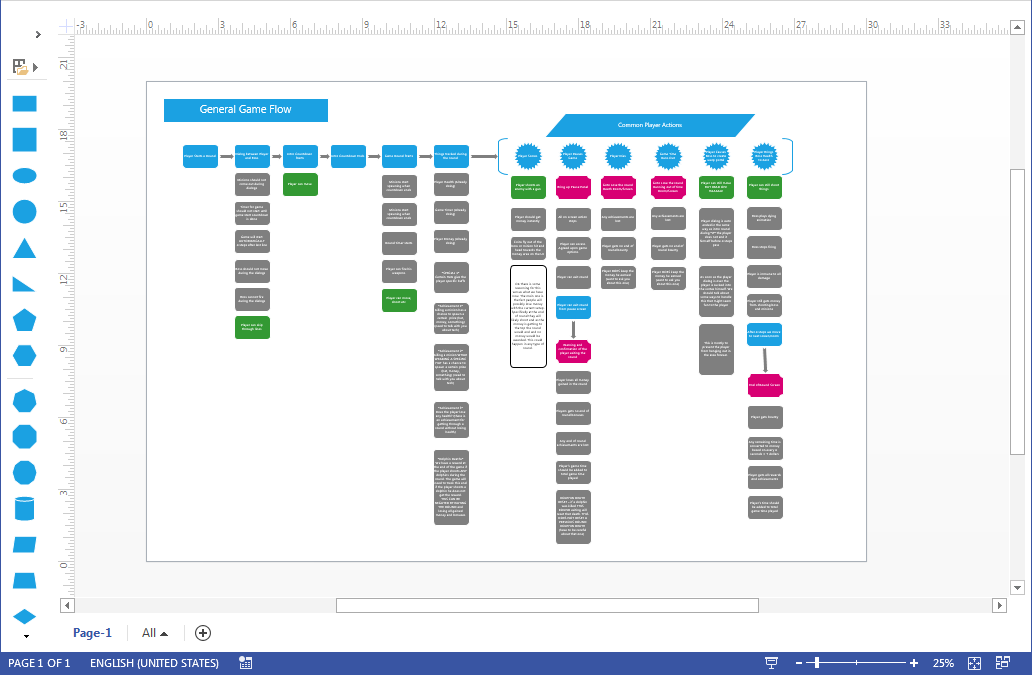 (click for bigger version)
To summarize – this process is about getting you asking questions about your game's rules. That is it. You are pretending to be a typical player and thinking about all the things they can or might do. You won't be perfect but each time you sit down and review you will likely improve the loop (any loop really) and thereby improve the game experience.
DO IT!
SideNote: We were in IndieGame Mag this month!
Boss 101 in the latest issue of Indie Game Magazine! Take a look and support a great site!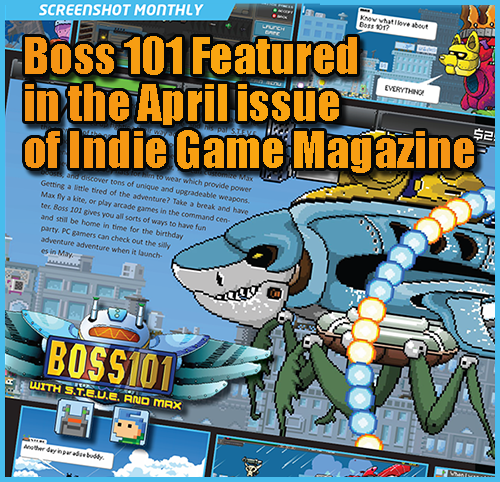 Hope you enjoyed and talk with you soon!
Remember to LIVE YOUR DREAMS!
-Tim