Steam Greenlight
THANK YOU! Our first few days have been amazing on Greenlight. We are getting there and want to thank all of you who took a moment to visit and check out the page. A huge thanks goes out to all of you who voted YES. It means so much and we are moving along towards being Greenlit.
If you haven't already and are curious - we do invite you to check out the links above and see what the fuss is about. We have a trailer and a breakdown of the game. Your Yes vote really helps!
OK - some updates!!!
Boss Designs:
We spoke a little about this previously and we want to show more of the initial implementation that goes into making a boss weapon. The idea is we give each weapon a weakness (one, maybe two) the player can use to stay alive longer and gather up points. It's been tried and tested in MANY games so we aren't claiming any new ideas on the "boss weakness" front.
What we are looking to do is give you the player a reward for trying out things like the kinds of hats and weapons available to you. We do imbue certain weapons and hats (and upgrades) with abilities for your player. Some weapons are more effective against a boss, some hats allow you to take far less or no damage against certain weapons. That's all for you to find out. Is it possible to win without all the tricks? Let's just say it would be tough. Bosses will naturally hit harder on the later levels and if your skillage is low AND your upgrades aren't there you might get pasted pretty quick. Thankfully though, we are working to give you lots of playing options to suit your tastes.
Here's a boss trying to smoke Max and STEVE...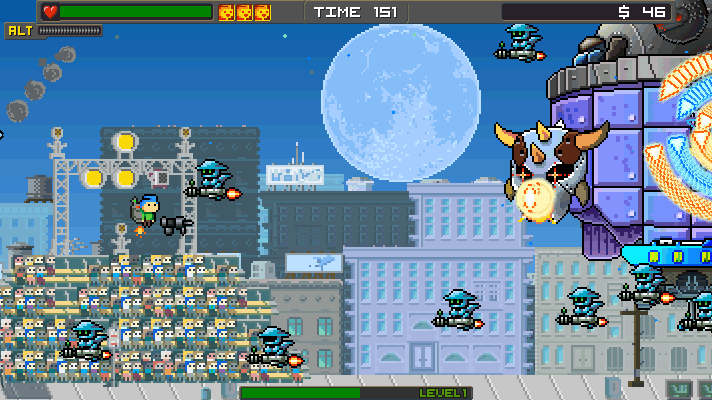 and here's that boss bullet pattern layout...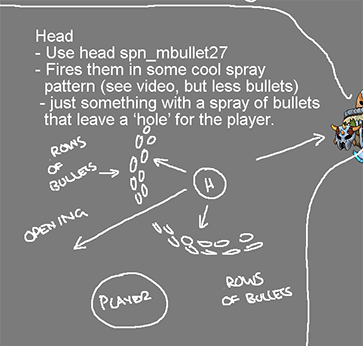 Tuning
Now comes the fun part - once that is in we start playtesting the various parts against the baseline Max, Max variations and generally just try to do everything we can to simulate play styles. Not surprisingly this can be very hilarious at times and leads to a lot of fun insights and ideas. Sometimes things we THINK are going to be super overpowered end up being pretty ineffectual at first. (some of the large death beam type weapons come to mind). Some of the little minor weapons like small homing missiles end up being the deadly things!
A peek at some hats and more!
Savage: The Shard of Gosen Hat
Our good friend Matt Fitzgerald is working away on his opus called Savage: The Shard of Gosen. You can check it out here:
Savage Steam Page
Matt has been a Boss 101 supporter from the get-go. He's helped us with wisdom about getting onto Steam Greenlight as well as lending his Gamemaker skills and tips when it was just one guy trying to figure out the basic language of GameMaker. Welp, we figured we could drop this in for him - a hat based off his main character! Check it!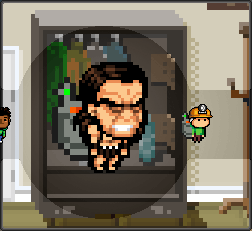 The ShMUPS Website
A few of the kind folks at Shmups.system11.org have been dropping tips and feedback about how we can make Boss 101 a better shooter game overall. Some of the suggestions are pretty keen and we thought it might be nice to create a special hat with SPECIAL powers - and by special powers we mean this one will probably be a one hit - you're dead hat. HAHAHA! HEY - you can't always go for the easy way in everything! Seriously though, we are looking at risk and reward balancing for any hats that have, how shall we say, some 'detrimental' effects.
We call this hat "1940"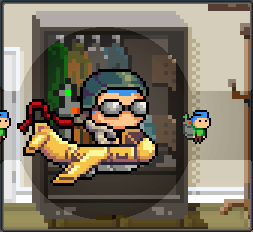 Random Gameplay Screen!
Here is a short snippet from this week's article written by your truly (Tim). I think it encapsulates the exact feeling happening right now as we go through Greenlight and look back on the progress the game has made.
Gratitude. That is the topic.
When you are making your game and following your dreams it can be a humbling experience, especially when you start out. During those times when you are drawing on your inner reserves and powering through, you might want to take a moment to be grateful. Perhaps, just perhaps, this can help you get through some of the rougher moments.
I'm now going to give you a powerful method to increase your energy, make you a more positive person, generally more likable and undoubtedly increase your earning power along with your productivity. Start saying "Thank you" a lot more. Add "I appreciate your help/time/assistance" into your everyday vocabulary. You will be surprised at how this will brighten your day by brightening other's days.
What does this have to do with indie game development? Everything really. Like it or not, the world is full of people and these are the same people you want to buy and support you with money. The quickest way to get anyone to help or support you is to present a sincere pleasing personality. This is one of the strangest and truest things in the universe but when you help others get what they want, you actually end up getting what you want.
Ok folks - that's it for today and THANK YOU for checking in!
Remember to LIVE YOUR DREAMS!
-Tim