The Independent Games Festival (IGF) has announced the Main Competition finalists for the twelfth annual presentation of its prestigious awards, celebrating the most innovative creations to come out of the independent game development community this year. Nearly $50,000 in prizes in various categories, including the $20,000 Seumas McNally Grand Prize, will be awarded on stage at the Independent Games Festival Awards on March 11, 2010 during the 2010 Game Developers Conference in San Francisco.
The record-setting 301 Main Competition entries represent a nearly 35% increase over last year's record 226 entries, many of them striking new titles from leading indie developers. This year's finalists are led by multiple nominations for several notable games, including three nominations for innovative light-centric puzzle platformer Closure and Krystian Majewski's gestural photographic adventure game Trauma, and two nominations each -- including a Grand Prize nomination -- for Pocketwatch Games' stylish co-op heist game Monaco, Hello Games' polished stunt motorbike title Joe Danger, Ratloop Asia's cinematic avian action title Rocketbirds: Revolution!, and Team Meat's cartoon-gory 2D action title Super Meat Boy!
To ensure the highest-quality judging for the IGF, more than 150 leading indie and mainstream game industry figures -- from 2D Boy's Ron Carmel through Spore's Soren Johnson through ThatGameCompany's Kellee Santiago and beyond -- were recruited to choose finalists via a carefully constructed empirical process. The Festival is particularly keen to give constructive, written feedback to Main Competition entrants -- even if they did not place as a finalist. As a result, over 1500 written, anonymized judge comments will be passed along to entrants in the next few days, an important part of deriving value and takeaway from entering the IGF.
In addition, for the first year, the IGF's Nuovo Award, intended to "honor abstract, shortform, and unconventional game development which advances the medium and the way we think about games", was judged by a separate, smaller juried panel of notable game and art world figures. These spanned previous IGF Nuovo winner Jason Rohrer (Passage), Area/Code's Frank Lantz, N+ co-creator Mare Sheppard, EA division head and art-game creator Rod Humble, and more. The jury for the $2,500 Nuovo Award, which allows more esoteric 'art games' to compete on their own terms alongside longer-form indie titles, has released a statement about the chosen Nuovo finalists, including several 'honorable mentions', on the official IGF website.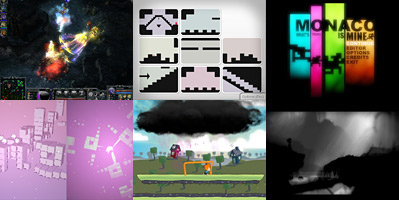 All 2010 Independent Games Festival finalists will be awarded passes to GDC 2010 in San Francisco this March, where they will attend the Independent Games Summit - featuring two days of lectures and presentations from leading indie game developers. They will also be presenting playable versions of their games to all Game Developers Conference attendees at the IGF Pavilion on the GDC Expo Floor from Thursday, March 11th through Saturday, March 13th. The IGF 2010 winners will be announced on stage at the major Independent Games Festival Awards on Thursday, March 11, 2010, at the Moscone Center. The IGF Awards, which kick off in North Hall D at 6:30pm PST on the 11th, are held immediately preceding the acclaimed 2010 Game Developers Choice Awards, honoring the best games of the year from mainstream developers.
The finalists for the 2010 Independent Games Festival are:
Seumas McNally Grand Prize
Excellence In Visual Art
Excellence In Design
Excellence In Audio
Technical Excellence
Nuovo Award
Simon_Carless_IGF_Chairman wrote: We're happy to report that the IGF has seen another record-breaking year in volume and diversity of entries, another symptom of the continuing explosion of high-quality titles from smaller development teams and emerging creators. Congratulations to this year's outstanding finalists -- we're looking forward to playing their games and honoring the overall IGF winners at Game Developers Conference this March.
The IGF was established in 1998 by Think Services to encourage innovation in game development and to recognize the best independent game developers, in the same way that the Sundance Film Festival honors the independent film community. In addition to the IGF 2010 finalists announced today, the D2D Vision Award finalists from download sponsor Direct2Drive -- honoring what the digital distribution service believes are the most innovative and forward-looking IGF titles -- will be revealed in the near future. Following on from that, the ten Student Showcase award winners will be announced during the week of Jan. 11th, with the finalists for the handheld indie gaming-specific IGF Mobile competition following in late January.

For more information on the Independent Games Festival, please visit www.igf.com -- and for those interested in registering for GDC 2010, which includes the Independent Games Summit, the IGF Pavilion and the IGF Awards Ceremony, please visit www.gdconf.com.