2.0 is going to be large. Really, just a huge update.
With the new worldbook, A World of Ice and Fire, having been released, I'm currently integrating all the new information into the mod. This includes more cities for the Essosi factions, new names for many locations, new names for many Essosi characters, and a couple of new cities for the Westerosi factions. The worldbook also included some maps with a bit of new information regarding castle/town placement and rivers, so I am also doing various map changes.
On top of that, I've added a lot of new props. These props are all very high quality, and will be used for ACOK, but also for ACOK II.
Like with the commisions from Docm30, these props where paid for. It's part of an ongoing effort to put the many donations ACOK has received to good use. The next batch of commisions will include many updated weapon models, like a new Arakh model, which will be useable for ACOK II as well.
Many of these new props are great for overhauling the interior scenes, but there's also many small props which are a bit more specific. One of them is going to be used for a quest.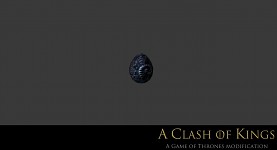 As always, new versions of the modification will also contain many fixes and minor tweaks. The changelog can be found here: Moddb.com
I'm currently focusing on minor convencience fixes, getting hold of the remaining few bugs and polishing up the factions and map. Once that is done, I'll finish work on the new diplomacy system (mostly implemented already, just have to test it) which will make the world a lot more dynamic.