News:
Hey, I'm on holiday for the next two weeks, in the west of France... Camping! So all new updates will be postponed for 2 weeks time :(
While on holiday, I'll hopefully be able to draw a few models that we're going to create... So look out on the 18th/19th August for a big photo update (if I do have time on holiday to draw... We'll see ;P).
I've printed a list of units that need to be drawn up so I can knock them off the list, and when I get back, lots of drawings will be posted!
See you in two weeks!
Au revoir!
Highlights: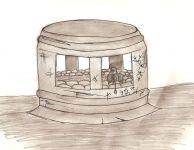 PillBox