Those maps will be, Fiji, Tank Battle and Sniper Battle. Tank Battle and Sniper battle should be renamed, as Fiji was initially Boat Battle. These map are face off style, meaning one person starts one side of the and the other starts on the other side, with a specific weapon or vehicle to fight. For Fiji, it is a Boat equipped with the US SAW vs a Boat equipped with the MEC RPK found on Fijian style islands. Fiji is heavily in development and needs custom statics such as Fijian huts.
---
On Sniper Battle a variety of weapons are used (including the infamous simrad called artillery) and the main weapon face offs in that map is the M95 (Barret) vs M82 (50 cal Barret), the draganuv (SVD) vs the M24 (R700). The map features two carriers positioned at opposite ends of the map with a 1km distance separating them. There is bullet drop, so it is hard to kill them. Of coarse this map has been correctly lightmapped (which makes it look nice :P) and there are sandbags to prone from. A good tip to hide, is in the Carrier interior, but SIMRAD artillery does not work there.
---
Tank battle is a small map focused on the fight between the M1A2 Abrams and the T-90 tank. It contains an oasis in the middle. Though it is not strictly limited to tank fights as it makes a good 1on1 match by itself. Repair stations (the sheds) are positioned near the spawn point of the tank at each base so don't think about spawn killing with the Tanks. It is a fun battle, plety of lols here.
IMAGES (soz for the low resolution screen shots): Tank Battle & Sniper Battle only.
Tank Battle: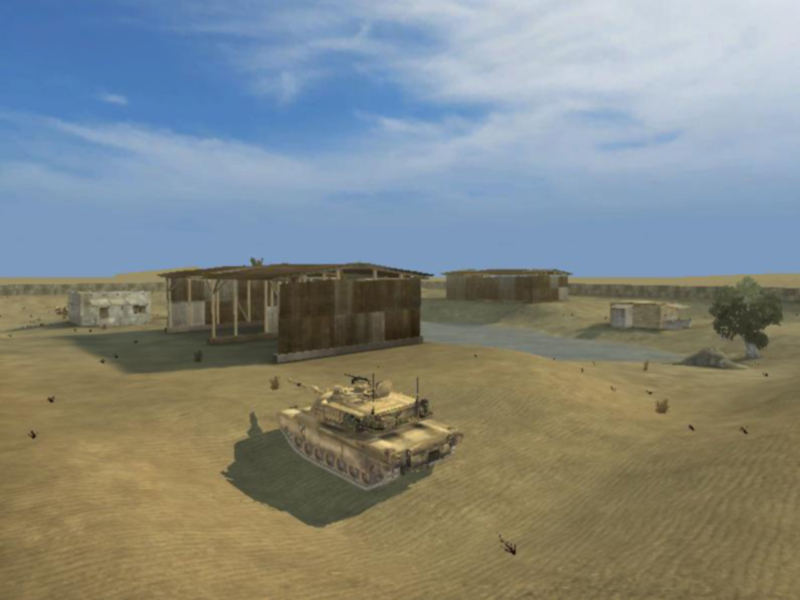 Sniper Battle: