Hello, and welcome to another update on 1964.
We've been making some significant headway in the technology tree aspects of the mod. The old Alpha tech trees, which we figured were too short to cover such a long timespan, are out. Instead, I have adapted them and doubled (and in some cases, tripled) their lengths. An example of this is the armor tech tree, which will feature 22 classes of tanks between 1964 and 2015. This tech tree is not 100% complete yet, as the design aspects of artillery and related brigades are still under discussion.
On the other hand, we have two tech trees which we figure are ready for the beta (I am estimating it will come out early this summer). The Infantry Tech Tree, seen below, features two branches of infantry. To the left, you will see your standard infantry. To the right, your 'Special Ops Infantry', which server as both Marine and Paratrooper units. As it implies, it is one division that will be able to both perform amphibious operations and also paradrop operations. Below, you shall see your motorized and mechanized equipment. Researching these will unlock both a division and a brigade attachment of the desired tech.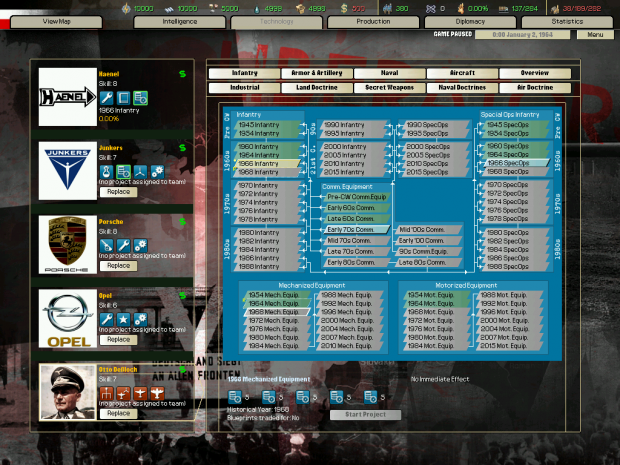 Next, you shall see our new Secret Weapons tech tree. I have cleaned up its structuring, compressing and organizing the techs more effectively. In addition to this, I have also freed up more space underneath, which will help when I add the AoD additions to the tree.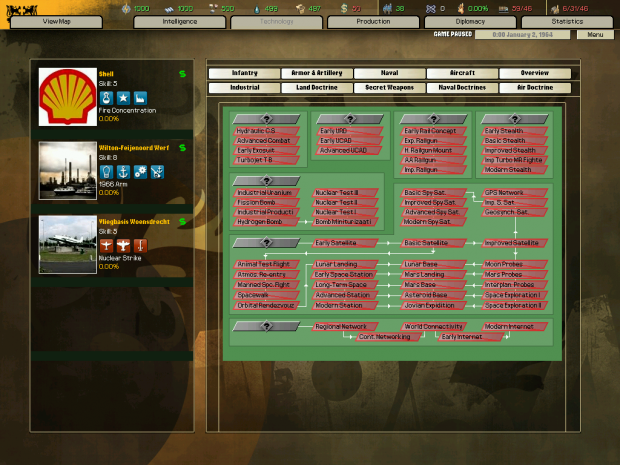 In a general sense, progress is going at a good pace. I am almost done the starting scenario file, as I only require 1 major country and handful of minor nations. This will allow the game to be playable (it crashes if there are any unowned provinces). This means that I will be able to pass on the game to our AI coder, who will be able to start plotting basic AI interaction (aside from the default AI, which I don't know how that will perform).
Thanks for reading today's update!
-Feuersturm