So the pitch was straightforward: "THE GREAT GAMECO IS A GAME THAT MAKES GAMES WITH A GAME BUSINESS METAGAME WRAPPED AROUND IT! GAMESSSSS!!!"
Sounds borderline insane, right? Even without it being in all caps, what's being proposed is a scope nightmare.

Best case scenario you're making two games (the Office Metagame and the Mini-Game generator). Worst case you're making the Office game and 10+ other games, with all kinds of variation on each of those, sprawling into the matrix from hell.

Despite the challenge, I've poured the last 2.5 years of my freetime into this dream project, and now I can finally take a step back and realize that the game...is far from done. Which is disappointing, but is also fine, 'cause you never want to rush these things.
As the great Shigeru Miyamoto famously quipped, "A delayed game is eventually good, but a rushed game is forever bad ".
So where do we stand on the major features?
Office Gameplay
This is the part of the game that needs to be AMAZING.
While I have high hopes for the 'game generation' portion of GGCo, the player will be spending most of their time in the Office - making games, working with employees, and running their business.
If these systems aren't compelling, no amount of 'game generation awesomeness' will save it...
CEO Maker: You start the game by creating your custom CEO (aka YOU).
Designing Games: You can design games. Those games get made based on your design.
Playing Games: You can indeed play the games you've designed. The gimmick is in and it's pretty awesome/satisfying! Hooray!
The Market:

Sales are driven based on the ever-fluctuating wants of the market. Targeting HOT demographics will get you more sales, while COLD demographics result in less sales.

Reviews:When your game is released, the critics will pass their judgement.
Rival Studios: Other studios are also putting out products and may be vying for the same customers you are!
Hiring Employees: I've made a pool of 30+ employees that you can hire (or fire). Each have special traits and unlock specific assets to use in your games, so who you hire feels strategic.
Poaching Employees: Other Studios will be hiring employees from the same talent pool as you, so snatch up those rockstars before your enemies do!
Managing Employees: Each employee has a 'Morale' slider, that will go up or down based on your choices. Too unhappy, and employees will develop negative traits and eventually quit.





Unlocking Heroes:

Artists will come to you with ideas for new heroes, who set the tone for a game's THEME.

Unlocking Gameplay Systems:

Coders will come to you with ideas for new Gameplay Systems, which boost the GAMEPLAY score of your project.

Upgrading Your Office: You can build specific rooms in your office, as well as upgrade to larger buildings as you have the funds.
Events & Opportunities: Random events and opportunities will ask you to make tough choices as your studio grows.
Executive Actions: Use your time and energy to make CEO-related decisions.
Pitches: Employees will pop up with ways to make your game better, but have to be choosy about what ideas you approve!
Your Adviser: A helpful set of popups will guide you along as new gameplay mechanics are unlocked!

Those 16 systems are the bulk of what I need to complete the 'Office Gameplay' side of GGCo. However, a game is more that the sum of its systems, and I'm currently faced with the following hurdles…
The Pacing SUUUUCKS

: Getting the systems in is just Step #1. Step #2 is tweaking

how & when those systems are introduced. Early Alpha builds were WAY too front-heavy, overwhelming the player with systems before their first game was shipped. Now on Alpha 4, the pacing is much slower / friendlier, but there's still work to do.


No Emotional Hook: Making your games is fun and all - and playing them can be cool - but right now there's no major secondary drive to keep playing (other than seeing how many years you can keep your studio afloat). This is less than compelling, so I have several ideas on how to get the player emotionally invested.

Black-Box Syndrome: There are tons-o-choices to be made, but the game gives VERY limited feedback as to when a previous choice has affected you in a positive or negative way. I have several mockups of UI improvements that will help, but it's a problem I'll be fighting through release.




Mockup of the 'Released Game' window, now with more feedback of how your game was scored.



Game Over: One of the last major components I still need to implement is a Game Over screen. The irony is that generated games have this screen, but the Office Gameplay component lacks it. Ah, the joys of an overly-scoped project.


More Content!!!: While I have these basic systems in, there is much more content creation to be done. Story Events. Heroes and Technologies to unlock.Fleshed out Rival Studios. It all 'just' needs to be made.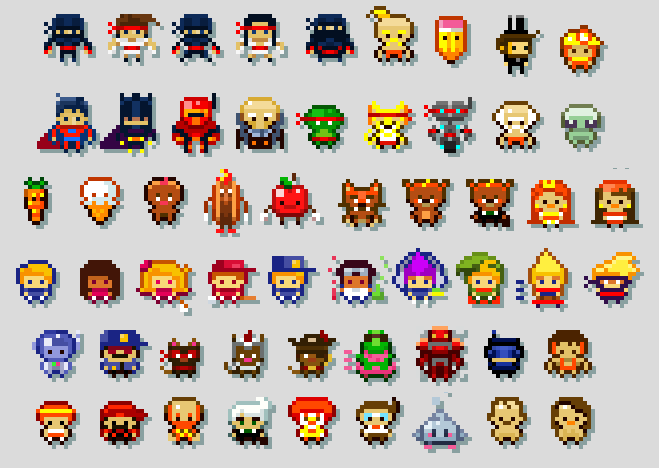 Generated Mini-Games
The other half of THE GREAT GAMECO! Is the 'Game Generation' part - where the games you design become games you can play.
Fraught with rabbit holes, this aspect of the game has been an Master-Level course on Scope Reduction. Lets see where it currently stands…
10 Genres: I currently have 10 different game genres that can be randomly built. Inspirations include

Space Invaders, Pac Man, Lode Runner, Super Mario Bros

, and

The Legend of Zelda

. Some of these generate more enjoyable mini-games than other genres, but the major groundwork is done.

26 Modular Systems: A big part of the game is unlocking new gameplay systems to use when designing future titles. Things like "Fog of War", "Item Shops", "Double Jump" "Narration", and "Final Boss" get used by the generation system to add extra depth to the selected genre. Currently have 26 systems implemented, with a goal of 50 by the time GGCo ships.


58 Heroes: While Coders unlock

Systems

, Artists unlock

Heroes

, who set the overall theme of a given project. 'Alexander the Great' and 'Abe Lincoln', for instance, will give your game a 'Historical' flavor. Using 'Skateboarding T-Rex' however, will make your game 'Totally Radical'. Shooting for 150 total Heroes eventually, so I still have a ways to go here.


130 Musical Themes: I have a surprisingly large assortment of music - 120 tracks that I've written, and 10 tracks I've contracted out to the amazingly talented Tom Miller (Twitter.com

). Unfortunately, I'm not as good as Tom, so I really only have 30-ish

AWESOME

tracks. The rest get used for games that score 3 stars or lower, which is a cool way to audibly differentiate poor games from the hits. Still, I'll definitely need more

killer tunes

for when you make those perfect games.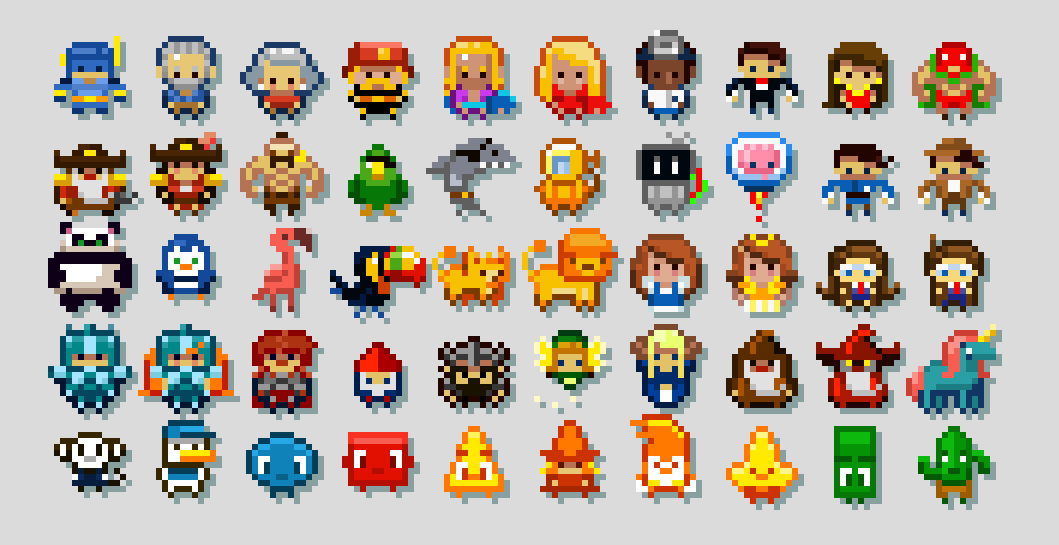 So there we have it, lots of systems and content that accumulate into a game that has a ways to go. THE GREAT GAMECO! will eventually be great - I have no doubt - but I'm gonna keep taking my time to ensure it's done right.
Here's hoping the 18 months brings me closer to GOLD! :)