Hi everyone. First off I would like to introduce Dave Henning to the team A.K.A. dirtpayne
He joined the team and I'm proud to have him on the team and show some stuff he already made for project. We're going to focus on some much needed props that will go into the maps. Also we'll be working on some new weapons, but all in due time. Now let's get onto the pictures.
Another frigging awesome announcement I have for you guys is that we have another new enemy in the game. I'm not going to spoil anything, I'll just leave it with the name for now. All I can say is that next to the armoured head crab zombie (which also is already into the game and fully working) people will (hopefully) going to have something different then the usual canon fodder thrown at them. So here enjoy this frigging awesome image that doesn't show much at all, mwuhahaha, ahem, yeah.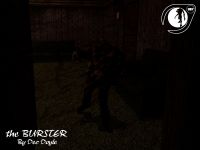 Lastly I want to say that the mod's progress is as steady as it goes, everyone is very enthusiastic and I myself couldn't have asked for anything else. This project is becoming more and more a dream coming true. Creating a game is so much fun, and working as a team like this is rewarding to say the least. We also have the "John goes down" system fully working. On top of that, Dec has John now punching and butting head crab zombies when they get too close. Right now I'm balancing optimising and bug fixing most maps. and it won't be long before we have this really fun new internal beta. Some things are just going better then ever. Thanks team, you guys rule.
Joure
P.S. Yes Iron sights are working, and yes, this is an armoured head crab zombie.