If you had already updated the game to 1.15 over the weekend you probably where one of the unlucky ones who fell through the ground in one of story levels. Sorry about, shit happens.
Basically there was a bug which did not let the collisions get initialized when starting in the forest, graveyard or the cave. I had created that bug at some point when I was prototyping a very early new gametype idea (most was gametype specific but just that thing I didn't made gametype specific) and since I only had to test the hats feature with the endless modes I did not stumbled upon on it or better said stumbled in it.
Anyway, I took that time over the weekend now to also fix some other small things as well as improve stuff. But most importantly there is the new Hats feature! Which is fully free and shareable randomly generated head enhancement gear:
That is the hat type for the skeleton king, there is a hat type for each for the characters in this version that can be found in the world. There is a randomly generated tiki mask for the princess which does not have any protection effect unlike in Crash Bandicoot but looks pretty cool. The different knight's might already have something on their head but there is always room on top of a helmet. Different types of helmet crests where no unusual thing in the medieval times. But I don't want to reveal too much at this point since they all come nicely packaged up in surprise gift boxes.
Here is the info on how it works with the hats: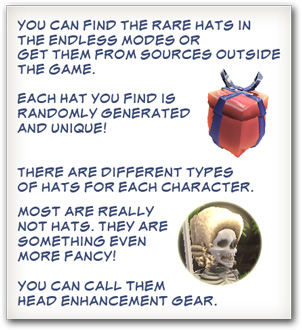 A hat gets somewhat physically saved as you pick one up. "Physically" saved in your OS on your hard drive.
This also allows you to share all your hats with your friends. Or ask them for what they found. Getting the whole collection of this version on your own, one of each type, will not be easy since they are pretty rare. Making long rides in the endless modes greatly increases your chances to find one though. Your are also free to share the hats where ever you like, if you should want to put them on hosting sites or even share them as a torrent just go ahead. Free the hats!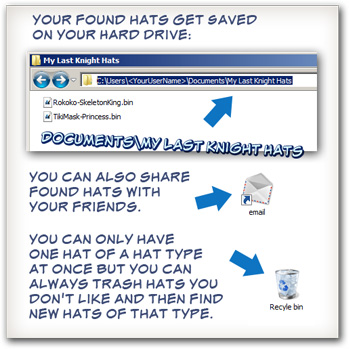 Also improved in this new version is the Spider enemy. It will now only hide behind his legs when your lance is drawn and you would also hit it. The improved collision and that it turns to you now should also make things more clear.
Here is that full list which also includes also the 1.15 changes:
Notes wrote: Change Notes 1.16
- Added randomly generated hats and special hats
- Remastered theme music with new equipment (by www.eb-music.net)
- Fixed ghost power up ending while a bucket joust getting you killed
- Fixed the explosion radius of a mine getting you killed when you have the shield
- Fixed some tutorial text being visible in the final boss tips some times
- Fixed rainbow bridges getting placed over coinboxes
- Fixed soldier horse starving effect vertex paint being messy
- Fixed knightmares award distance values sometimes being not right
- Fixed Power up screen not enough gold text issue
- Fixed power ups descriptions glitch when activated instantly
- Fixed bleeding text
- Fixed ghost rider power up trail remaining in main menu
- Fixed glitches with the quests screen after death
- Fixed story telling spelling errors
- Fixed freezed cave getting changed too early
- Fixed wrong pain sounds on exit when character is changed without playing
- Fixed rare bridges generation bug
- Fixed fog transition glitches
- Fixed punk hair of the soldier knight horse
- Fixed swearing symbols being annoying in First Person
- Fixed Volcano splash offsets
- Improved some collisions
- Improved barrels generation
- Improved world generation for low fps
- Tweaked Spider to be scared by ghosts
- Tweaked Spider (animations and collision)
- Tweaked freeze cave to be a bit more rare
- Tweaked Knightmare award distances
- Tweaked barrels sound
- Tweaked special bridges random distances max and min values
- Tweaked Horned Bucket Heads +Horse textures

1.15 specific fixes and tweaks:
- Fixed collisions not getting intialized when starting inside the cave, forest or graveyard in the story
- Fixed some graveyard collisions
- Fixed "!" for new hat being also in the score show screen of the story
- Fixed "play tutorial" always showing up in the splash screen
- Fixed the Knight's hat being wear able in the story
- Improved hats generation
- Tweaked hats drop rate random distances max and min values